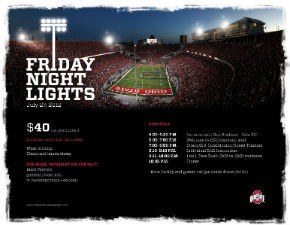 Shortly after Urban Meyer took over as Ohio State head coach, we told you that the two-time national champion head coach would be bringing his famous Friday Night Lights camp with him to his new job in Columbus.
If you haven't read the primer linked above yet, Friday Night Lights, or FNL, is the brainchild of Meyer and Mark Pantoni from their days at Florida and ultimately is a one night summer camp held in the football stadium. It generally brings in some of the nation's premier rising juniors and seniors, giving the prospects a chance to check out the school and in turn, the coaches a chance to check out the prospects.
This year the camp will be held this coming Friday, July 27, in the Horseshoe and is open to the public (gates open 5:30 PM ET). Per the OSU official site, the event will kick off with registration from 5:30 PM-6:30 PM, followed with a welcome by the OSU coaching staff from 6:30-7:00. In addition to the staff you know already, expect some big named former Buckeyes to be in attendance as special guest coaches, further enhancing the camp experience for the recruits.
Once the introductions are made, the camp will really kick off with Mickey Marotti taking the stage for strength and conditioning drills and speed training for an hour. After that, individual drill instruction will take place, followed by 1-on-1s, pass rush, skill vs skill workouts, and finally concluding with dinner for camp attendees and their parents if they so choose.
The first ever FNL in Columbus is all set to be a great night for all parties involved, including the 11W staff, who will be in attendance to cover the event. While the list of prospects certainly isn't complete yet, and is subject to change right up until 6:30 on Friday night, the early returns are looking good when it comes to the Buckeyes hosting some of the best talent in America this coming weekend.
2013 Prospects
For the first annual FNL in Columbus, the rising senior turn out won't be as big as the rising junior turn out. That is likely to change in future years, but with info of the camp coming out later due to the new staff, as well as Gridiron Kings being held in Orlando this weekend, attendance for 2013 prospects is good, but not as good as it could have been.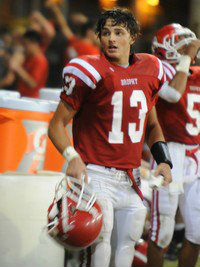 Starting with the offense, the biggest news that broke last night is that Richmond (VA) Hermitage RB Derrick Green will not be coming to Friday Night Lights.
Green has long been known to OSU fans, as he grew up rooting for the Buckeyes and was actually responsible for helping to bring Curtis Grant to Columbus, but tweeted last night that the staff is going in a different direction.
It has long been thought that Green's recruitment could unfold this way, as he took his time with the process and saw fellow back Ezekiel Elliott commit to the coaches earlier this year and recruits at bigger positions of need slowly take up more space in what is a limited class. Green is an outstanding player and it is a shame that he is now out of the fold when it comes to Ohio State.
Moving to wide receiver, there are two very good ones coming to town this weekend in Phoenix (AZ) Brophy Prep's Devon Allen and Cleveland Heights' Shelton Gibson.
Allen comes to Columbus looking to solidify his offer as committable. With Taivon Jacobs and Jalin Marshall in the fold, speculation is that the Bucks may not take Allen's commitment if he tried to make one as of now. With a good camp performance that could change quickly and with his father a former OSU baseball player, expect the school to jump up high on his list if all goes well at FNL.
Gibson's recruitment is bizarre as they come. Once thought to be a silent verbal and a lock to commit to the Buckeyes on his announcement date of June 20, the Cleveland Heights star still remains available. After June came and went with no verbal, word started surfacing about grades/test scores not being up to par with what Ohio State asked him for. The four star prospect made waves on twitter last week when mentioning schools like Michigan and West Virginia being of interest, but this week expressed his excitement for Friday Night Lights. We should know more about this situation following his trip to Columbus.
The offensive line is still a need for the class of 2013 and there are two prospects that fans should keep an eye out for in Detroit (MI) Cass Tech OT Dennis Finley and Indianapolis (IN) Lawrence Central OL/DL Tim Gardner. 
Finley was offered shortly after the Sound Mind Sound Body camp and took an unofficial visit to Ohio State for camp in late June. He has the Buckeyes on top currently with Michigan State, Illinois, and Wisconsin, but many think this is a two way battle with Sparty. It is still not confirmed if Finley will make it down for Friday Night Lights, but if he does you can bet he will get the full court press from the staff.
You may remember Gardner best from when he claimed on twitter to be committed to Ohio State (his profile still says "Ohio State Bound") following June camp and the 6-5/340 lineman will be back in Columbus again to actually try to earn an offer from the Buckeye staff. It's still uncertain what happened in late June, but the staff does seem to be genuinely interested in seeing more of the Indianapolis big man in action. For now this one stays under the radar, but once again, more will be known following FNL.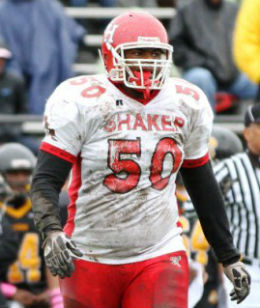 On defense, the defensive line group is once again nothing short of outstanding. The unit includes commits Joey Bosa, Tracy Sprinkle, and Billy Price, as well as uncommitted prospects Donovan Munger, Demetrius Cooper, and Khairi Bailey.
It will be good to have Bosa, Sprinkle, and Price in Columbus as they will serve as ambassadors to the uncommitted prospects in attendance with many of their fellow classmates headed to Gridiron Kings or unable to attend for various reasons. Bosa is still unsure if he will compete, but Price and Sprinkle definitely will and it should be interesting to see how they size up against the other linemen participating.
Munger is definitely a prospect to watch, as it has been rumored since the spring game that he could be silently verballed to the Buckeyes. The 6-4/285 lineman can play on both sides of the ball and would be a nice pick up if OSU can reel him in. It is said to be a Notre Dame-Ohio State battle for his services and a commitment at or right after FNL wouldn't be shocking by any means.
Cooper and Bailey both come in with the Core 6 group out of Illinois. Neither are expected to leave Columbus with offers from the Buckeyes, especially at a loaded defensive line position, but should end up playing big time college football. Cooper is favoring Michigan State, Purdue, and Notre Dame right now, while Bailey holds offers from Purdue, Iowa State, Norther Illinois, and others.
Another player who could rep at defensive end, but is being looked at by the staff as a hybrid linebacker is Tyquan Lewis of Tarboro in North Carolina. Lewis is back for his second unofficial visit, this time bringing his mom, who is expected to grill Urban and the staff about why they would be the best place for her son to attend school. Lewis currently favors the Buckeyes and home state Tar Heels, and I think a verbal of some sort (silent or public) could happen after this trip. Lewis says he wants to visit some other schools like LSU before deciding in September, but I believe he will be a Buckeye this weekend, no matter when that announcement is actually made.
Defensive backs for 2013 are not going to flock to Columbus for FNL as four are already in the fold. Eli Woodard, Cam Burrows, and Jayme Thompson are all in Florida for Gridiron Kings, but Darron Lee will be in attendance.
Lee is still considered an athlete who can play as a receiver on offense or a linebacker or safety on defense, but it is likely the 6-2/205 New Albany (OH) product ends up in the secondary. Lee has flown under the radar as far as rankings go and I am excited to see how he measures up against other elite prospects during the camp sessions. If his past two camp trips are any indication, his offer will certainly be validated.
Another athlete who can also play defensive back, Delton Williams, will be in attendance. Williams has long been in contact with the OSU coaches, but it is unlikely the Eerie (PA) Cathedral Prep star leaves Columbus with an offer and I expect him to be a Michigan State Spartan when it's all said and done.
The last true athlete set to be in attendance is Cleveland (OH) Glenville's Chris Worley. Like Devan Bogard, Worley has spent his Tarblooder career at linebacker, but will move to safety as a senior where his 6-3/190 frame is better suited. OSU is recruiting him as an athlete who can play a number of different positions, but he is likely to be a Star (nickel back) or safety if he chooses the Buckeyes. There have been questions if Worley's offer is still committable after Darron Lee gave the staff his pledge and that is likely to be answered this weekend. If the coaches take a commitment from the Glenville star, it probably tells you where things sit with Vonn Bell.
Finally, punter commit Johnny Townsend will make his way up from Orlando, Florida for FNL. Townsend is ranked as the number two punter in the nation by 247 Sports and committed to the Buckeyes after attending kicking camp in June. He was only in town for a short stay during his last trip, but this visit will give him a good opportunity to bond with some classmates, as well as see more that the university has to offer.
2014 Prospects 
As good as the list of 2013 prospects coming to Columbus looks, the 2014 list is even better.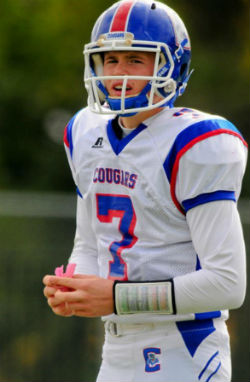 It all starts at quarterback where some of the nation's top rising junior signal callers will be in attendance. Heading up the list is Hebron (KY) Conner's Drew Barker, Burke (VA) Lake Braddock's Caleb Henderson, Toledo (OH) Central Catholic's DeShone Kizer, Gainesville's (GA) DeShaun Watson, Louisville's (OH) Joey Duckworth, and Naperville (IL) Central's Jake Kolbe.
Barker and Henderson know each other well after competing at Ohio State's camp at the end of June. The two are back again to compete for what is ultimately a scholarship offer that should be decided on sometime in the very near future. OSU is telling each player they'd like to see them play in a game or two this coming fall before making a decision and it's a shame the Bucks likely won't be able to get both players, as they are each outstanding players.
Kizer and Watson are the number three and four dual-threat quarterbacks in the class, according to 247 Sports. Kizer is said to have the Buckeyes and Michigan at the top of his list and FNL is a good chance to sell himself to Meyer and Tom Herman. Watson is currently committed to Clemson, but it is very early in the process. He claims an offer from the Bucks and if he makes it up to Columbus this weekend it will say a lot about his interest in Ohio State.
Duckworth also camped at OSU in June and made quite the impression on all those who watched him. He doesn't have the hype that Kizer has, but he's quickly moving up the Ohio quarterback board and could challenge the Toledo Central Catholic star for the top signal caller in the state title following this season. Keep a close eye on Duckworth to see how he performs this time around.
Kolbe is more of an under the radar prospect when compared to the other passers camping, but at 6-3 he has good size, has a solid arm, and has shown great athletic ability to make plays with his legs. He is trying to land on the map with a good camp showing and FNL is certainly the place to do it.
With Derrick Green out for FNL, the attention will focus to the rising juniors and the 2014 class brings some good talent to the position in Chicago (IL) De La Salle's Mikale Wilbon, Alpharetta (GA) Chattahoochee's CJ Leggett, Trotwood (OH) Madison's Ashton Jackson, and Marion (OH) Harding's LJ Scott. 
Wilbon, Jackson, and Scott are definitely on Ohio State's big board at running back for 2014, but none of them have received an offer just yet and I don't expect that to change after FNL. The three are definitely solid players, but with a log jam at running back that forced Derrick Green to be a casualty for 2013, it is unknown how many spots will be open for the position in this class.
Leggett is a newer name to fans and will be making his first trip to Columbus, so the coaches will be looking out to see how he stacks up against the rest of the players they have seen this summer.
Urban Meyer is committed to bringing in play makers at wide receiver and 2014 is not short of those. Three of those prospects are scheduled to make it to Columbus this weekend in Springfield's (OH) Thaddeus Snodgrass, Tarpon Springs (FL) East Lake's Artavis Scott, and Homestead (FL) South Dade's Tyre Brady. 
Snodgrass already has an offer from the Buckeyes and told 11W that OSU sits high currently on his list, likely along with offers from Michigan State, Notre Dame, and Wisconsin. I fully expect Snodgrass to be one of the stars at FNL and while a college decision likely won't come for some time, I feel good about the chances he ends up in Scarlet and Gray.
Scott is one of Florida's best prospects in the class of 2014 and already holds offers from Florida, Florida State, South Florida, Central Florida, Vanderbilt, Cincinnati, and others in addition to the Buckeyes. The speedy 5-10/175 receiver will also visit Michigan for the "BBQ in the Big House" this weekend, and while an offer could come for the Wolverines, the Bucks are out ahead for now along with the Gators, Seminoles, and Bulls.
Brady just moved homes with his family so his FNL trip is still up in the air, but one thing that is not is his interest in the Buckeyes. Brady has said multiple times that he has always been fond of OSU and now has even more interest with Meyer at the helm, despite not holding a scholarship from the program at this time. Rumor has it academics are a roadblock with Brady, so once those are straightened out, I expect him to land that coveted offer from Ohio State.
Other than the big three, Braxton Berrios of Raleigh (NC) Leesville Road and RaShaan Gaulden of Nashville (TN) Brentwood Academy are making the trip up to Columbus for FNL. Berrios is a prospect that could blow up over the next year and is one to watch in camp, while Gaulden is making his second trip of the summer, with his first trip being to camp back in the middle of June.
At tight end, Ethan Wolf will come back to Columbus to try and earn an offer. The Minster (OH) product has had a nice summer thus far, collecting scholarships from the likes of Bowling Green, Illinois, Toledo, and Ohio, but he is coming to Friday Night Lights to prove he should be playing high level BCS college football. 
Another tight end that has camped and will not participate due on Friday to injury is Jacob Betschel of Jackson (OH). Betschel has a tender hamstring after injuring it at OSU's camp last month, but will still be in attendance to soak in the atmosphere.
At offensive line there a number of stand out prospects coming to camp, which is much needed as the Buckeyes try to constantly reload the unit. Offensive linemen expected to attend include Mason Cole of Tarpon Springs (FL) East Lake, Jamarco Jones of Chicago (IL) De La Salle, Skylar Hartley of Hilliard (OH) Bradley, Nick Richardson of Westerville Central, Kyle Trout of Lancaster, Nathaniel Devers of Massillon (OH) Washington, Denzel Ward of Chicago (IL) Julian, and Brian Allen of Hinsdale (IL) Central.
The two big fish out of this group are Cole and Jones. Cole is a 6-4/260 early four-star prospect who projects at either tackle or guard, bringing great versatility to whatever program he chooses. He currently holds an OSU offer, as well as many others, but seems to be higher on the Bucks, Michigan (visit for BBQ this weekend as well), Florida, Florida State, USC, and Clemson right now.
Jones is making his second trip to Columbus, as he was at a camp earlier this summer where he earned a Buckeye offer. At 6-5/290 he is a true tackle and might be the best at his position in the Midwest when it's all said and done. Other offers include Michigan, Wisconsin, Notre Dame, Michigan State, Illinois, Vanderbilt, and others, so this is a good chance for the OSU staff to make a move with the big Chicago native.
On the defensive line there are two big names on the list of potential visitors, but Da'Shawn Hand and Andrew Brown are both tentative as of now.
Hand is a 6-5/245 defensive end from Woodbridge High School in Virginia. He is rated as the consensus top player in the class of 2014 and has proven it time and time again at various camps throughout the summer. All of the combines and a recent Alabama trip have made him a bit exhausted before football camp starts so the FNL visit is still up in the air, but if he comes, huge strides can be made by the Buckeyes. Rumor has it Virginia Tech, Alabama, the Bucks, and Clemson are in a great spot with Hand early on, but a decision isn't likely to come until the end of his senior season.
Brown would be the top player in Virginia and maybe the top player overall in the class if it wasn't for Hand. The 6-4/285 defensive lineman from Chesapeake (VA) Indian River is also planning on making it to Columbus, but travel issues may not permit him to do so. He currently hold an offer from Ohio State, but a visit would be huge as the word going around is that programs higher on the list right now are Alabama, Clemson, Florida, Nebraska, UNC, Virginia, Virginia Tech, Wake Forest, and West Virginia. Like with Hand, there is still a long way to go here, but a FNL visit would be a good start.
Another defensive lineman that will be on hand is Logan Dziak of Delaware (OH) Buckeye Valley. At 6-2/275 Dziak has good size for a rising junior, but will have to prove he is athletic enough to fit into what the Buckeyes are trying to do on the defensive line in coming seasons.
As good as the other prospects named are, the linebackers in the class of 2014 are a loaded group. Some of the best in America are headed to OSU this weekend and it will be a great chance for the staff to close in on what could be key pieces to building the nation's top ranked class.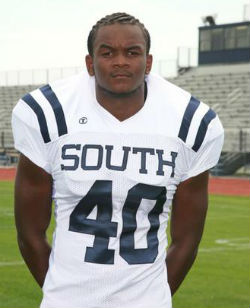 It is no secret that Clifton Garrett is high on Ohio State and it is safe to say the Buckeyes are the team to beat. Right now Garrett is saying Michigan State is up there with the Bucks, with Notre Dame slightly trailing, but it seems as if it could be a matter of when not if the Plainfield (IL) star gives a pledge to Urban Meyer. I think it will be some time before we hear an official word, but I think this weekend could wrap things up unofficially for Garrett.
Another elite linebacker in attendance is Hinesville (GA) Liberty County's Raekwon McMillan. Ranked as an early five star by 247, McMillan is a wanted man, but it appears this could be an early battle between OSU, Georgia, and Alabama, with the former two holding a slight lead. This will be McMillan's second trip to Columbus on his own dime, and while there is a lot of time before he announces at the UA All-American Game in January 2014, I think the Buckeyes may have an early edge which can certainly be asserted at FNL.
While the state's top 2014 linebacker in Dante Booker Jr. looks like he won't make it up for the event, Ohio's 1A at the position in Davonte James will be in Columbus on Friday. James, of Springfield, is an oustanding player and will join his teammate Thaddeus Snodgrass in competing at Friday Night Lights. The 6-3/220 prospect does not currently hold a Buckeye offer, but that could change with a good camp performance.
Other linebackers of note set to be in attendance are Detroit (MI) Cass Tech's William White and Deon Drake, Oak Park (IL) River Forest's Nile Sykes,  Shaker Heights' (OH) Joe Henderson, and Cincinnati (OH) Sycamore's Tinashe Bere. 
In the defensive secondary, CJ Reavis of Chester (VA) Thomas Dale and Damon Webb of Detroit (MI) Cass Tech give Everett Withers and Kerry Coombs a couple of great prospects to look at.
Reavis doesn't have an OSU offer yet, but if he makes it to Columbus for FNL there is a good chance that happens. Word is Reavis would put the Buckeyes at the top of his list if it does, so he is definitely a prospect to pay attention to.
Webb will reportedly make his second trip to Ohio State this summer, after earning an offer during his first camp trip. Webb is thought to be an early Michigan lock, as many Cass Tech kids are, but the national attention may allow the Buckeyes to stay in this longer than many would expect. At this point you have to throw everything you have at Webb, but it looks like the Wolverines are on top, with LSU being the one program that may put up a fight.
Finally, Galion (OH) ATH Dareian Watkins will also make a return trip to Columbus. Last time he camped in June he worked out at quarterback due to injuries, but now healthy, he is expected to rep at both wide receiver and defensive back. Watkins is a superb athlete who could play any three of those positions at the college level, and it's good he is coming to FNL so the staff can assess where they like him and if they want to extend an early offer.