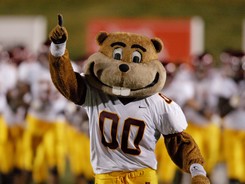 With Major League Baseball's All-Star Game just a week away, the lineups are more or less set. Per usual, the rosters are comprised of both worthy players and undeserving ones while a few snubs are noteworthy, particularly those that involve bad blood between one league's manager and his (former) rival team1. 
Last Friday, I explored which players would start on offense in a potential Big Ten Football All-Star Game based on the following criteria:
1. Talent, because when possible, the best players should be selected.
2. Popularity, because fans would get a vote.
3. Homerism, because the coaches, Bret Bielema and Mark Dantonio, would have input.
4. Every B1G team, even Indiana and Minnesota, is guaranteed at least one starter.
This week, I'll use those same rules to break down the defensive rosters for the Leaders and Legends squads. Whereas the Legends side was more evenly distributed on offense between the six teams, that's not the case on defense. Putting aside any bias that Dantonio would have for Michigan State, the Spartan D is clearly the class of that division, and the picks reflect as much.
On the other hand, the Leaders Division is the opposite of that and offers much more of a balance this time around.  
DEFENSIVE END
Leaders: Michael Buchanan, Illinois; John Simon, Ohio State
Even with former Illini teammate Whitney Mercilus in the NFL, Buchanan should continue to succeed at rushing the quarterback. Last season, the second-team All-Big Ten selection recorded 7.5 sacks, which placed him fourth in the conference in that category. 
The leader of the Buckeye defense, Simon is one of the biggest names in the B1G and he has the muscles to back that up. His unparalleled strength and work ethic helped him earn 2011 first-team All-Big Ten honors, along with the respect of the fans and his new head coach. Simon accounted for the most tackles for loss (16) and sacks (7) last season for the Buckeyes and will remain an intimidating presence on the conference's best defensive line.
Legends: William Gholston, Michigan State; Craig Roh, Michigan
Like Simon, Gholston totaled 16 TFL in 2011, though he outpaced him overall in tackles (70 to Simon's 53). He's a dominating force who's expected to produce an even better junior year. His reputation is not pristine, yet most, including his own coach, probably understand his excessive aggression toward Michigan players. 
Although it took him a few games to adjust to new defensive coordinator Greg Mattison2, Roh put together a solid season and ended up with the second-most sacks on his team. The senior will try to improve on that number this year when he slides over to the strongside DE position. I have no idea what kind of opinion Wolverine fans hold regarding Roh, but he seems like the sort they would laud, and if not, well then maybe they would gather votes in the chance that Gholston would punch him. 
DEFENSIVE TACKLE
Leaders: Johnathan Hankins, Ohio State; Kawann Short, Purdue
Even though this is a fairly loaded position in the Leaders Division, the choice was easy. Hankins and Short are huge talents who are future first-round draft picks. In fact, many experts believe Big Hank is the top NFL prospect in the entire Big Ten. The junior continues to progress, and he's poised for a monster year as he has managed to slim down without losing his power. It's also fun to yell "Big Hank!" after the deceptively quick Hankins bulldozes his way through some offensive linemen.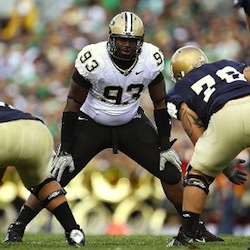 Similarly, Short is athletic for his size and and put up impressive numbers a year ago (54 tackles, 17 TFL, and 6.5 sacks).
Legends: Baker Steinkuhler, Nebraska; Ra'Shede Hageman, Minnesota
Now a senior, Steinkuhler has been a starter since his sophomore year and brings experience to the Nebraska defense. In 2011, the Academic All-Big Ten totaled 40 tackles, five TFL, two sacks, and two pass breakups. Also, if you abbreviate his name, it's close enough to "Baker Street" that fans of other schools might vote for him based entirely on how great that song is, especially the killer sax solo3. 
It wasn't easy finding a spot for a Golden Gopher, but the Legends isn't as stacked as the Leaders at DT, and Hageman has potential if he can get his act together. His disorderly conduct charge was recently dismissed, which would probably earn him a thumbs up from Dantonio.   
LINEBACKER
Leaders: Chris Borland and Mike Taylor, Wisconsin; Gerald Hodges, Penn State
Borland and Taylor are a dynamic duo that Bielema wouldn't want to split up, so Illinois' Jonathan Brown and OSU's rising star Ryan Shazier have to deal with being snubbed. Borland, who was second in the B1G to Taylor in tackles a year ago, has a knack for creating turnovers. Last season, he intercepted two passes and forced five fumbles, giving him 10 FF in his career thus far. He was also named to the All-Big Ten first team. Taylor joined him as media first-team selection while the coaches went with Hodges, who is good enough that Penn State fans will still try to hold on to that "Linebacker U" label.
Legends: Denicos Allen and Max Bullough, Michigan State; Kenny Demens, Michigan
Like Bielema, Dantonio would want to keep his Allen/Bullough tandem intact and not without reason. What the 5'10' Allen lacks in size, he makes up for in his ability to disrupt, as evidenced by his 11 sacks last season. Bullough is basically the opposite of that—bigger, but not a speedster—yet he's a tough, smart LB who led the Spartans in tackles in '11. Kenny Demens did the same for Michigan, and as he's entering his third year as a starter, the senior should be a steady presence in the middle.    
Cornerback
Leaders: Ricardo Allen, Purdue; Terry Hawthorne, Illinois
At 5'9", Allen is another player small in stature, but he's a hard hitter who racked up 79 tackles last season. In each of his first two seasons, he snagged three picks and is also an ace at NCAA Football 2012, which he hopes will carry over to the actual gridiron. Hawthorne matched him with three interceptions of his own in '11, and the senior is supposed to see time as a receiver, too. Whenever the ball hawk is on the field and the football heads his way, the announcers should refer to it as a "Journey to the Center of Hawkthorne" play4.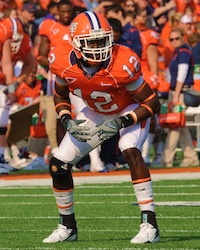 Legends: Johnny Adams, Michigan State; Micah Hyde, Iowa
The preseason All-American Johnny Adams could be nicknamed "Nabby" like his ancestor Abigail Adams5 because to this point, he's already nabbed eight interceptions in his Spartan career. He's also quite proficient as a blitzer and could be the top cornerback taken in the 2013 NFL Draft.  
Hyde led the conference in pass breakups (11) last season and just as Allen, Hawthorne, and Adams did, he picked off three throws. While he may be Iowa's best defender, that doesn't give anyone permission to make "Hyde yo kids, Hyde yo wife" jokes, so don't do it.
SAFETY
Leaders: Shelton Johnson, Wisconsin; Mark Murphy, Indiana
Bielema would opt for one of his own guys instead of C.J. Barnett, if only because that would mean Wisconsin would boast the most starters in the Leaders camp. Because he hasn't always been consistent, even Ohio State fans can't quite decide how good Barnett is, and Johnson's coverage skills helped him grab four interceptions last season. As the required Hoosier representative, Murphy is looking to build on his breakout redshirt freshman season in which he amassed 76 tackles and a pick-six. Despite playing for Indiana, the linebacker turned safety has decent upside.
Legends: Ibraheim Campbell, Northwestern; Isaiah Lewis, Michigan State
Michigan fans love them some Jordan Kovacs and would desperately try to stuff the ballot box for him, but Dantonio would La Russa him, especially since he somehow manages to be overrated for a former walk-on. Nevertheless, Lewis is possibly the Big Ten's #1 safety. He can lay the wood and make big plays, such as returning two of his four interceptions for touchdowns last season. As just a freshman, Campbell's 100 tackles was the highest total for Northwestern, and even though the Wildcat secondary was often shredded, Campbell's emergence was a bright spot.
KICKER/PUNTER
Leaders: Anthony Fera, Penn State
Last season in the Big Ten, Fera was behind only Maher in punting with an average of 41.9 yards. He also connected on 14 of 17 field goals including a long of 46 yards.  
Legends: Brett Maher, Nebraska
Named to the All-Big Ten first team as both a kicker and as a punter, Maher has a reliably strong leg. He averaged 44.5 yards on his punts while hitting 19 of 23 field goals with a best of 51 yards. 
However, it's not unthinkable that voters would try to right the wrong of Mortified Michigan Punter losing the GIF championship, and in that case, who could argue against Will Hagerup as the punter for the Legends? Then, Brendan Gibbons would join him to take the kicking duties as well as battle Bielema in a blondes vs. brunettes debate, and that certainly sounds entertaining.
Just think about it, Jim Delany. A Big Ten All-Star Game? Ka-ching. 
1 Tony La Russa is a stupid jerk. 
2 Or, to put it another way, he had to adjust to a defensive coordinator who actually knows what he's doing.
3 Lisa Simpson agrees.
4 I didn't include him just so I could make that reference, but it was quite the added bonus.
5 That, most likely, is not true.