Last week I brought you five reasons why Ohio State will go undefeated in 2012. Despite Johnny's feeble attempts to knock me off of my Urban induced high, (UIH is running rampant in Columbus I'm told) I still believe this Buckeye team has a legitimate shot to run the table. Obviously a lot would have to go right to bring such a cruel cruel football joke to fruition, but it's not out of the question. At the very least, it's not as unthinkable as if the Buckeyes were kicking off the season with ohhhhhh I don't know…Alabama.
Still, true to my word I'm here today to bring you the top five reasons why OSU wont go unscathed in 2012. So as the late Michael Jackson would say, "Shamone" down, take a seat and learn ya a little somethin.
1. Implementing a new offensive system. 
I'll be the first to call out this was listed as a reason the Buckeyes will go undefeated in 2012 in last week's write-up. Because it is such an unknown, and because it might be the piece this entire season hinges on, I feel it can be included as one of the team's top weaknesses as well.
As we all saw first hand, sometimes revamping a team's offensive philosophy doesn't always go as planned. Luckily the Buckeyes have a guy in place who has proven he can win with his system at the highest level. That's not to say there wont be hiccups along the way. This offense will run 1.8746 million times faster than any Buckeye offense we've seen in the past decade. As a wise woman once told me, "haste makes waste" or in this case, haste presents the potential for fumbles, interceptions, missed blocks and derrrrrrr inducing moments leading fans to throw the nearest blunt object across the living room narrowly missing children and other loved ones (I had a traumatic Saturday childhood, my children will have the same).
There will be growing pains and they could cost the Buckeyes a game early.
2. Lack of offensive line depth. 
In a way, this is an extension of No. 1 but also a reason for legitimate concern. The offensive line has been one of Coach Meyer's biggest stressors from the moment he stepped on campus.
This from the man himself before the spring game:
"Meyer said Ohio State's first-string offensive line has been "adequate." As for the backups?

"We have a problem," he said."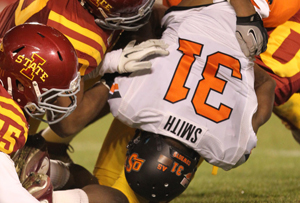 Meyer and his staff were able to reel in recruits Kyle Dodson and Taylor Decker as well as switch former TE Reid Fragel to right tackle to add depth, but will it be enough? Meyer's offense relies heavily on a line that moves quickly so this unit is certainly going to be tested in the endurance department. With a lack of adequate bodies to give the first team a rest, the framework of Meyer's offensive schemes could start to break down quickly.
3. Wide Receivers Don't Step Up. 
Again, an extension of No. 1, but something that can't be understated. It's hard to get a bead on just how good (or bad) this group will be since they were so vastly under utilized in 2011. Illinois ONE PASS COMPLETED HOOORAY!!!!
Much like the offensive line, this is a group Meyer hasn't minced words with:
"They're not functional…"
And this:
"They probably were the most unprepared group I'd ever dealt with as far as practice"
Personally I think Meyer knows he has talent at WR but wants to motivate this unit using statements engineered to get under their skin. Urban is searching for a game breaker and this public shaming is his way of goading the cream to rise to the top. Still, someone has got to take a step forward and that individual remains to be seen.
4. Loss of Motivation.  
This is a very real issue and one that could become a problem if Meyer and his staff don't get a handle on how best to manage the lack of a postseason. Meyer has indicated he plans to reach out to former arch-rival Lane Kiffin who was able to guide the Trojans to success despite a bowl ban in 2010 and 2011. 
Meyer seems to have the players' buy-in early. Just listen to Zach Boren:
"We want to win every game," Boren said. "It would be very satisfying for this group of seniors with everything we've been through to go out and go 12-0. That would be just as good as going to any bowl."
It's going to be harder to play with that mentality in November when the national championship picture starts to shake out. Imagine knowing you're the most skilled guy in the office with no chance of a promotion…ever. It becomes pretty easy to envision mailing it in. 
5. It's hard to go undefeated.  
That's something any player on an undefeated team would tell you. What they probably wouldn't tell you is this: it also takes a few plays falling your way. See exhibit A, exhibit B (sorry had to include it) and exhibit C. 
Meyer can preach 4-6 seconds of relentless effort all day, but it wasn't a lack of effort that caused Hamby to drop that pass and it certainly wasn't 4-6 seconds of relentless effort on the part of Texas' defense as Hamby was wide open. No it was just a play falling Texas' way. Such is the fine line between an undefeated season, and a "what could have been" season.
At the end of the day, anything can happen in college football. Looking at a schedule on paper and predicting wins and losses is one thing, but that doesn't always go as planned. Just ask Oklahoma State who undoubtedly had the Cyclones circled as their only potential loss on the 2011 calendar.
Despite a softer schedule and what looks to be a dominant defensive line, many questions remain for this team. Will Meyer find his playmaker at WR? Will a thin offensive line hold-up over 12 games? Will this whole spread thing work at Ohio State?
If Meyer gets those questions answered, he'll still have to deal with a team playing for pride not championships, and that's a hard sell week-in and week-out.