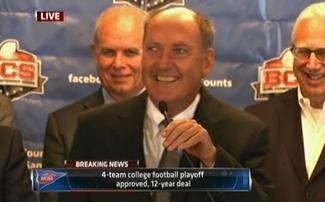 Finally.
After 14 years of the Bowl Championship Series and more than a century of mythical national champions, a playoff is coming to college football. And it only took three hours to come to the terms.
The long and winding road ended in Washington, D.C., on Tuesday, when the 11 conference commissioners and 12 university presidents and chancellors approved the new four-team seeded postseason format. The two semifinals will take place in bowls, with the title game being put up for bid. The semifinal venues will rotate among six bowls.
"Considering the status quo could not retained, nor could we get campus sites to host (the semifinals), I am supportive of the new model," Ohio State athletics director Gene Smith told Eleven Warriors.
"The commissioners did a great job."
The conventionally wisdom is that the six bowls will be the four current BCS bowls – Rose, Sugar, Fiesta and Orange – the new "Champions Bowl" between the SEC and Big XII champions and the Cotton Bowl at Cowboys Stadium. The Cotton Bowl came out in the hours after the official playoff announcement angling for hosting duties.
"It's a great day for college football," Cotton Bowl President and CEO Rick Baker said. "We congratulate the conference commissioners and presidents for their diligent work to enhance the post season. We look forward to learning more about the opportunities that will be created by today's announcement. With partners like AT&T and Cowboys Stadium, we believe we have a great story to tell."
Possible championship game sites include Miami, New Orleans, Dallas, San Diego, Indianapolis, Jacksonville and Orlando.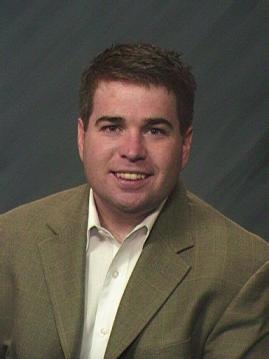 "We do not know the rotation yet," BCS executive director Bill Hancock said. "That's still to be determined."
The first national championship game will take place on Jan. 12, 2015. The new deal – some would argue better than FDR's – lasts for 12 seasons, expiring in 2025. Semifinals will take place on New Year's Eve or New Year's Day with the title game coming on the first Monday that is six or more days after the first semifinal.
The championship date gives way to a new chapter in college football's storied history – "Championship Monday."
Instead of polls and computers, the Top 4 teams will be determined in a fashion that is familiar, albeit in another sports: a selection committee. College basketball has used a selection committee for decades, and with a high degree of success. There are criticisms every year, which is inevitable, but by and large the committee is commended for their vetting.
The committee will rank playoff teams based on won-loss record, strength of schedule, head-to-head and if a team is conference champion. Who and how many will be on the committee is not yet known, but the most-commonly used number has been 15. Past coach, players, administrators and media are expected to be included in the selection process.
"I like the human element of the selection committee and the guiding principles for selection," said Smith, who was the chairman of the men's basketball selection committee in 2011.
"As we moved forward to identify a new model, we had a couple of really important issues," Big Ten commissioner Jim Delany said. "We wanted to continue to support the regular season, we think it does that. We also wanted it to be inside the bowl season, it does that. We also think the method for selecting teams is more rational, it has fewer conflicts and is more transparent. So when I think at the whole situation, I think college football, the Big Ten and the players and coaches are well served."
THE Details
Four-team playoff with 12-year deal through 2025 season;
Begins with 2014 season, first title game will be held Jan. 12, 2015; 
A selection committee will choose playoff teams;
Six bowls will rotate the two semifinal games, title game site will be bid out;
Big Ten will remain affiliated with Rose Bowl; 
No automatic qualifiers for top six bowls.
This playoff still doesn't have the feel of professional postseasons, or even college basketball's championship process. With only four teams being a part of the playoff, the "little guy" – Boise State, Mountain West, Sun Belt, MAC, etc. – could still be underrepresented.
The new postseason format will not include automatic qualifiers. A selection committee could be more inclined to take a one-loss major conference school over Boise State, meaning a championship still would not be settled on the field.
"I think, generally, each conference will be represented," Hancock said of the selection committee. "There's a lot of work to be done on that. I think a model will be the NCAA (men's basketball) selection committee. We would be well-served to use that as a model.
"I think strength of schedule is going to be a very important part of this. Who did you play? Where did you play them? How did you do? I think you are going to have to play a good schedule in order to make it into a playoff."
Among the other issues causing apprehension is the presidents' and athletic directors' rallying cry for years: class. Despite every other NCAA sport at every level having tournaments and playoffs to decide its national champion, meaning weeks of missed classes, administrators have never been able to comprehend that same process for Division I football.
Asked about the cons of the playoff, Smith said, "I am concerned with student-athlete wear and tear, couple days of classes being missed and family travel between games if your team wins the semis and advances. (It will be) expensive."
There are still many undecided variables, the biggest of which being what the event will be called. Revenue sharing and the bowls involved are also not yet known. But a TV deal well over $1 billion dollars is expected to be reached.
| YEAR | SEMIFINAL #1 | SEMIFINAL #2 |
| --- | --- | --- |
| 2007 | #4 Oklahoma vs #1 Ohio State | #3 Virginia Tech vs #2 LSU |
| 2008 | #4 Alabama vs #1 Oklahoma | #3 Texas vs #2 Florida |
| 2009 | #4 TCU vs #1 Alabama | #3 Cincinnati vs #2 Texas |
| 2010 | #4 Stanford vs #1 Auburn | #3 TCU vs #2 Oregon |
| 2011 | #4 Stanford vs #1 LSU | #3 Oklahoma State vs #2 Alabama |
Even utilizing BCS standings, the last five postseasons would have been electric.
Since its introduction to fans, the BCS has done nothing but garner criticism and harsh words from fans. The drumbeat became louder the past five seasons, reaching a crescendo the past two seasons with the release of Yahoo! Sports columnist Dan Wetzel's acclaimed book "Death to the BCS" and last season's title game rematch between LSU and Alabama.
The response from the powers-that-be was unprecedented in the history of intercollegiate athletics. Never before has an administrating body been so in tune to the clientele's demands.
"(A playoff was in) response to the public, response to the interest in college football," former Big XII interim commissioner Chuck Neinas said. "The BCS has done a great deal in helping promote college football, and there's a general feeling we need to do something better to determine a national champion."
The last serious look at a playoff came in 1994 but was ultimately struck down. Then-NCAA executive director Dick Schultz argued that the postseason in college football needed to usher in an era of change so a true national champion could be decided. Eighteen years later, Schultz's wishes have come to fruition.
"The Football Bowl Association wishes to congratulate the BCS Commissioners and Oversight Committee on their careful deliberations concerning the future of the college football postseason," Football Bowl Association Executive Director Wright Waters said.
"The 35 bowls located in 28 communities and staffed by thousands of community volunteers look forward to working with the commissioners to insure the continued growth of the sport we all admire. The bowls provide a unique postseason experience for student-athletes, fans, coaches and the American public. Today is the beginning of an exciting time in the future of college football and we are committed to continuing the rich tradition of the bowls."
The bowls are likely here to stay, but already, less than 24 hours after the sport's biggest announcement, college football detractors are displeased. Some want eight teams, others 16, a faction wants all 11 conference champions involved.
"I think there will always be more people who want more," Delany said. "Sometimes less is more. We thought two (teams) worked for 14 years, and I'm sure this is going to work for at least 12."
Only time will tell.