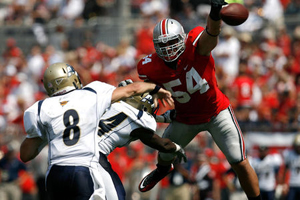 In my most recent Skull Session I ruminated for a spell on the possibility of Ohio State going 12-0 in 2012. While I still believe that would be an incredibly difficult situation to stomach, I don't think it's completely out of the question. That's why I'm here today to offer up five reasons why Ohio State WILL go undefeated this upcoming season. 
Of course in the interest of fair and balanced journalism I'll be offering up five reasons why Ohio State WONT be riding dirty with an unblemished record next week. So stay tuned loyal readers.
With that said, let's get to it.
#1 Ohio State's Up-tempo / Unseen offense.
It's no secret Urban Meyer and Tom Herman are speeding things up on the offensive side of the ball. The Buckeyes will be running a style of offense patrons of the Shoe may never have seen from their boys in the Scarlet and Gray in any decade (exciting.). The no huddle, quick-strike mentality seeks to stretch opposing defenses from sideline to sideline ultimately moving the ball from end zone to end zone (at least in theory). The philosophy appears to be working as Meyer definitely has the whole scoring thing down.
It's a system in which Braxton Miller should thrive. Often last year it seemed the freshman was moving the ball in spite of Bollman's playcalling. In 2012, Braxton gets the keys to an offense that is tailored to his strengths. One that rolls him out of the pocket, builds confidence with short passes, and forces defenses to account for his scrambling ability at all times.
Fans of the Scarlet and Gray aren't the only ones who will be seeing this offense for the first time as opposing defenses will be in the same boat. Meyer didn't unveil a ton in the spring game and it's safe to say he wont be showing much of his hand until the Sept. 15 matchup against Cal. 
This gives an undeniable advantage to the Buckeyes as defenses wont be entirely sure what to prepare for. Sure they can study some of Meyer's Florida tape, but this offense will be incorporating bits and pieces of both Meyer and Herman's philosophies. Basically it's a high-powered offensive Frankenstein pieced together by two of the finer scoring minds in college football. Light your torches and bring your pitchforks Big 10 villagers, because it could be a long day.
#2 Dominating Defense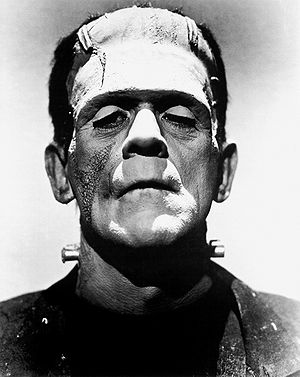 This defense has everything you could ask for in terms of potential for domination. There are clear leaders in John Simon and Jonathan Hankins, there's depth, and there's experience with nine returning starters.
Tom Dienhart of the BTN ranked both OSU's 2012 defensive line and secondary at No. 1 in the Big Ten. The stout defensive line should give a relatively young group of linebackers (led by Ryan Damn Shazier) the opportunity to roam and use their athleticism to make plays.
In addition, the consistency in the defensive coaching staff should afford this group less of a learning curve than most experience with a new head coach. The comfort in having Coach Fickell and Coach Vrabel back on the sideline can't be understated. Far from the offense's situation, this group can "X and O" (read: think) less and simply play football. 
#3 Relative Ease of Schedule
Unlike in years past where Ohio State has taken on a powerhouse program early, this season's home and away is Cal. The Golden Bears wont be a cake-walk by any means, but USC and Texas they are not.
From there the Bucks will be tested on the road against MSU, but the Spartans will have an unproven signal caller under center. If the defensive line can get pressure, I like Ohio State's chances.
Following the Spartans, the Bucks get a Nebraska team in Columbus they should have beaten last year (BAUSERBOMBS!!!), a few nameless teams in Indiana (I can say that because Ohio State plays Purdue at home which means they win by 24 instead of experiencing Purdue-Harbor on a loop) and a Penn State team with Matt McMoxie at the helm. Not exactly daunting.
Then comes what I believe to be the biggest test of the season: an away game at Camp Randall. The Badgers will likely have Danny O'Brien under center, the athletic Maryland transfer who threw for 29 TDs and 18 INTs during his time with the Terrapins. The game will be a tough one, but when playing Wisconsin, the unthinkable tends to happen. Hopefully the Buckeyes can bring that luck on the road.
Finally, Michigan rolls into town. This game will be the Buckeyes bowl appearance, and Meyer will demand perfection. It's hard to see the Buckeyes losing this contest at home, especially since they were only a few Miller overthrows away from a win last season in Ann Arbor.
The schedule isn't a complete cupcake, but it's much more manageable than in years past.
#4 Improved Overall Coaching Staff
Throughout the Tressel years, it was clear he ran the show. The consummate micro-manager, he had his hand in every facet of the program. During last season's train-wreck we may have learned more about Tressel as a coach than in any season he was actually on the sideline. He was the glue holding the Bollmans and Sicilianos of the world together. Without him, everything fell to pieces.
Top to bottom, this coaching staff is better than any group Tressel had in Columbus (with the possible exception of 2001-2003 with Mark Dantonio as DC). Meyer made it a point to hire or retain some of the best assistants available, specifically so he wouldn't have to re-live his stressful days in Gainesville.
The staff is an enthusiastic bunch that knows how to work from the ground up. When you get a lot of great minds in the same room, good things tend to happen.
#5 Spoiler Mentality
This effectiveness of #5 relies solely on the effectiveness of #4, but I think playing spoiler is something the coaching staff will harp on all season. With no postseason to play for, this team is going to have to find something to motivate them week-in and week-out. I believe that motivation will come from players wanting to ruin the season of each and every team they face in 2012.
It's not hard to see guys like Kerry Coombs and Mike Vrabel pounding this into players' skulls, and I believe it will be a rallying cry for the team.
Spoil everyone's season, go 12-0 and sit back and watch the world burn. Sounds like a pretty solid plan to me.
If all goes as designed the Buckeyes' high-powered offense and terrifying defense will be driven by an undeniable want to play spoiler during every week of 2012's manageable schedule, propelling them to a 12-0 season. (Whew that was a long sentence…take a breath).
A few things will have to fall their way, but no team goes undefeated without a little luck am I right?