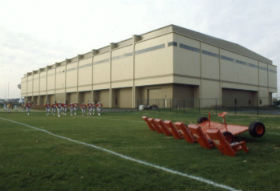 The upcoming weekend is a big one when it comes to Ohio State, as the Buckeye coaching staff will host their first senior football camp in Columbus. These camps have been very successful recruiting tools in the past and that does not look to change with Urban Meyer in town. 
The list of prospects set to be in attendance is still being ironed out, but the initial group of prospects tentatively on board is an impressive one for both the recruiting class of 2013 and the recruiting class of 2014. Prospects are coming from all over the country to try and earn a scholarship offer from the Buckeyes, while also getting the chance to learn a thing or two from the OSU coaches.
While things can certainly change before the weekend, the following is a list of players set to be in town on Sunday. Join us after the jump to see who's set to be in Columbus, and in turn who could be the next prospect to earn a chance to wear the Scarlet and Gray.
2013 Campers
While there will be great players from this class on both sides of the ball at camp, all eyes will be on the offensive linemen this weekend.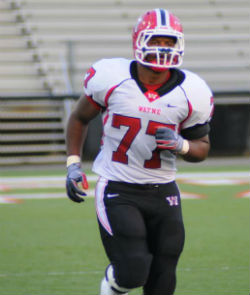 The group not only has the most notable names in it, but it is a position Ohio State has struggled to recruit for the class of 2013 and the prospects coming on Sunday are trying to earn an offer from the staff.
The big names to watch are OT Kyle Meadows of Lakota West, OG Sean Welsh of Springboro, OT Sam Coverdale of Chagrin Falls Kenston, and C Lovell Peterson of Huber Heights Wayne. OT Mac Bosel of Cincinnati Princeton will also be competing with the linemen at camp.
Rumor has it the coaches are going to "let the best man win" when it comes to a scholarship, so the competition should certainly be intense. I personally favor Peterson over all of the other prospects, but Meadows and Coverdale are two tackles who are quickly rising up recruiting boards nationally.
On the other side of the ball there are some big names coming to town as well. Perhaps the biggest is Vonn Bell, a five star safety out of Rossville (GA) Ridgeland. Bell was in Columbus earlier in the year, calling his OSU visit the best he had been on, and it speaks volumes that he is making a second trip north on his own dime. Bell has not cut his list just yet, but it's safe to say the Buckeyes will be on it whenever he does. A commitment this weekend is not completely out of the question, but odds are against that happening as of this moment.
Another big time player who is supposed to be in town, but may not camp is Michael Hill of Pendleton in South Carolina. The 6-2/315 defensive tackle who grew up rooting for the Buckeyes will get to see Columbus for the first time, giving the staff a chance to make a great impression. He is expected to make official visits this fall so a decision isn't pending, but you can be sure the staff will try to bring the heat when it comes to the big lineman.
Hailing from the same region as Hill is Tarboro (NC) DE/OLB Tyquan Lewis. Lewis will come to town Friday for a weekend visit before participating in camp on Sunday. He claims to hold an Ohio State offer, but all signs point to it being non-committable, meaning he will have to impress the coaches this weekend to change that. My prediction is he does and the Bucks truly enter the mix along with his other finalists of LSU, UNC, Ole Miss, and Clemson. If the Buckeyes can land Lewis, I think he would be a great fit at the Viper position at OSU, which is an outside linebacker that plays with his hand down at times to rush the passer (see: Carpenter, Bobby).
Finally, on talented "athlete" is set to be in town and that is Darron Lee of New Albany High School, just outside of Columbus.
Lee is set to star as a quarterback for New Albany this year, but many project him to his more natural position of safety at the next level. He will come to camp to try and earn an Ohio State offer to add to those he currently has from Boston College, Bowling Green, Cincinnati, Duke, Illinois, Kent State, Marshall, Miami (OH), Arizona State, Minnesota, Northern Illinois, Ohio, Purdue, West Virginia, and Toledo. I don't see Ohio State offering him this weekend, but you never know what a good camp performance may do.
2014 Campers
Leading the 2014 group is a trio of defensive backs from the Mid-Atlantic region in Washington DC Woodson's D'Andre Payne, Baltimore (MD) Gilman's Troy Vincent Jr., and Upper Marlboro (MD) Wise's Marcus Allen. All three players will be making their first trip to Columbus and being brought by former NFL defensive back, Troy Vincent Sr., who trains them.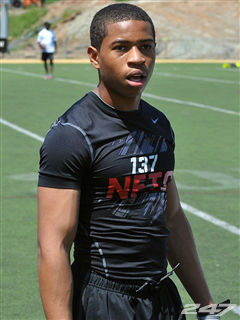 Payne is the best of the group and already holds an Ohio State offer, as well as scholarships from over 20 other schools early in the process. Vincent is a prospect who could grab the staff's attention with a good camp showing and has the pedigree to make it at the next level. Allen is not a well known right now, but as mentioned it is very early and that is what these camps are for.
Joining the two defensive backs are a couple of offensive linemen in Chicago (IL) De La Salle's Jamarco Jones and Minford's Jared McCray.
Jones is a big time prospect who already has a couple of offers from Illinois and Vanderbilt. Standing at 6-5/290 he is an intimidating presence for just a sophomore, but he will look to prove he can pack the punch as well this weekend at camp. I would not be completely surprised to see him leave Columbus with an Ohio State offer, although the staff may wait to evaluate talent at their other camps this summer.  I think he is a prospect that will definitely end up staying in the Midwest when a college decision is made, as all of the Big Ten powers and Notre Dame are interested in him.
McCray just came off an unofficial visit to Ohio State last week, where he got a tour of campus from Greg Gillum and also got to speak to Urban Meyer, Ed Warinner, and Mickey Marotti. He is more than likely an interior player at the next level and a nice looking prospect, but I think the Buckeyes are just feeling the temperature on this one for now. Unless he completely blows the staff away I don't see him landing an offer just yet, but he is definitely a prospect to keep an eye on as initial interest is there.