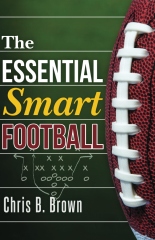 Chris Brown is one of the foremost sources on football strategy outside the coaching ranks today.  Regular readers of this site know that his Smart Football is a must-read and nary a week goes by that I do not link to one of his insightful posts.  
We are all lucky, then, that Chris has released a new book, The Essential Smart Football, which is currently No. 1 on Amazon's best selling football books.  As Chris writes:

it is a collection of pieces, roughly two-thirds of which consist of older works that have been expanded and professionally edited, and another one-third of which are new. If you've read every single thing I've ever written you will recognize the portion of the book that is not all new, though as I said I have expanded and edited each piece. But this book  is my considered judgment of what I think constitutes the best and most essential of my thoughts on football — The Essential Smart Football.
Chris was kind enough to sit down and discuss the book and football strategy with me.  He provided me with so much good material that I will split this into two pieces.  This first post discusses overall football trends, while the second will focus on Ohio State, Urban Meyer, and the future.
RRF:  What is your background and how did you decide to start a football strategy blog?
CB: Like all of us, really, I've loved football all my life. I played growing up and through high school, and while in college was interested enough in the game to stick with it. At that time I did some assistant coaching with nearby schools, and later did the real thing. I decided not to pursue that career, however, and today I am a (fairly!) happily practicing lawyer in New York City. But I wanted to stay connected to the game, and I was fortunate to have then and continue to have many, many wonderful contacts in the coaching business. The website, some form of which goes back probably eight years or so, was really an attempt to write the kinds of articles about football that I wanted to read. As it grew it -- and this goes for the new book too -- became my attempt to both write the sorts of things I wanted to read but also to hopefully contribute just a little bit in my own way to a game that has given me a great deal.
RRF:   What was the impetus for you to release you new book, "The Essential Smart Football?"
CB: Sort of a confluence of factors. One was that the longer I've written and the more outlets I've written for, I've been fortunate to have a lot of new readers come to my work, and many of them ask where they should start, both with my work and with thinking more deeply about the game in general. At the same time, I'd like to imagine that my thinking on football has become more refined over time, so I wanted to revisit some of my older works and had thought a book project might provide an outlet for revising and expanding some of those older pieces, such as my discussion of Urban Meyer's offense. I also had a substantial amount of unpublished material -- which make up the all new chapters on Al Borges' offense at Michigan, the history of the 3-3-5 defense, and others -- that I thought would mesh well with the other edited material. And I thought, naively maybe, that others might enjoy seeing all of that presented in a simple, clean, concise package. And I'm happy to report so far, so good: The Essential Smart Football has spent most of the last week as the #1 bestselling football book and a top #5 overall sports book on Amazon (though being released in May probably reduced my competition).
RRF:  Briefly, what does the book contain?
CB: In addition to what I mentioned above, the book is collection of pieces, organized by theme -- Characters, History, Theory and Concepts -- split roughly half and half between college and pro football, though there's more overlap between the concepts I discuss there than one would think. I discuss what I think are the best, most important, and most innovation concepts and strategies in football right now, through the stories of various players and coaches important to the game's development. Although the subjects are diverse, by the end the reader will have covered most of of the ideas driving what we see on the field every Saturday.
RRF:  Lets turn to college football today.  Who do you think are some of the most interesting and/or innovative coaches today?
CB: I will of course note that "interesting" and "innovative" are not always the same thing as "successful," and it's the latter that fans do and should care about most. Being a coach is about a lot more than schemes -- it's about developing men, first of all, and talent, fundamentals and techniques decide more games than do strategies. And innovative coaches don't even always directly benefit from their innovations. In a lead in to a chapter I quote Goethe: "Daring ideas are like chessmen moved forward; they may be beaten, but they may start a winning game."
But, as a cursory glance at the top of the standings will reveal, strategy clearly matters, and it matters nowadays more than ever. In that vein I think the coaches doing really interesting stuff are guys like Chip Kelly of Oregon and Dana Holgorsen, formerly of Oklahoma State and now of West Virginia, on the offensive side of the ball, and on defense I think Nick Saban of Alabama and Garry Patterson of TCU are the most fascinating to study. This doesn't mean they have a monopoly on good ideas or schemes -- except maybe in the case of Saban and his talent laden teams -- as Wisconsin has possessed another one of my favorite offenses the last few years, though with offensive coordinator Paul Chryst to Pittsburgh and offensive line coach Bob Bostad to the Tampa Bay Bucs, they will be interesting to watch. (That said, Wisconsin's new offensive coordinator, Matt Canada, from Northern Illinois, is a very good one.)
RRF:  To you, what are the cutting edge innovations you are seeing on the offensive and/or defensive side of the ball?
CB: Again, I'll preface this by saying that what is most cutting edge isn't necessarily what is best. That Vince Lombardi guy did pretty well with a simple offense, I just wrote an extremely lengthy piece on how Peyton Manning's Indianapolis Colts decimated the NFL for a decade using the exact same plays over the entire period, and Leach-protege Holgorsen said the reason Leach's offenses were always so good was because "he don't change shit."
But as a scheme junkie, I do love what's cutting edge, and to me the best stuff on offense is the increased use of "packaged concepts," particularly within a no-huddle offense. This is all some pretty new and pretty killer stuff: runs and downfield pass plays combined all in the same play, where the quarterback can either throw downfield (not just a bubble screen) or hand it off to a running back, all while the offensive line run blocks. Or the use of downfield passes combined with screens underneath, both to receivers and running backs. And finally one Oklahoma State killed people with last year under offensive coordinator Todd Monken, where they combined a one-on-one downfield pass option to their stud receiver Justin Blackmon who was singled up to one side, a receiver screen to the other, or an inside run with the running back and offensive line. Each unit did their job independent of the other players on offense, and the quarterback simply decided whether to throw the slant or fade to Blackmon, throw the screen to the other receivers, or hand it off.
The further benefit to these is when they are used in the no-huddle: The offense can run to the line, line up, call a single, simple concept, and the quarterback chooses where to go with the ball, making the defense wrong, every time. This is in contrast to requiring the quarterback to make lots of complicated checks or audibles at the line of scrimmage or to do that whole everybody-line-up-no-wait-look-to-the-sideline-for-the-new-signal thing. It's run it and go, and the quarterback is the field general.
On defense the big trend is to take existing defenses, like the 3-4 or 4-3, but to begin using more "hybrid" defenders in the base defense, guys who were maybe considered "tweeners" a few years ago without a true position. These are the linebacker/safety hybrids and the defensive end/linebacker hybrids, who, when facing all these no-huddle or multiple-formation attacks, must be able to both take on a fullback or tight-end at the line, rush the passer, or drop into pass coverage. If you're going to have any hope of defending a dynamic offense like the one Urban Meyer runs -- which is spread but can use power, and can use power but still throw the ball around -- then you need to meet that dynamism with more dynamism.
Next week, Brown and I will speak more specifically about Meyer and OSU.