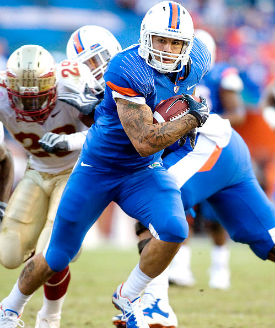 In the next part of our summer series, Forecasting 2013, we take a look at the grand scheme of things at the tight end position for Ohio State's recruiting class of 2013.
While the staff under Jim Tressel and Luke Fickell under utilized the tight end in their offenses when it came to being play makers, Urban Meyer's philosophy is a bit different. If you need to learn more, you can ask a certain former player of the new Buckeye coach and see what he thinks.
With the changes to the offense and within the role of the tight end at Ohio State also comes a new strategy in recruiting the position. The cupboard certainly isn't bare with Jake Stoneburner, Jeff Heuerman, Nick Vannett, and Blake Thomas in 2012, but as the position is used as more of a weapon in the offense comes the demand of more players on the depth chart.
Today, we take a look at the tight end position for the recruiting class of 2013 to see what high school prep stars may blossom into the "next Aaron Hernandez" under the tutelage of Meyer and offensive coordinator Tom Herman. Join us after the jump to see "who's in", "who's out", and "who's left" when it comes to the Buckeyes' big board for rising senior tight end prospects.
Who's In?
As mentioned above the Buckeyes have a solid group of tight ends on the roster for this coming fall, but needed to add at least one player in the 2013 class, as Jake Stoneburner is set to graduate after the season.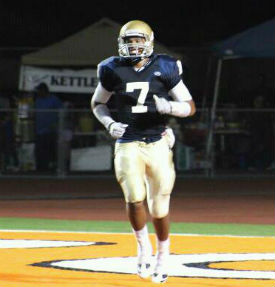 Marcus Baugh of Riverside (CA) John W. North was a player who was targeted early by Urban Meyer and quickly jumped at the opportunity to be the first tight end to commit to the Buckeyes, giving his verbal to the coaching staff on April 10, just a month after receiving his offer from OSU.
At 6-4/225 Baugh has good size for a high school junior, but is expected to get a little bigger by the time he gets to Columbus. He caught the eye of the staff through his ability to catch the football, but he also very proficient in the blocking game as well, something that would have been more valuable in the old system, but won't be a lost art in the Meyer Era.
When it comes to offers, Baugh picked the Buckeyes over scholarships from schools such as Miami (FL), Nebraska, UCLA, Washington, Florida, Cal, Ole Miss, and others. He was well on his way to having that list blow up even more, but his commitment slowed things down in that area. 
He is rated as a four star prospect across the board and all services have him in the top ten at his position. He was named as the number three tight end by 247 and ESPN/Scout's Inc., the number five tight end by Rivals, and the seventh ranked tight end by Scout. Regardless of which service's rankings you prefer, it's safe to say Ohio State is getting a very good player.
Baugh is a great get for the Buckeyes and if the class ended with just one tight end, the Ohio State coaching staff would be very happy. That being said, it seems the goal is to add another dynamic play maker to the group in addition to Baugh, but as of now that mission has not been accomplished.
Who's Out?
The Buckeyes started their 2013 tight end recruitment by looking at a large group of players, but only ended up offering four of their targets.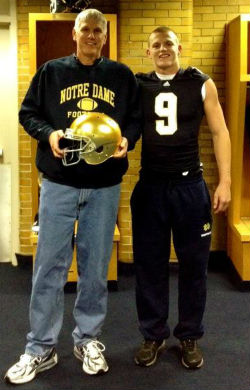 One of those targets was Baugh, but two of those are already off the board in the form of Naples (FL) Barron Collier's Mike Heuerman and Camp Hill (PA) Cedar Cliff's Adam Breneman.
Heuerman was considered a lock to be a Buckeye, as his older brother Jeff is already on the roster and he long expressed his love for Ohio State. It seemed to be a matter of when not if when it came to the younger Heuerman joining his brother in the Scarlet and Gray early on in his recruitment, but as things dragged out that changed.
While Ohio State was making a strong push, other programs such as Notre Dame, Miami (FL), and LSU were also building relationships with the top ten tight end. Heuerman always kept Ohio State on the top of his list, but Notre Dame did a great job connecting with the star prospect and the program continued to rise up the board.
The Fighting Irish's hard work finally paid off, as Heuerman committed to Brian Kelly on Thursday April 26. This was to the surprise of many Buckeye fans, mainly because of the fact that as early as the weekend before, Heuerman was telling people he was planning on pledging to the Buckeyes while on campus for the OSU Spring Game.
Whether it was because of the rumored desire not to compete with his brother Jeff, or just because he truly felt South Bend was the place for him, Heuerman did ultimately decide to play for the Green and Gold, leaving the Buckeyes searching for their second tight end.
Breneman on the other hand, ended things a bit earlier, committing to Penn State over Ohio State on March 9. The nation's top tight end grew up in Penn State country, rooting for the Nittany Lions since childhood.
While he claimed his fandom wouldn't be a factor, he couldn't deny a lifetime of passion for the school contributed to his decision. Ohio State did everything they could in this battle, but came up just short and is now left moving on to the next set of prospects.
Who's Left?
With Baugh in, and both Breneman and Heuerman out, that leaves only Durham (NC) Hillside's Josh McNeil as the only remaining tight end with an Ohio State scholarship offer.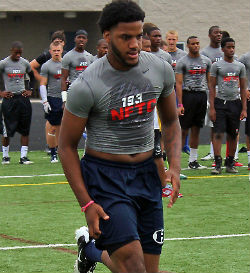 The 6-5/240 McNeil is rated as the fourth best tight end by Scout, eighth best tight end by 247, and the thirteenth ranked tight end by Rivals. He is a four star prospect across the board, but the thing that makes him so intriguing is that he just picked up football a couple of years ago after being a basketball star for most of his life, something that is leaving people calling him "the next Antonio Gates".
If McNeil could be half as good as Gates is that would be just fine. The raw prospect is blowing up in the meantime though, with over 25 offers at this point from some of the best programs in the nation. He currently names a top three of Alabama, Ohio State, and Georgia, in that order, and will be visiting all three schools on June 4, June 16, and June 7 respectively.
Things were looking good when it came to OSU and McNeil early on, with the Hillside star even stating a couple of months ago that he was 90% sure of where he wanted to go to school. Being that he was 2012 Buckeye signee Jamal Marcus's good friend and teammate, couple with the fact that the Bucks were recruiting him very hard, many felt he would end up in Columbus.
That changed a bit as Baugh surprisingly gave his verbal pledge to Urban Meyer despite never visiting the school. While nothing has been confirmed yet, it was highly coincidental that McNeil decided to postpone both his trip to Columbus and his announcement date at the same time Baugh committed and the Bucks seemed to throw all their eggs in the Mike Heuerman basket.
The move by the staff apparently hasn't damaged things too bad, as McNeil will be on campus next month and still has the Buckeyes in his top two. With Marcus in his ear and the charm of Urban Meyer, there is certainly a good chance the North Carolina native selects the Scarlet and Gray when he announces his decision live on television at Nike's The Opening in Beaverton, Oregon on July 5.
If McNeil chooses to Roll Tide or play for the Bulldogs, the coaches will look at a new group of players who will all try to earn an offer at Ohio State's summer camps. While it's not clear exactly who could be next in line to receive an offer if the staff chooses to add another tight end, the one name that has emerged is that of Charlie Reid.
Reid, 6-4/225, is just starting to rise on the recruiting scene as more college coaches get down to All Saints Episcopal School in Fort Worth, Texas. He already has offers from Arizona, Ole Miss, TCU, UCLA, Mississippi State, and Utah, among others, while schools such as OSU, Oklahoma, Baylor, Arkansas, and Texas A&M are all starting to show some more serious interest.
Ranked as the number 21 tight end by 247, the number 23 tight end by Rivals, and 32nd at his position by Scout, Reid will only continue to improve in the ratings. He had a successful junior season in which he caught 41 passes for 637 yards and 5 scores, numbers that he should improve upon during his senior campaign.
I'm not sure if Reid will ever end up with a scholarship offer from Ohio State, but Tom Herman is certainly a fan of his as things stand now, and depending on what happens with McNeil, he is definitely a player to watch this summer.