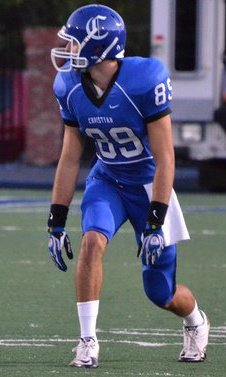 The tight end role is certainly changing under the new coaching staff and with those changes comes a renown focus on recruiting the positions.
While Jim Tressel utilized the tight end as ultimately a sixth offensive lineman, Urban Meyer and Tom Herman plan to use their weapons in their arsenal to stretch the field in a variety of ways.
The Buckeyes currently have a solid crop of tight ends, but will be looking to add more play makers in the coming years to succeed Jake Stoneburner, Jeff Heuerman, Nick Vannett, and Blake Thomas.
Already committed at tight end in the class of 2013 is Marcus Baugh out of California and other players such as Durham (NC) Hillside's Josh McNeil could eventually join the fold as well, but Meyer and the staff are also focusing on 2014 prospects.
One player in that class they have already offered is Jeb Blazevich of Charlotte (NC) Christian. The 6-5/235 four star prospect, who hails from the same school as recently departed Buckeye David Durham, already has some big time interest, racking up nine offers in the early going. One of those schools to offer is Ohio State and Blazevich is definitely interested in seeing what OSU has to offer.
We caught up with Jeb to hear the latest on his recruitment, what his early feelings are on the Buckeyes, what Durham is telling him about his former school, and more. Join us after the jump to hear more about 2014 stand out tight end, Jeb Blazevich.
How did your sophomore season go? How did your team do and how did you perform individually?
My sophomore season was a bit disappointing as our team went 5-5. That record is unacceptable for our program and we had some mistakes during the season that we have to work on fixing for next year. Our program hit a little bit of a slump, but we are definitely headed in the right direction.
Individually, I did OK. My stats were not amazing, but I had 32 receptions for 513 yards and 6 touchdowns on offense at tight end and 69 tackles and 3 sacks playing linebacker and defensive end. More importantly, I was dependable in both the receiving game and in blocking and did whatever my team needed me to do.
How is recruiting going for you so far?
Recruiting is crazy. I didn't expect the flood of people to come in so fast, but my family and friends are keeping me grounded and I'm making sure I don't get a big head or anything like that. I have offers so far from North Carolina, Duke, South Carolina, Georgia, Ohio State, Maryland, LSU, Ole Miss, and Virginia.
You mention Ohio State offered you. Who is recruiting you for the Buckeyes and how did they offer?
Coach Zach Smith and Coach Everett Withers are recruiting me for Ohio State. Coach Smith first came to my school, but wasn't allowed to talk to me so he gave my coach his card and told him to have me call him. I finally got on the phone with him and he was telling me all about what Ohio State had to offer me and at the end of the conversation he told me that they'd like to offer me a scholarship.
What are your feelings right now on Ohio State?
Ohio State is a great program. It was sad to see Coach Tressel go down like that last year, but Urban Meyer is another legendary coach which is great. The tradition there is crazy and the school is really worldwide. You can go anywhere in the world and see OSU fans.
Do you plan to visit Ohio State this summer?
Yes, I will be visiting for their camp at the end of June. This will be my first time to their campus so I'm definitely looking forward to the trip.
What other visits do you have planned?
I have already been to UNC, Duke, South Carolina, and Clemson each twice because those schools are close and the first three offered me early. I will definitely be getting to Clemson and Georgia for sure this summer, I'm just not sure when. In addition to those, I'd like to try to get to LSU and Alabama, and maybe Virginia if I can.
Do any schools stand out to you at this point?
I get this question a lot and I know a lot of people usually say no to be guarded of who their true favorite schools are, but I honestly don't feel that any schools stand out at this point.
I know it's early, but do you have an idea of when a decision might come?
I definitely want to decide before my senior season. I'm not the type that's going to wait long and play the hat on the table game, so I'd like to decide before my senior year starts.
What factors are you looking for in the school of your choice?
There are a ton of factors that go into the decision, but overall we're looking for a coach with integrity that can develop me as both a player and a student, since the education is really what the school is paying for. I'd also like to go to a school with a winning tradition, but as I said before there are a ton of other little factors that will play a role in where I choose to go.
David Durham, who just left Ohio State to go to Pittsburgh, graduated from your school. Do you know him at all and what did he say to you about OSU?
Yes, I know David. My family and his used to be close, but then they moved to Texas for a while before coming back to Charlotte. David's been coaching me up a little bit and giving me some good advice on the process in general. He told me that he loved Ohio State and that he was upset at how things shook out there, but the thing that stood out to me was that he said even if he wasn't playing football in Columbus it was a place he would have been very happy at.