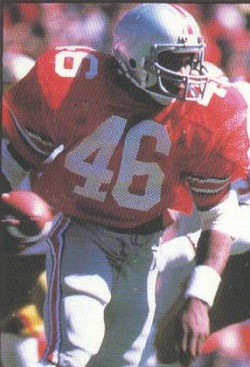 The city of St. Clairsville, OH is a small town located on the Eastern border of the state, and in fact is considered part of the Wheeling, WV metro area. It is historically a coal-mining town, and one mine in particular was known as "Hell's Kitchen" because miners would emerge from it covered in red dust. As a result, players for St. Clairsville High School are called the "Red Devils". 
Back in the late 70's, Ohio State coaches traveled to St. Clairsville to see a local football phenom. Running back Tim Spencer finished his Red Devil career with over 3000 yards rushing and 50 touchdowns, with 1670 yards and 28 TD's in his senior year alone. For these exploits, he earned Parade All-American status and a scholarship offer from Ohio State's brand new head coach Earle Bruce. 
Spencer committed to the Buckeyes, and arrived on campus ready to contribute right away. He was big for his age, and as a result he was immediately inserted into the running back rotation, despite being part of a logjam at the position. As part of Bruce's first recruiting class, OSU had also lured the services of highly-touted Kelvin Lindsey to add depth the the rotation of junior Calvin Murray, senior Ric Volley, and redshirt freshman Jimmy Gayle. It seemed that Spencer might get lost in the shuffle.
Murray got most of the action in that magical 1979 season, when the Buckeyes went 11-1 and lost a shot at a national title in the last couple of minutes against powerful USC. But Spencer managed to carve out a few carries during the many blowout wins that season, and he finished the season with a sparkling 6-yard average (37 carries, 221 yards). Still, Murray was returning for one more season and Gayle would be a solid back-up, and so the opportunity to start seemed like it might have to wait another year.
However, there was one option that Spencer hadn't considered previously, and suddenly his size turned to his advantage. OSU had no returning fullbacks with any significant experience, and promising freshman Vaughn Broadnax was not ready to start. The coaches asked Spencer if he wanted to try his hand at the blocking back. Traditionally, OSU fullbacks had been stars during the Woody Hayes era, but in modern I-formation offenses they mostly just blocked. Still it was a chance to start, and so being a "team first" kind of guy, Spencer made the switch.
In true St. Clairsville fashion, Spencer dug deep and sacrificed his body for the greater cause, and the coaches showed their appreciation by giving him more carries than the fullbacks had gotten the previous season. The sophomore finished the season with 577 yards and 8 TD's on 108 carries (5.3 average), but more importantly his blocking helped clear the way for Murray to rush for 1267 yards and 7 TD's on only 195 carries (6.5 average). Not only that, but his poise in the starting role and his humble attitude impressed the coaches, so that Spencer had a leg up in the battle with Gayle for the starting tailback position the next season.
There may have been doubts from some fans about a player switching from fullback to tailback and getting the nod over a more experienced runner, but those doubts were quickly erased in the first game of the season, maybe even the first carry. Getting the ball at their own 18-yard line in the opener against Duke, OSU QB Art Schlichter handed off to Spencer on the first play from scrimmage and he raced 82 yards untouched to the end zone to put the Buckeyes up 7-0. Spencer would finish with 172 yards on 19 carries in his first game as a starting feature back and there would never again be any doubt about who would be the starter.
Spencer had a marvelous year, rushing for 1217 yards and 12 TD's on 226 carries. Gayle also contributed mightily with 732 yards and 9 TD's on 153 carries, but Spencer was clearly the man at RB. Still, the team had struggled on defense and ended up going 9-3 on the season, barely slipping past Navy in the Liberty Bowl game. After going to the Rose Bowl and the Fiesta Bowl in the previous two seasons, it seemed like the team had slid down a bit despite the strong running game and the presence of an elite QB like Schlichter.
With a new group of defensive coaches coming in for the next season and an experienced offensive line to block for him, Spencer had high hopes for a great senior season both for him and for the team. Replacing Schlichter would be difficult, but promising sophomore Mike Tomczak was ready to step up and he had an excellent group of receivers to help him. Spencer would be running behind the massive Broadnax at fullback and, with Gayle behind him, he was certain OSU's running game could make up for any deficiencies in the passing game.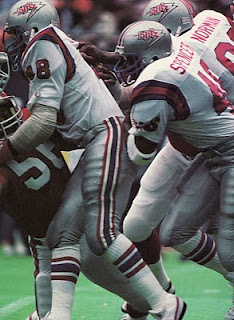 The formula seemed to work in OSU's first two games. Spencer gained 147 yards on the ground and Broadnax 101 in the opening-game 21-14 win over Baylor. And in game two, the Buckeyes broke open a defensive struggle in the 2nd half, taking advantage of turnovers to pull out a 31-10 road win at Michigan State. But it all came apart after that.
The lack of an effective passing attack hampered the offense as opposing defenses loaded up against the run. The Buckeyes dropped 3 straight home games, the conclusion of which was a sorry 6-0 loss to Wisconsin in the pouring rain. In that game, Spencer moved back to fullback and Gayle started at tailback due to an injury to Broadnax, and the team seemed ready to recover as they drove deep into Badger territory late in the 4th quarter. But a Spencer fumble ended the drive and OSU never got the ball back.
This was the type of situation where senior leaders needed to step up and rally the team. The senior running back was up to the challenge. Going on the road to face an excellent Illinois squad, OSU finally got it's passing game going and that opened things up for the run. Spencer rushed for 151 yards and Tomczak passed for 247 yards in Ohio State's 26-21 victory. The win restored the team's confidence and they proceeded to rattle off 5 straight wins to finish the season, including a tremendously satisfying 24-14 victory over Michigan.
Because of a scheduling fluke that gave UM one more conference game than OSU, the Wolverines were Big Ten champs and represented the conference in the Rose Bowl. Ohio State was invited to the Holiday Bowl in San Diego and they took out their frustrations against Steve Young and the BYU Cougars, crushing them 47-17. Spencer rushed for 167 yards and 2 TD's to cap off a brilliant season and career. 
Spencer finished the season with 1538 yards on 273 carries, the 3rd best season ever for an OSU player at that time (behind Archie Griffin's sophomore and junior seasons). For his career, he gained 3553 yards on 644 carries, 2nd only to Archie Griffin at that time and still 3rd best today behind Griffin and Eddie George. Eschewing the NFL in favor of the fledgling USFL (2nd player drafted overall), Spencer signed with the Chicago Blitz and rushed for over 1000 yards as a rookie with that team. During his 3 years in the USFL, Spencer rushed for 3158 yards and 26 TD's playing for the Blitz, the Arizona Wranglers, and the Memphis Showboats. After that, he joined the NFL's San Diego Chargers and switched back to fullback. Playing there for 6 seasons, he rushed for 1792 yards and 19 TD's on 474 carries. 
After his playing days, he eventually found his way back to Ohio State, serving as running backs coach first under John Cooper and then under Jim Tressel. He served in that capacity for 10 years (1994-2003) and then left in January of 2004 to join the Chicago Bears in the same capacity. During his tenure at Ohio State, Spencer guided running backs to 6 1000-yard seasons, including Eddie George's record-breaking 1927-yard season in 1995. With the Bears, he has coached the team to over 2000 yards rushing twice, and last season's team averaged 4.4 yards per carry. 
As many of you know, Spencer's son Evan, a sophomore wide receiver, is carrying on his father's legacy by playing football for Ohio State. He got some action as a freshman and looks to be on his way to a promising career. If he could become only half of what his father is, both as a player and as a leader, he would be doing well. Tim Spencer always put the team first, but, as is often the case, that attitude helped him achieve enormous individual success.