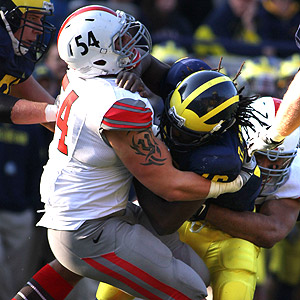 John Simon made headlines recently as one of 42 players named to the preseason Lott IMPACT Trophy watch list. His inclusion wasn't a surprise, the soon to be senior's  name has been popping up again and again as a guy primed to be a leader in Meyer's defense this upcoming season.
As most trips down the Internet rabbit hole begin, his mention on the list made me Google him producing pictures like this, which made me terrified hopeful that he will make a big impact in 2012, which in turn got me thinking about something else.
It's clear Simon is passionate about throwin' the weights around. When he's not on the football field convincing QB's that handing the ball off would have been a more prudent choice, he's in class studying to be an exercise science major. The phrase workout-warrior comes to mind, which reminds me of the last OSU defensive lineman to be given the same moniker: Vernon Gholston.
Yes Mt. Vernon's name has become synonymous with the term, especially in the NFL. Unfortunately for him, that's not a compliment. Instead of performing legendary feats on the field, he's been relegated to the status of a cautionary scouting tale; a warning for saucer-eyed NFL types wowed by incredible combine feats to think again. Gholston's speedy 4.65 40 yard dash and then combine record tying 37 reps on the bench never coalesced into strong performances on Sundays. It didn't take long for the former first round pick, now current free agent to prove that he probably doesn't have what it takes to play in the NFL.
On the surface, Gholston and Simon seem very similar. Besides being gun-show compadres, both are hybrid athletes utilized similarly at Ohio State as rushers who could attack from the upright or dug in position. Both have also been described as too undersized to play D-line in the NFL. In fact, Gholston was moved to outside linebacker during his time with the Jets. With so many similarities, the question must be asked: Is Simon headed toward Gholston's same fate? Comparing their Buckeye careers could help to shed some light on the issue.
Gholston (6-3, 260lbs).
What gets lost in the combine hoopla is the fact that Gholston had an amazing junior year. He broke the school record for sacks in a season with 14.5 a distinction formerly held by current defensive line coach Mike Vrabel (13 sacks during the '95 season). Gholston also had a beastly November notching 4 sacks in a single game against Wisconsin (a school record) and following that up with a 3 sack game against Michigan two weeks later.
Gholston decided to forgo his senior season leaving college ball with an impressive stat sheet. During his career as a Buckeye he tallied 87 total tackles, 30.5 tackles for loss, 22.5 sacks, 1 fumble recovery for a TD and 1 interception. He racked up a number of awards including a Second-team All-Big Ten nod in 2006 and a First Team All-Big Ten selection in 2007 as well as taking home Big Ten Defensive Lineman of the Year and First Team All-American honors. 
Not too shabby for a guy that only played two complete seasons after an injury in his freshman opener sidelined him for the entire 2005 season.
Simon (6-2, 260)
While I'm sure being dubbed "Tebowish" was an honor in of itself, Simon has managed to rack up a number of other impressive career accomplishments in his 3 seasons at Ohio State.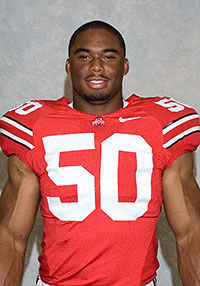 To-date, J.S. has tallied 110 total tackles, 28.5 tackles for loss, 10.5 sacks, 1 forced fumble, 6 pass breakups, and 1 fumble recovery for a TD. The Cardinal Mooney product has also collected quite a bit of hardware including a 2010 coaches and media Big Ten Defensive Honorable Mention, a 2011 First Team All-Big Ten (Coaches) nod, a 2011 Second Team All-Big Ten (Media) selection, as well as a Third Team All-American selection.
He also wins the award for baddest photograph snapped during that whole "season that never happened."
Specifically looking at each players' last two college seasons, Gholston averaged 43 tackles, 15 TFL, and 11 sacks while Simon averaged 47 tackles, 12 TFL and 7 sacks. Those numbers are very similar and with an entire senior season left to play, Simon's season averages (with the exception of sacks) could indeed eclipse Gholston's. 
Despite Gholston's freakish sack total in 2007, I've got to give the edge to Simon in this comparison. He's performed at a level comparable to Gholston and he's done it with much less talent around him. Consider this, during Gholston's record breaking 2007 he was one of three OSU players in consideration for the Bednarik award including Marcus Freeman and James Laurinaitis. Not to mention he had soon-to-be consensus All-American Malcolm Jenkins patrolling things at corner. That's a lot of killers to keep an eye on as an offense and there's bound to be a mismatch somewhere. Gholston, as talented as he was, benefitted from that.
Simon is also going to have an invaluable additional season to mature as a college player before making the jump, something I believe Gholston could have used. But, that's easy for me to say as I have an overwhelming lack of millions of dollars staring me in the face.
At the end of the day, Simon's dedication to the gym is undeniable and it's earned him a nickname made infamous at the NFL level by a Buckeye predecessor. While their numbers are similar, their situations are different. Only time will tell whether Simon's additional season of collegiate experience coupled with his ability to step up in a less talented defense will propel him from nickname to in-game at the NFL level.