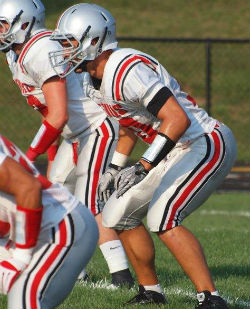 Currently in the evaluation period, the Ohio State coaching staff has taken advantage of their opportunity to go around the country and see some of the top 2013 and 2014 prospects in the nation.
One player the coaches didn't have to travel to far to see is Saint Clairsville LB Michael Ferns. While the cost to see the rising prospect isn't much, you can bet the coaches are well aware of Ferns and the talent the 6-3/235 linebacker brings to the table for his high school. In his sophomore season, Ferns racked up a whopping 136 tackles, following a stellar freshman campaign in which he tallied 88 stops.
The Buckeyes recently paid a visit to Saint Clairsville to see Ferns work out, but they are not alone in their pursuit. Ferns already has five offers to his name and the list of schools that are soon to jump into the mix include some of the top college football programs in the country.
We got the chance to catch up with Michael to hear the latest on his recruitment, what his interactions with Ohio State are, what visits he has planned, and more. Join us after the jump to hear about one of the hottest trending players in the recruiting world, Michael Ferns.
How did your sophomore season go? 
My season went well overall. Our team ended up 10-2 on the year and got to the second round of the playoffs.
How is recruiting going thus far? What schools have offered and what schools are showing interest?
Things are happening for me a lot sooner than expected. In terms of offers, things started off with Marshall and went from there to getting one from Virginia, Notre Dame, Wake Forest, and now Duke. Other schools that I have talked to and are showing interest in me include Ohio State, Michigan, Michigan State, Penn State, and BYU.
I know Ohio State went down to see you this week. How did that go?
Things were pretty brief with that, being that I also had Coach Collins in from Duke visiting at the same time. I try to miss the least amount of class as possible considering that it's the end of the school year. Things went well though. We just talked about heading that way for a camp in the summer and about another possible visit before the school year is over. I'm not too sure on a date yet though.
What coaches have you spoken to from OSU? What are they telling you about a scholarship or anything else?
I have spoke to Coach Gillum and Coach Warinner. For the most part, because of how young I am, I'll probably still need to go to their camp before I even get an offer from them.
Do you have any plans to visit Ohio State?
I have already been to Ohio State, before the spring game. I will definitely make another visit there in the summer for the camp.
What are your feelings on Ohio State? Did you grow up a Buckeye fan?
They are a highly respected program and it's a privilege to have the kind of attention I am getting from them. I actually was born in West Virginia so I grew up not liking them, but as soon as I moved over to Ohio, Ohio State became a favorite.
What visits have you already taken? Do you have any visits planned in the near future?
I have taken a visit to Ohio State and also one to Penn State. I'll be making a schedule in the summer based on schools that have offered and those of interest.
What are you looking for in the school of your choice?
I am looking for the ability to play football, along with getting a good education, as football ends eventually.
When do you want to make a college decision? 
I'd like to actually make my choice by the end of my junior year. By doing that, I will have my senior year to prepare for wherever I make the decision.
What are your strengths on the field? What are some things you need to improve on?
In terms of strengths, I think my footwork has always been a plus for me. I feel I need to improve on simple things, like technique both offensively and defensively.
HIGHLIGHTS: