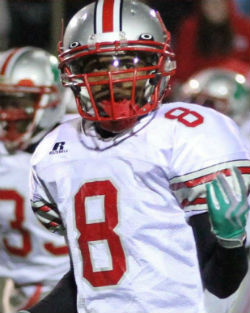 The Ohio State recruiting class of 2013 is now at eight members strong. Before Marcus Baugh "shocked the recruiting world" and became number eight, the latest player to pull the trigger was Toledo Central Catholic DB Jayme Thompson, who committed to the Buckeyes just days after receiving an offer from the coaching staff.
Thompson originally committed to West Virginia back on February 2 and thought he was set to be a Mountaineer, but once the Ohio State offer came through, thoughts of playing a little closer to home crept into his mind and the opportunity to join Urban Meyer's quest to bring the crystal ball back to Columbus could not be denied.
The 6-2/185 Thompson became the third defensive back, and first safety, committed to the class, joining cornerbacks Cam Burrows and Eli Woodard. The trio forms an outstanding secondary class for Everett Withers to bring along in a couple of seasons, as all three are rated as four star players by at least one scouting service.
We caught up with Thompson to hear why he switched from WVU to the Bucks, how Urban Meyer closed the deal on his commitment, what he thinks about people who criticize his speed, and more. Join us after the jump to hear more about one of the newest members of the Buckeye family, Jayme Thompson.
You committed to West Virginia on February 2. Why did you originally decide to commit to the Mountaineers?
I had a really good relationship with the coaches. They recruited me hard and I build really good relationships with the staff, especially the recruiting coordinator. When I went there I loved the campus and saw they had great fan support. It felt like a really good fit at the time.
Although you were committed to WVU you still were being recruited by Ohio State. Were you always a Buckeye fan? How did Ohio State start recruiting you?
I actually always wasn't a Buckeye fan. I am originally from Washington DC and grew up somewhat of a Miami Hurricanes fan. I didn't like football all that much growing up though and started only playing when I was in ninth grade. As for OSU, they started recruiting me last summer, between my sophomore and junior seasons. I went to camp there and had a really good camp. I spoke to Taver Johnson a lot, but then he left for Arkansas and I lost touch with the staff a bit. Shortly after I committed to West Virginia, we started talking again and I arranged a visit there to check things out. I went on my visit there and met Urban Meyer, while also seeing some of the academic things, but didn't have an offer. A few days later Coach Meyer called me and told me I had an offer to Ohio State and that he wanted me back on campus ASAP.
After you got that offer you came back to Columbus for a second visit. Tell us how that went and what you did on that visit.
Yeah, we went back that following Saturday. I watched practice and it was the first day of hitting so it was really intense. I met Jalin Marshall, Ezekiel Elliott, and some other recruits while I was there, which was cool. I ate lunch with Coach Withers and had a meeting with Coach Meyer before I left for about 30-45 minutes
What did Coach Meyer say to you during that conversation? 
Coach Meyer just wanted to know where I stood with West Virginia and where Ohio State stood in my mind. He went over the plan if I were to choose to come to Ohio State and told me they were only taking two safeties due to the limited scholarships for my class. He gave me a timetable to commit because they can only take two safeties and let me know he wanted me to decide by summer, before camps, so they could get a look at some other players at the position if I didn't choose OSU. I committed right then and there. I didn't plan on doing it right that second, but everything just felt right. The football program is outstanding and the school is the perfect distance away from home.
What was the reaction when you committed?
Coach Meyer was extremely excited and gave both my dad and me a hug. We took pictures with him and then Coach Withers came in and got the good news. He was really excited too and we had a long talk after about what they expect from me and how they plan to use me. Coach Meyer is an awesome recruiter, but Coach Withers is a really great recruiter as well and he did a great job with me. He told me I wouldn't be redshirted if they could avoid it because they are going to need help at safety once I come in. They said I can be a safety that can play in space and also cover offensive players one-on-one.
What did you like so much about Ohio State?
I really like the direction in which Coach Meyer is taking the program. They have one of the best programs in the country with the best facilities in the country. I really liked the academic side of things well and the people that are there. I plan on majoring in either communications, television journalism, or African-American studies, and got to talk to some academic counselors there about those opportunities which was great.
So are you completely done with your recruitment now?
Yep, I'm 100% Buckeye. I won't take any more visits or anything like that. I can really tell since I committed to Ohio State that people realize my recruitment is shut down. I used to get 20 letters a day from various schools and that's not happening anymore now that people realize I'm definitely going to Ohio State.
It must have been hard to tell West Virginia of your decision. How did they take it?
Yeah, I called them on my way back home from Columbus. I wanted to make sure they knew before any writers or reporters did and it got back to the public, because that would have been disrespectful to them if they found out that way. I wanted to go out with class, so I called them and naturally they were upset and mad. I was one of their only commits and they weren't really letting a lot of people commit so I understand where they are coming from. I was one of the higher rated players they were recruiting and they recruited me hard, coming to my school every other week. In the end though, I had to do what was best for me and my future.
You mentioned Jalin Marshall and Ezekiel Elliott. Did you get to talk to any other recruits in the class?
I spoke to Jalin and Ezekiel and then also Billy Price and Eli Woodard. My father and Eli's father spoke about us possibly getting together this summer and going through some work outs together which would be cool. I am going to be at the Spring Game next weekend and I'm actually missing my prom for it. I hope to meet a lot of the guys in our class there, as well as other players who could end up in our class.
What are your strengths on the football field? What are some things you need to work on?
My strengths lie in attacking the ball carrier. I pride myself every play on giving it all and getting to the ball as fast as I can because anything can happen if you get to the ball. Sometimes because I am overly aggressive I have poor technique. I definitely can get better at my technique.
I have seen people criticize your speed. What do you have to say about that?
I don't think my speed is a problem at all and have been consistently clocked at around 4.5-4.51, so that is legitimate. I know that talk came from a bad Nike camp I had. I don't like to make excuses, but it was hard to get warm that day when I was in and out of talking with reporters and doing interviews before I had to go perform. It was also laser timed, which traditionally is a slower time, but as I said I am not going to make excuses. I was thinking about going to a bunch of camps to prove my speed to people, but in the end all that matters is what the coaches think, especially Urban Meyer. He's a pretty good evaluator of talent [laughs].
Finally, you are from Toledo Central Catholic, the same school Dane Sanzenbacher came from. Have you spoken to Dane at all?
I actually have not. My coach and I tried calling him, but we couldn't connect. We plan on getting in touch with him soon. I will likely catch up with him this summer at some point though, as he is coming back to our high school to work out.
HIGHLIGHTS: