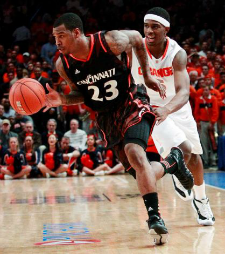 For just the second time in the last 50 years, two schools separated by a mere 120 miles will meet on the hardwood. Ohio State leads the all-time series 5-4, winning the last meeting in 2006, 72-50, in the Wooden Classic. The Buckeyes are making their third straight Sweet 16 appearance, while Cincinnati is making their first trip since 2001.
The animosity between the two schools dates back to the '61 and '62 seasons, when the Bearcats beat the Buckeyes in two straight National Championship games. Then there was the alleged illegal recruiting of Damon Flint in the early nineties and the snubbing Huggy Bear felt when OSU didn't even consider him for the open coaching position in the mid-nineties, instead going with Jim O'Brien.
As both coaches have reiterated in their press conferences this week, the schools won't be looking to add a series any time soon, so enjoy this one.
| # | Name | YR | HT/WT | PTS | REB | ASST | P | # | Name | YR | HT/WT | PTS | REB | ASST |
| --- | --- | --- | --- | --- | --- | --- | --- | --- | --- | --- | --- | --- | --- | --- |
| 4 | A. Craft | SO | 6-2/190 | 8.8 | 3.3 | 4.7 | G | 1 | C. Wright | JR | 6-0/175 | 10.7 | 3.8 | 4.6 |
| 32 | L. Smith, Jr. | SO | 6-4/205 | 6.1 | 4.6 | 2.0 | G | 3 | D.Dixon | SR | 6-3/195 | 13.1 | 3.4 | 2.1 |
| 44 | W. Buford | SR | 6-6/220 | 14.7 | 4.8 | 2.8 | F | 44 | J. Parker | JR | 6-3/210 | 9.3 | 5.6 | 1.2 |
| 1 | D. Thomas | SO | 6-7/225 | 15.9 | 5.3 | 0.9 | F | 23 | S. Kilpatrick | SO | 6-4/215 | 14.3 | 4.7 | 2.1 |
| 0 | J. Sullinger | SO | 6-9/265 | 17.4 | 9.1 | 1.2 | C | 34 | Y. Gates | SR | 6-9/260 | 12.4 | 9.1 | 0.7 |
Opponent
Cincinnati had a slow start to their season, losing to Presbyterian and Marshall in their first five games, before that ugly loss and brawl three games later against Xavier on December 10th. After the loss to Xavier, Cincy went on to win 10 of their next 11, including wins over then ranked Pitt, UConn and Georgetown. Then UC lost four of six, before hitting their stride and reeling off nine of their last eleven, including wins over Marquette, Louisville, Georgetown and Syracuse.
Cincinnati averages 68.5 PPG on the season, but hasn't scored more than 65 in their two tournament wins. The Bearcats aren't the best shooting team, connecting on 42% overall from the floor and 33.9% from deep.
As you would guess with a guard heavy lineup, more than a third of Cincy's shots have come from the perimeter(740/2138), but they also managed to get to the line at least 17 times a game, hitting 64.4 percent.
Like the Buckeyes, Cincy gets it done on the defensive side, giving up 61 PPG on the season, including just 57.5 in the tourney. The Bearcats held opponents to 41% overall from the floor, including 31.9% from deep on the season and held Texas and FSU to a combined 39/107 from the floor.
UC forced an average of 14 TO's this year, committing just 10.7 themselves, while also dishing out 13 assists per contest. They have surprisingly good rebounding numbers for a smaller lineup, grabbing 36.2 per game, including 13 on the offensive glass.
As you can see, the Bearcats have a balanced offensive attack and Thad Matta said this week they may be the quickest team Ohio State has seen all year. Micky Cronin uses a four guard lineup and will go with his starters for most of the game. With the exception of Cashmere Wright against Texas, every starter has played at least 30 minutes in the first two games.
The player that should see the most minutes off the bench is 6'8", Justin Jackson, a sophomore who averaged five points/four boards on the season. Jackson won't be much of a threat to score, but there's a good chance he'll get a few good hacks in on Sullinger.
Also giving a few minutes in trying to contain Sully will be 6'10" JR., Cheikh Mbodj, who has seen nine minutes in each of the two tourney games. Two freshmen, Ge'Lawn Guyn and Jermaine Sanders may also get some PT.
The Bearcats may give Ohio State problems with the four guard lineup, beating the Buckeyes down the court for a few fast breaks and hitting some from deep, but overall, I don't think they have enough scoring punch to overcome Ohio State's. As a team, UC has shot better than 47% just once in their last 24 games and Ohio State holds teams to 40.4% from the floor. They'll be a scrappy bunch, but OSU's height advantage should eventually get the best of the Bearcats.
Buckeye Breakdown:
Besides OSU, only Kentucky can claim they've been to the Sweet 16 each of the past three years, but as we all know too well, this is as far as Ohio State has been since the magical run in 2007. Unlike last year against UK, Ohio State will have the advantage in the paint and Thad has proven over the last three weeks, he's content going inside to the All-American, Jared Sullinger.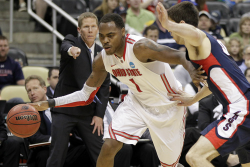 Over the last seven games, Sullinger is averaging 19.7 PPG and grabbing 10 boards, making 50 of his 105 shots(just 5/18 in the paint during the NCAA tourney) and connecting on 33/39 from the charity stripe. Except for the second half of the MSU game in the B1G tourney, when I thought he ball hogged it a little too much, Sullinger is playing his best ball of the season.
It goes without saying he needs to stay out of foul trouble and away from cheap fouls on the smaller Bearcats. Also, if they double team him, he can't be afraid to kick the ball out, his teammates are shooting well and ball reversal will lead to open shots.
Deshaun Thomas is also playing his best ball of the year, leading the NCAA field with 30 points in the paint and 12 off putbacks. His first game against Loyola was a thing of beauty, hitting 13/22 shots en route to a career high 31 points, to go along with 12 boards.
Over the last seven games, The Tank is scoring 19.3 PPG and snagging 7.4 boards, shooting 54%(56/104), while sitting out a combined 17 minutes. Thomas has been a Beast on the offensive glass and will have a three or four inch height advantage tonight, so he too should have a big game.
Sarah wrote about the importance of Aaron Craft and there's always been a joy in watching him play defense, but now his offense is starting to bloom during this stretch run. Craft has hit 27/46 shots over the last seven games, good for 10.6 PPG, to go along with five boards and five assists.
He has turned it over just 17 times and is averaging three steals a game. I think he needs to be aggressive going to the lane tonight, but he's smart enough to take what the Bearcats give him, which is another advantage for OSU.
If Ohio State controls the paint like they are capable of tonight, which includes taking care of the boards, they should earn the right to play in the Elite Eight. Cincinnati won't back down and they will make some threes, which could help neutralize OSU's inside game. However, Ohio State's defense is stifling right now, holding Loyola and Gonzaga to a combined 41/110 and 62.5 PPG. If the Buckeyes can hold the Bearcats to that average, they'll win. 
Etc
CBS gave us the old-timers in Verne Lundquist, Bill Raftery and Leslie Visser.
This is the 14th game OSU has started at 8:30 or later, they are 11-2 thus far.