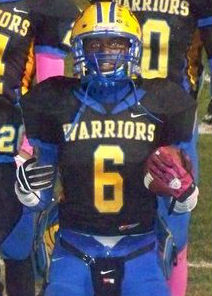 Urban Meyer loves his play makers, especially when it comes to the wide receiver position. Players like Percy Harvin, Louis Murphy, Andre Caldwell, Riley Cooper, Dallas Baker, David Nelson, and others shined under the new Buckeye coach in Gainesville and you know in Columbus he will be looking for the same star power in his offensive line-up.
Meyer already has one play maker signed up for the class of 2013 in Middletown's Jalin Marshall, but is looking to add a couple more to the Ohio speedster. Players such as Robert Foster and Shelton Gibson are mentioned often by Buckeye fans as possible candidates, but another player from the Midwest is high on the want list as well and that is Crete-Monee's (IL) Laquon Treadwell.
Treadwell picked up an offer from the Buckeyes earlier this year and as of this week has 16 offers to his name. The 6-3/185 receiver is regarded across the board as a Top 100 player in the nation and interest continues to pick up as more programs are seeing film of his excellent junior campaign.
We got the chance to catch up with Treadwell to discuss the latest on his recruitment, what happened with his scheduled visit to Ohio State last week, when he expects to make a college decision and more. Join us after the jump to get the latest on one of the nation's best wide receiver prospects in Crete-Monee's Laquon Treadwell.
How did your junior year go?
My junior season went real well. We were undefeated in the regular season and lost in the second round of the playoffs. Individually I had about 75 catches for 1,400 yards and 18 touchdowns so I felt pretty good about the year I had.
How is recruiting going right now? Who has offered?
Recruiting is going really well. I have 16 offers right now. They are from Arkansas, Alabama, Michigan State, Michigan, Indiana, Iowa, Nebraska, Mississippi State, Vanderbilt, Ole Miss, Minnesota, Notre Dame, Ohio State, USC (Southern Cal), Illinois, and Oklahoma State.
Ohio State offered a little while ago. How did that offer go down?
Coach Pantoni had contacted me on Facebook when he got to Ohio State and we built up a relationship just talking back and forth for about a month. One day he told me call the Ohio State coaching staff and when I did they told me that they were offering me a scholarship.
You were supposed to take a visit to Ohio State last weekend. Did you make it there?
Yeah, I was all set to go to Columbus but canceled last minute when I was told Coach Meyer wouldn't be there because he was on vacation. It was really important for me to meet Coach Meyer while I went to visit so I am rescheduling the visit some time in the near future. I need to find out when he will definitely be there and am setting a plan to get there really soon.
What visits have you taken so far?
I have been to Notre Dame, Michigan, Illinois, and Michigan State so far. I liked it a lot at all of those schools.
Some people say Michigan is the leader for you. Is that true and if not who is your leader or top schools right now?
That is not true about Michigan. I did like it up there but I have no favorites right now. I really liked all of the schools I visited already, but I still have a lot of schools to see before I narrow down my choices at all.
When do you think you will narrow down that list?
I am thinking right now I will have a smaller list around the start of my football season or some time during the season. I am going to see what offers come in, visit a bunch of schools this spring and summer, and then evaluate them before I narrow down my list.
When do you expect to make a college decision?
Right now I am planning on announcing my decision on National Signing Day in February of 2013.
HIGHLIGHTS: