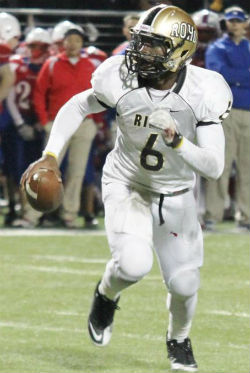 Braxton Miller, pending he is healthy, looks set to be Ohio State's starting quarterback for the next three years. That is obviously good news for Buckeye fans, but knowing Miller's time in Scarlet and Gray will one day come to an end, the staff has to look to the future and find his successor now.
The class of 2013 is filled with many talented prospects at the quarterback position. There are a number of players that currently hold offers from Ohio State, but the consensus seems to be that Urban Meyer plans on taking one player from the state of Ohio and then one national player to fill out his class at the position this coming year.
One signal caller that is in the small group holding an offer from the Buckeyes is Wichita Falls (TX) Rider's JT Barrett. Barrett (6-2/210) is one of the top dual-threat quarterbacks in the nation and currently holds offers from top BCS programs from all over. He is rated as a 4-star, the top ranked dual-threat quarterback and number 38 overall by 247 Sports, as well as a 4-star and the number 138 overall player in the Rivals 250.
The heavily recruited prospect has started to make some college trips, with his latest coming up early next week when he will fly with his father to Columbus to check out Ohio State. We caught up with JT to get the latest on his recruitment, see what he plans on doing while in Columbus, when he plans to make a decision, and more.
Join us after the jump to get the latest on one of the top signal callers in the country, JT Barrett.
How did your junior season go? How did your team do and how did you perform individually?
It was a good season for us. We went 10-4 and made it to the state quarterfinals. There are some things we look back on that we wish had went differently, but there can't be any "should haves or would haves". We just have to grow from the experience and get better for next year. Our plan is to win it all next season and we are going to win it all. As for me individually, I played OK. There were a couple times where I threw interceptions that were crucial in losses and I need to eliminate those for our team to perform better. Overall I had over 1,600 yards and 14 touchdowns throwing the ball and ran for over 1,500 yards on about an 8 yard per carry average with 7 rushing scores.
How is recruiting going? What offers do you currently have?
Recruiting is going well. People told me it was going to get really crazy, but it hasn't been too hectic, which I like. I currently have 10 offers and they are from Ohio State, Texas Tech, Baylor, Nebraska, LSU, Arizona, Ole Miss, Illinois, Kansas State, and North Texas.
What visits have you taken and what visits do you have planned in the future?
I have been to Texas Tech and Baylor already. I am going to Ohio State early next week, LSU on March 31, and then back to Baylor for their Pro Day to check that out. Other than that I have nothing planned right now.
What coaches have you spoken to at Ohio State and what are they telling you?
Coach Tom Herman is my recruiter so I speak to him often. I have also spoken to Coach Meyer a few times on the phone and through emails. The first time I spoke to him is when he offered me and I also just spoke to him on Sunday, March 4. He told me they were really excited for me to get up there for a visit and that they really want me. He's really laid back and we talk often about life in general, not just football. We also talked a lot about David Nelson of the Buffalo Bills, who he coached at Florida and went to my high school. David has told me all about Coach Meyer and how great he is.
You mentioned you'll be headed to Ohio State. What is your plan for when you go there and what do you hope to get out of the visit?
I'm flying up there with my dad on Sunday the 11th and I fly back on Tuesday the 13th so I'll have a few days to check things out, with the bulk of it really coming on Monday the 12th. I just want to see what it's like up there because I've heard so many good things about the tradition and people, but I want to see it for myself. I want to see how the players are and what the coach-player relationship is like. I also want to see how the college town/campus part of the school is and then the bigger downtown city surrounding the school, as I've heard that's nice as well.
If you really like what you see at Ohio State is there a chance you could commit during your visit?
Probably not. The way we do things at my high school is that even if there was a school I really liked, I will come home and talk to my head coach and parents about everything. It will be my decision at the end, but it is good to get input and advice from people that I trust are looking out for my best interests. I am also very close to my head coach, as we have a father-son like relationship. I want him to be there when I make my decision so I'm not just going to pop in on a random day and be like "by the way I chose this school".
When do you plan to make a college decision by? Do you have any favorites right now?
I am planning to make a decision sometime in the summer, but it could be sooner if I feel a school is right. I don't have any favorites right now and am open to anyone who wants to recruit me. I need to pick the best school for me, both as a student and as a football player. 
What factors are you looking at when making your college selection?
The first thing I am looking at is academics. I want a school that will make me successful after I am done playing football, whenever that may be. Next, I will be looking at the people around the program, specifically the coaches. As I mentioned I have a father-son relationship with my high school head coach and am looking for that at the college level too. Finally, I want to be in a college town or city where the environment is good. I want to go to a place where the entire community rallies around the team and supports the university.
What are your strengths on the football field? What do you need to work on?
My strengths are throwing the ball (both arm strength and accuracy), as well as my ability to extend plays with my legs. I feel I can throw well on the run, as well as get extra yards with my legs so being a dual-threat is a strength of mine. I need to work on being patient and not escaping the pocket too soon. Sometimes I tend to rush throws when I do this which has lead to interceptions or bad passes. I also need to not be too greedy in throwing the deep ball and focus on just getting the ball where it needs to be. There are times where taking a gamble like that works out, but many times, and especially at the college level it won't.
HIGHLIGHTS: