Good morning everyone, welcome to your Thursday morning Skull Session.
It is finally the first day of March - it felt like it took forever to get here this year. 
Anyone have any crazy stories from Leap Year Day? Did you make sure to do something that you would normally never do? 
What did I do that I normally never do? Well, I DVR'd the Buckeye basketball rather than watching it live and instead made a small drive to Bowling Green to watch Buckeye great Dennis Hopson's BGSU team do battle with the Miami of Ohio Redhawks. If you didn't know, Dennis is an assistant coach for the Falcons, and was kind enough to hook me up with a few tickets. 
Bowling Green has a wonderful new facility, the Stroh Center, and a very athletic team that is fun to watch. More fun to watch than what we've watched out of the Buckeyes over the course of the last two months, anyway.
So that's my crazy Leap Day story, y'all - what is yours?
 EXTRA DAY FOR SOME TTUN HATIN'.  David Molk, Michigan's Rimington Award wining center spent his Leap Year Day spouting off about his accolades and his (self-described) awesomeness. How far did Molk go in his self adulation? Well, he wasn't shy about his abilities, which is fine - but he also felt the apparent need to respond to questions about how views those who are ranked ahead of him on NFL draft lists. One of those peers, Ohio State's Mike Brewster, received special attention, and Molk was all too eager to share his opinion; telling the author "He (Brewster) is no where near the player I am."
Now, let me be clear about two things about this article: 1) It's from an Ann Arbor news outlet, and so it's not surprising that the reporter tried to egg him on about a Buckeye player and 2) Molk is clearly, madly, and thoroughly in love with himself.
I completely understand a player, heading into the draft, promoting himself and espousing his virtues as a viable option for any team to select him. That's what he should do, and any top-level athlete should be brimming with confidence in his abilities. Molk certainly is not lacking in confidence, but his crybaby-ing about not being selected an unanimous first-team All-American (it "pisses" him off), and his lamentations about some "draft guru" ranking him below other players is pitiful and reeks of immaturity.
Molk may very well be taken ahead of Mike Brewster in the NFL draft, he may very well go on to have a better NFL career than Mike Brewster, but he will certainly never reach Brewster's level as a person. 
Mike, for his part, did respond to the article by simply tweeting "And Molk, keep my name out of your mouth". 
The rivalry is back, folks, and it's getting easier to despise TTUN more than ever as their players and recruits keep going to the lowest-level of respect for their grandest foe.
EXTRA DAY FOR FILLING COACHING VACANCIES . When Bill Sheridan accepted the job as the new defensive backs coach at Ohio State in January, many guessed that this former NFL defensive coordinator was not likely a long-term Buckeye coach in the making. Even the most skeptical of skeptics did not guess that he would only be a three-week long solution on the coaching staff, which he ended up being when he left to become the Tampa Bay Buccaneers DC.
Since Sheridan's departure, it's been relatively quiet on the coaching search front, but yesterday a name surfaced as to who the eventual replacement might be. That name, Kerry Coombs, is one that is likely familiar for Ohio high school football fans; as Coombs was a regular in the OSHAA Play-Offs in his time at the helm for Cincinnati Colerain, culminating in a D1 championship with Colerain in 2004.
After that title run, Coombs left Colerain to become the defensive backs coach at the University of Cincinnati, where he has remained since. He took on the role of associate head coach in 2009, and in 2010 also added the title of special teams coordinator. 
An Ohioan through and through, Coombs fits the profile of what Urban is looking for in his assistants; he's tireless, he loves recruiting and he knows Ohio. 
Is he the next coach at Ohio State? Stay tuned.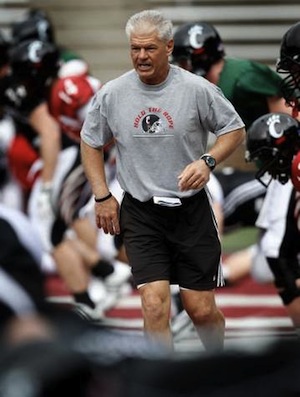 EXTRA DAY FOR SUPPOSED DAMNING ARTICLES THAT ARE OVERHYPED. As we are all too aware of, Sports Illustrated's George Dohrmann's reputation as a "program killer" was built on his actually damning exposé about Minnesota basketball. That story, which eventually led to Dohrmann receiving the Pulitzer in 2000, was thorough and profound and expertly done. 
Since that moment in the sun, Dohrmann's reputation has often preceded his reports, as it did in May when the fear of what he might say about Ohio State's scandal-riddled football program led to a knee jerk reaction by the athletic department when they ousted Jim Tressel a day before Dohrmann's tale dropped. Of course, as many will tell you, that story was much more smoke than fire, and was widely questioned as a "phoned in", full of questionable sources who all seemingly used Dohrmann's pulpit as their own place to grind an ax.
Yesterday, another Dohrmann "masterpiece" was released and unleashed on another nationally historic sports program, this time UCLA basketball. 
Once more, Dohrmann's article was underwhelming and overhyped, detailing how the once proud program was spiraling out of control as a big-time coach allowed his higher-profile players to run rampant on campus and off. If you added a rigged raffle and tattoos it is basically a rewrite of his Ohio State story from May.
Bottom line: college kids are going to do drugs, they are going to drink alcohol - how a coach deals with it is important and can make or break a program. I would be more interested in why Dohrmann decides to spend all that time and money researching things that people can see from thousands of miles away.
EXTRA DAY FOR TALKING ABOUT RECRUITING. Tuesday night, Ohio State received its fifth verbal commitment for the 2013 recruiting class when Evan Lisle, a highly-ranked offensive tackle from Centerville called the Buckeyes to make his pledge. Around that time, I was chit-chatting with Owensboro, Kentucky's Hunter Bivin, another player that the Buckeyes are very high on.
I couldn't help but laugh because here's how the conversation started. It's interesting how sometimes you gain an insight into things when you least expect it.
Me: Hunter, how's it going?
Hunter: Going great, just got off the phone with Coach Meyer.
This was literally five minutes after the news of Lisle's commitment broke. Meyer is freaking relentless.
Anyway, Hunter told that he's still not creating a list of favorites, but that he's planning on attending the Ohio State spring game in April. He's picked up offers this week from Oklahoma, Penn State and Florida and that he will be visiting Notre Dame unofficially on this weekend. He also said that he hopes to make his decision this summer.
Nothing earth-shattering, but it's obvious that the Buckeyes are in his mind, and that Urban and Tim Hinton are not satisfied with one big-time tackle prospect in this class after securing Kyle Dodson and Taylor Decker in the 2012 class.
EXTRA DAY FOR QUICK SLANTS. Davey Jones, lead singer of the Monkees passed away, here's my favorite Monkee's song... Former Cal QB sets a record for longest throw... An epidemic that is striking America, each and every day. Please help... Miami's QB has a back surgery... Oregon "working" with the NCAA.