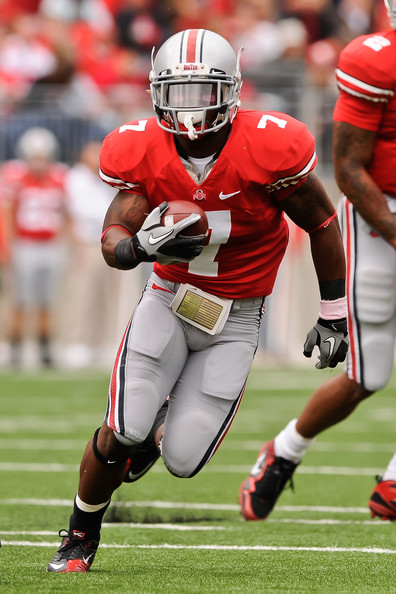 I have spent the last two weeks idenfitying the underpining basis and building blocks for Urban Meyer's spread offense.
Despite the spread to run's numeric advantage, the spread offense is not a panacea, as OSU fans joyfully witnessed with Rich Rodriguez's failed Michigan tenure. Urban Meyer also experienced periods of relative offensive paucity while at Florida.
The spread, like any other offense, needs the right packages and personnel to function.  From Meyer's less successful offenses at Florida, we can gleam the essential building blocks to ensure success.      
The QB as Run-Threat
The point may be obvious, but an offense predicated upon gaining a numbers' advantage by having a QB run threat cannot thrive if the QB is not a run threat.
The 'bootleg plus' aspect of the zone read is rendered a nullity, if the backside defensive end feels little threat by the QB keeping the football.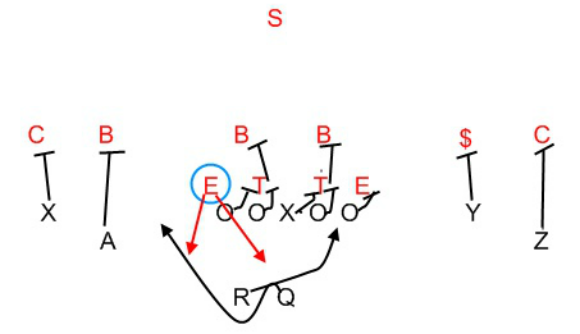 A spread offense without an athletic quarterback is thus getting the downside of being in shotgun without the added advantage.   
Meyer experienced this when he transitioned to Florida.  In 2004, Meyer's Utah Utes ran for 2,833 yards. Alex Smith -- a good athlete but not Tim Tebow or Vince Young -- ran for 631 yards and averaged 4.7 ypc, including sacks.
In 2005, Meyer's first year at Florida, his team's rush yards fell by nearly 38%.  The main culprit?  Chris Leak only rushed for 81 yards. Teams would clog the inside zone and slow play the read, negating the read's purpose.
The fix was personnel, in the form of Tim Tebow. As Chris Brown states, the upshot is that Meyer's offense is predicated upon having a QB run threat. The QB needn't be your best runner, but must be enough of a threat to make his defensive counterpart respect him and thus open up the run game.
Meyer's last year at Florida with John Brantley again demonstrated this fact.  Fortunately for Meyer, he walks into a situation where the Buckeyes' quarterback Braxton Miller is Ohio State's big play threat.
The Difficulties of Establishing the Inside Run Game
Tebow succeeded in establishing Florida's numbers' advantage, but his time at Florida revealed a secondary problem, namely the need to establish the inside run game.
As a general matter, the shotgun spread makes the downhill run game more diffult to execute. The tailback loses his ability to come downhill, use his vision and attack across the line of scrimmage, the play-action threat to open the run game is not as effective, and it is more dififcult to insert lead blockers (though I have shown how Meyer tries to attack this last issue).      
Spread offenses therefore still need physical players at the tailback position who are able to run between the tackles. Meyer, unfortunately, did not have those backs at Florida.
Instead, Meyer was left with scat backs who could not rectify the spread's inherent limitations. Meyer was able to somewhat overcome the problem for a time with two special talents in Tebow and Percy Harvin, but without those two he otherwise had problems running between the tackles.
Built more like a fullback, Meyer was able to create a numbers' advantage by using Tebow as a single-wing tailback on designed runs. Tebow himself became the Gators' inside run threat.  
During the Gators' 2008 national championship run, Meyer was able to manufacture the inside run game with a combination of Tebow and Harvin's unique talents. Harvin was able to motion between the slot and the backfield, quickly attacking downhill on power, counter and veer plays. The result was that Florida ran for 3,236 yeards.
With Harvin's departure, however, Meyer again found himself unable to generate an inside run game beyond Tebow. Florida's offense flat-lined as Tebow was counted on to provide the majority of the run offense, repeatedly carrying over 20 times a game.
The reality is that few quarterbacks beyond Tebow could take that type of pounding.  Meyer's last year at Florida reflected this reality.  Without a running quarterback, Florida had no consistent inside run game to speak of, sputtering as an offense.
Lessons Learned?  Keys for OSU's success
In his year away from football, Meyer has made known his desire for big tailbacks who can run the football between the tackles. While many OSU fans are focused upon who is the next Percy Harvin, the more essential aspect is establishing the inside run game and having tailbacks as the Buckeyes' leading rushers.
While Miller is an electric talent, he does not have the body to be Tim Tebow redux and take that punishment. Fortunately for Ohio State, tailback is perhaps Ohio State's deepest position.
Urban Meyer and Ohio State must establish the run game in conjunction with the QB run threat for his offense to fully thrive.