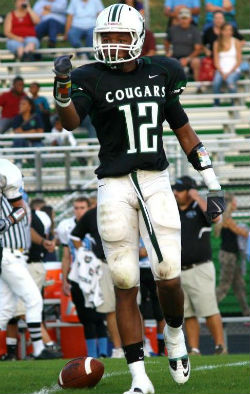 The Ohio State coaching staff brought in a number of solid prospects at the wide receiver position in the recruiting class of 2012, but are on the look out for more outstanding play makers for the group in the class of 2013.
Some of the names fans have become familiar with that are being targeted include Robert Foster, Marquez North, Ahmad Fulwood, Uriah LeMay, and others, in addition to commit Jalin Marshall. Another name for fans to be aware of is Nokesville (VA) Kettle Run's Michael Parker.
Parker, a 6-4/200 receiver who also stars on defense at safety, is one of the Atlantic Region's best in the class of 2013. With solid speed to go a long with his great size, Parker has already accrued interest from many of the top programs in the country, which has lead to him collecting a solid list of offers in the early going.
One of those schools that has offered is Ohio State and the Buckeyes are definitely on the trail and in the mix to land the star Virginian. The Bucks are looking at him as a wide receiver, although as previously mentioned he could fill a void at safety as well if he chooses to play his college football in Columbus.
There is certainly a long way to go, but lead by the recruiting efforts of Zach Smith, it appears OSU will have a good a chance as anyone to give their best pitch to Parker, as he plans on visiting Columbus in the near future. 
We got the chance to sit down with Parker to discuss his Ohio State offer, what is going on with his recruitment, what his goals are for next season, and more. Join us after the jump to learn about 2013 star wide receiver, Michael Parker.
How did your junior season go? How did you do and how did your team perform?
Our season went great. Unfortunately we lost in the state semi-finals, but it was a great year. I had 5 touchdowns on offense and on defense I had 89 tackles, 3 sacks, 6 interceptions, 2 forced fumbles, and 2 fumble recoveries.
What is your current height and weight? 40-yard dash time?
I am currently 6'4" and weigh 200 pounds. I run a 4.5 second 40-yard dash right now.
How is recruiting going right now? Who has offered?
Recruiting is going great for me and schools are starting to come through with offers. I have offers from Boston College, North Carolina State, Maryland, Tennessee, Virginia, Virginia Tech, and Ohio State.
Do you have any favorites at this point in time? When do you expect to make a decision?
I don't have any favorites right now, but there are definitely schools that are sticking out so far. I probably won't make my decision for a while, maybe on Signing Day.
You recently spoke to Ohio State. Who did you speak to and what did they say?
I spoke to my recruiter, (wide receivers coach) Zach Smith. He told me that they had been interested in me for a while and that it was about that time that they gave me an offer.
Do you have any plans to visit Ohio State? Any other visits planned?
I have no date set to visit Ohio State as of this moment, but I do plan on getting up there really soon. The only trip I have planned is this weekend to Virginia Tech on the 18th.
What are your summer plans? Any camps set up? 
I'm going to be doing the same thing I did last summer, which is just work hard. That is all I can do right now. I plan to get to every camp and combine I can possibly get to in order to showcase my talents.
What do you need to work on heading into your senior season?
I really want to work on taking a greater responsibility in leading my team. We are losing some key players from last year's squad, but are still expected to be good, so I need to be a player who can lead his team to wins despite us having a target on our backs.
What are your goals for your senior season? What are your goals for when you get to college?
My goal this season is to lead our team to an undefeated season and to put a ring on the last high school game I play. College is going to be a life changing transition and I know it is going to be a whole different game. I plan on working really hard after my senior season with my coaches to make sure I am in a position to contribute and play right away wherever I choose to go.
What is Mike Parker like off the field? What do you like to do outside of football?
Mike Parker is a pretty cool dude [laughs]. In all seriousness though, I am laid back and just like to hang out with my friends and family.
HIGHLIGHTS: