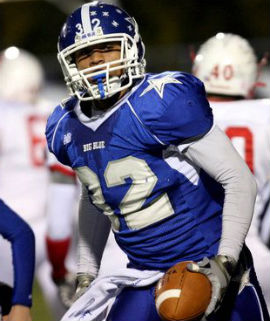 We've brought you some insight from prospects this week who visited Ohio State this past weekend from out of state, but now it is time to let you into the visit of one of Ohio's own in Hamilton LB Marcus Oliver.
Oliver, standing at 6-1/225, is sort of a late bloomer for these days in recruiting for the class of 2013. While those who have heard about Hamilton are more familiar with 2013 OL Ben Flick, Oliver has flown under the radar a bit, but is starting to be known around recruiting circles as some major college football programs are taking notice of his talents.
It is no secret that Oliver is a fan of Ohio State's, but it was definitely a bit of a nice surprise to the rising prospect when he was invited to this past weekend's Junior Day by the Buckeye coaching staff. While things seem to be materializing much more quickly in the recruiting process these days as compared to past years, the third college visit for Oliver served as an opportunity to get better acquainted with the football programs and academics in Columbus, while also giving the coaches a chance to see him up close and personal and start to develop a relationship.
We got the chance to sit down with Marcus to discuss how his recruitment is going, how he enjoyed his Ohio State visit, what his future plans are, and much more. Join us after the jump to read more on 2013 Hamilton star, Marcus Oliver.
First off, how did your junior season go? How did your team do and how did your perform individually?
I had a good junior year. As a team we didn't play like we wanted to, but I can say the defense came to play every game. My individual year really surprised me. I had a great year.
How is recruiting going? Do you have any offers at this time?
Recruiting is slow for me right now. I'm a little bit behind and under the radar right now because I didn't go to any camps last summer. I don't have any offers as of this time.
Where are some of the places you have gone on visits? What other visits do you have planned?
I have gone to Indiana, Cincinnati, and Ohio State. I don't have any other visits planned right now, as I just go on trips when I am invited by coaches to their campuses.
You went to OSU's junior day on February 12. What did you do while in Columbus and how did you enjoy the visit?
At Ohio State it was just a normal Junior Day. I really, really liked it at Ohio State. I never really had any plans on going there, but now they are the top choice.
What coaches did you get to sit down with and what did they tell you?
I sat down and talked to Coach Tim Hinton and Coach Urban Meyer. Coach Hinton said at first he had no plans for me at all, but he really likes me and wants me to be one of the two linebackers they take out of my class. He said for that to happen I have to be one of the two best linebackers in the nation.
What did you like most about your OSU visit? Do you plan to get back there at all?
I liked everything-the stadium, the coaches, their plan and goals, and the overall program. If I get another chance to go up there, I'm for sure headed up there.
When do you expect to make a college decision? Do you have a list of "top schools" at this point?
I want to make official visits before I make my choice. I have a few schools I like such as Cincinnati , OSU, Indiana and Michigan State.
What is most important to you when making your college decision?
There are a lot, but being close to my family and distance from home will play a large factor.
What are your strengths on the football field? What do you want to work on heading into your senior season?
I am very smart on the field and I can do whatever a coach needs I like to play in the open field and just make plays. I need to work on my quickness and footwork.
Besides football what are your hobbies? What does Marcus Oliver like to do off the field?
I play baseball and basketball. I'm a part of the J. Kyle Braid program as well. It is a leadership program and we go help little kids. I really like working with little kids and helping with issues they face today such as bullying and character building.