We're back with another edition of the 11W Recruiting Mailbag and with Evan Lisle becoming commitment number five for Urban Meyer things are just starting to heat up again.
While we are just escaping February and beginning March today, people are getting a little antsy when it comes to recruiting. before the Bucks notched Lisle, it had been "some time" before their last commitment and fans had to watch that team up north bring their tally up to 13 committed prospects.
I just want you all to stay patient because, as I said, February just ended. The 2012 class just signed their letters of intent and 2013 recruiting is just getting underway. It may be hard to see Brady Hoke and the boys in the mitten state compiling a large class at this point, but keep in mind that if OSU had five commits by the end of February in any other year or circumstance, you would be ecstatic right now.
As Mark Pantoni eluded to on twitter, this is a marathon, not a sprint. Michigan has certainly compiled a great class thus far, but the Buckeyes have this Urban Meyer guy who happens to know a thing or two about recruiting. When things are all said and done, I think you will be quite pleased with the job our new fearless leader has done with the 2013 class.
With that being said, it's time to take a look at your questions for me for this week. In this version of the Mailbag, we take a look at some 2013 prospects and the chances they end up in Columbus, what assistant coaches are doing work on the recruiting trail, a question about basketball recruiting, and more.
Join us after the jump to get the latest recruiting buzz in this version of the 11W Recruiting Mailbag.
Alex, you have mentioned that you think only around 15-20 of the offers that have been handed out are committable offers.  Can you give us a sense of who some of those 15 are so we can identify the top targets?
That is purely a guess, but I think there are around 20 spots that will be in this class and I think realistically when you offer 80+ players that you wouldn't take all of them if they wanted to commit today. For an idea of the players I am thinking that have definite "committable offers" in addition to the five commits, you are looking at Robert Foster, Joey Bosa, Ethan Pocic, Adam Breneman, Mike Heuerman, Courtney Love, Shelton Gibson, Su'a Cravens, Vonn Bell, Ty Isaac, Derrick Green, Laremy Tunsil, and other players like that who are on the national level. I think you get the idea of players like that versus someone like Mitch Trubisky who is a fine player but the staff wants to see them up close and personal at camp before giving them the go ahead. 
Is OSU done recruiting defensive backs for the 2013 class?
I don't think OSU is done recruiting defensive backs and I look for them to add two more. Possibly one corner back and one safety. Caleb Day and Dymonte Thomas are two to keep an eye on here, but there are other players in the mix as well.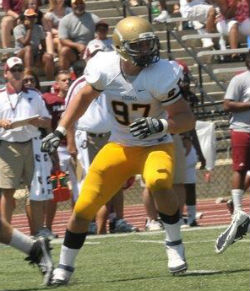 What are Ohio State's chances with Robert Foster?
I think you have to like Ohio State's chances with Robert Foster. He has indicated he may make a decision by this summer rather than wait until next winter which would definitely bode well for the Buckeyes. He has a good relationship with Braxton Miller from his visit there and if Malik Zaire is a Buckeye you can bet he will recruit Foster as well. If I had to predict a class today, Foster would be in it.
Can you name one player at each position for the class of 2013 that is a realistic get for OSU and would be on your "wish list"?
This is hard, but I will give it a shot. At quarterback I like Malik Zaire in Ohio and Bucky Hodges nationally. At running back give me Derrick Green. At wide receiver put on Shelton Gibson and Robert Foster. For tight end I think Heuerman is a lock and I can see either Breneman or Josh McNeil ending up in this class as well. At offensive line my number one guy is Ethan Pocic and there is a great chance he comes to Columbus. On the defensive line, Joey Bosa is a guy Urban Meyer can definitely reel in. At linebacker I think Courtney Love will be a Buckeye and Jaylon Smith could certainly be in there as well. Finally, at defensive back, if everything is in order with Caleb Day you have to like your chances, but there is also a shot with Dymonte Thomas.
Why didn't OSU offer Mike McCray?
With the big linebacker haul last year the staff if only looking at two linebackers this year and are trying to get the two best in the country. Because of that the offers that have gone out and are committable are to guys they absolutely love in their system (speed) and would take tomorrow. For everyone else in the "Plan B" group, I think they want them to come to camp. This accomplishes two things in buying more time to see what things are looking like with the outstanding offers, while also letting the coaches see these kids play up close and in person. McCray is a guy I think they liked and just wanted to see in camp. It appears he will announce on 3/8 and he could be Michigan bound which wouldn't be any fun, but I think if an OSU offer comes in at some point he is likely to flip.
What are the chances of landing both Adam Breneman and Mike Heuerman or will OSU only take one?
I think there is a good chance. I spoke to Adam last night and will have an update on the site soon. He really enjoyed his visit to Columbus and the staff really wants him. I am pretty sure Heuerman is a Buckeye lock so the question is do you take two tight ends. I think the answer is yes with the right player and Breneman is the right player.
Is Urban Meyer recruiting a burner at the running back position?
He is. There are a couple of players in Florida like Greg Bryant that are on the radar, as well as Laquvionte Gonzalez from Texas. Stay tuned as more names are to emerge, but I think at the end of the day you end up with guys like Derrick Green and/or DeVeon Smith which is not a bad situation to be in.
Where do things stand with Dymonte Thomas?
Things are the same as they have been. He is committed to Michigan but did not close the door on the staff when they reached out to recruit him. The old staff botched this one completely and Urban has to make up a lot of ground, with the help of Bri'onte Dunn. This will not be easy, but it is possible. I am not saying it will happen by any means as he has a good relationship with some of the UM recruits and is saying all the right things, but watch him closely as actions speak louder than words sometimes.
What is the latest on Jaylon Smith?
Jaylon has a top three of OSU, Notre Dame, and Purdue. I think this comes down to the Buckeyes and Irish. From the start it is rumored Jaylon wanted to maybe stay closer to home and go to South Bend or West Lafayette (be a trend setter there), but Urban Meyer definitely has his ear. It is a tough one to call right now, but I like OSU's chances if Rod Smith remains on the roster.
Does Ohio State have a shot at Vernon Hargreaves III?
A shot? Sure, but it is a small one. His father is an assistant coach at South Florida so don't be surprised if they land his services. I don't see him leaving the south, so chances aren't great. If he visits, there is a much better shot so look for that.
If Uriah Lemay, Ahmad Fulwood, or Laquon Treadwell wanted to commit to Ohio State today, would Urban take their commitment or ask them to wait?
Good question and one I am not sure of. I actually think they would take a commitment from one of them and work out the numbers later. I think Gibson and Foster have spots saved so taking one of these guys would just be a move to add more play makers, a move I think Urban would be fine with.
What are the chances with Joey Bosa?
As I mentioned above I think there is a good shot. Alabama is the current leader with Ohio State second and then some of the Florida schools and Wisconsin close behind. Joey is coming up for the spring game and I think that will be a huge indicator of where things are. His uncle (Eric Kumerow) played for OSU and his mother still has family in the Midwest. I really like Urban's chances here after the spring game and wouldn't be shocked if Bosa committed after that weekend.
Is Malik Zaire's offer committable?
We are not sure about this. Malik flat out told Jeremy in February he didn't even know if he could commit tomorrow if wanted to. I think Malik is in the process of clearing that up so he can make his announcement some time this spring. I think he will be a Buckeye when it is all said and done, they just want to see him throw either at his school or at OSU camp.
Is Su'a Cravens even a realistic target to go after being that he's from California?
Like Hargreaves there is a shot, but with a prospect like this you just don't know how realistic that shot is. I think the first step is getting Cravens to visit. If he doesn't visit you have no shot. If he visits, you bet there is a shot. Urban Meyer with a prospect on campus is dangerous.
Which assistant coach is making the greatest impression on the recruiting trail? Is anyone emerging as Urban Meyer's top recruiter?
From the early returns you have to like what you are hearing from prospects about Mike Vrabel and Everett Withers. Zach Smith seems to be making good headway in the Virginia area as well. Keep in mind Urban brought only strong recruiters to this staff so everyone is going to put in work and shine at some point or another. Right now, I would say Withers is the top assistant recruiter on staff though.
What exactly is Mark Pantoni's role as Director of Player Personnel?
Pantoni is the key to Ohio State recruiting. He compiles and keeps a huge database with all prospect information and knows it like the back of his hand. He is in charge of making sure coaches are reaching out to certain players, following up on calls, are informed of anything they need to know about a prospect, and more. He is also like a general manager for the staff as he is a good judge of talent and has an eye for what Urban is looking for in players. Without Pantoni, Meyer is nowhere near the recruiter you know him as.
How about a Ross-like analysis of Meyer's Florida classes (or other stops) to see what we could be in for? 
You mean something like this? In that article I kind of reviewed what kind of classes and NFL caliber talent Meyer had at Utah and Florida, with some comparison to what Tressel did at OSU. That was written before Urban was actually hired so it's pretty interesting to go back and read what I wrote. Looks like I was spot on with a couple of things:
While OSU could land a big time player like Se'Von Pittman (currently committed to Michigan State) or draw interest from a stud like Noah Spence (undecided, but liked UF with Meyer), there is also the possibility that bringing in a new coach could have a negative impact on some targets still in the fold (Ifeadi Odenigbo) or some players that are currently committed (Bri'onte Dunn).
What I am saying is that nobody is 100% sure of what the Buckeyes are going to get, but history tells us that as fans we are going to be pleased.
For the 2012 class Meyer already has a solid group to build on. Keeping that group together and adding some key pieces to finish off will be icing on the cake and a job well done.
Will in-state recruits be given any priority over out of state kids under Meyer?
Per the article linked above, please read what I wrote in this article back in the fall:
Starting with that extremely talented class, Meyer has the opportunity to change the way recruiting is done at Ohio State. In-state players will always be the root, heart, and soul of this team, but if there was any fish to fry with the way Tressel went about his business, it was with national level recruits and his pursuit of a smaller number of players rather than casting a bigger net to get more prize fish. This is where Meyer will excel and this could be the key to pushing the Buckeyes from runner-up to national champions.
I think this is spot on. You will have a base of 10-12 Ohio kids in each class and then go national. Urban wants to bring in the best players in the country and will always have that base of Ohio's best, but the best class isn't made up of 25 Ohioans.
When do you expect basketball prospect Tony Parker to make a decision and what are the chances he picks OSU? If he doesn't pick OSU what will Thad Matta do with the scholarship?
Ah, finally a hoops question. I think Parker will make his decision on the spring NLOI Day for basketball, which is April 11 (the period lasts until May 16). He has taken visits virtually everywhere but this one looks to be down to Ohio State, Kansas, Duke, and UCLA. Early returns were the Buckeyes or Blue Devils, but the Bruins and Jayhawks are certainly making a charge. It seems Tony's parents like Duke a lot (as most parents would), but Tony's preference would be Ohio State or Kansas. I'm not sure where to call this one but I think it will be either Thad Matta or Bill Self's celebration come April. If Parker does choose to go elsewhere, I think Matta needs to get at least one player in this class. With only William Buford gone, it would be fine to bank a scholly for 2013, but I think Jared Sullinger and DeShaun Thomas are gone as well, so a player needs to be brought in.