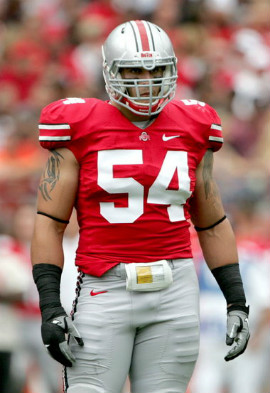 Though the Buckeyes will be prevented from taking part in the Big Ten Championship or a bowl game in 2012, there's still plenty to be bullish about heading into this fall. There's a new sheriff in town -- you might have heard of him -- and he's nothing, if not a consistent winner.
Today begins the first of a multi-part series previewing the depth chart and to kick things off, we'll look at the defensive line. The defensive line of the Silver Bullets was the highlight of supbar campaign from a defense that typically ranks as one of the nation's best.
Urban Meyer defenses start up front, and he'll have a good one for his first season in Columbus. If a couple of things break Ohio State's way, he could very well be looking at a group that will be returning every player that saw a meaningful snap on defense in 2011 (with all due respect to Solomon Thomas).
When you consider the recruiting class he's bringing in, there's reason to believe this line could not only be the best unit in the Big Ten, but it could be one of the nation's best, putting the group on par with some of the lines in the SEC.
Three members of the line, John Simon, Johnathan Hankins and Garrett Goebel, started all 13 games in 2011 and will be back for another run. Simon will be a senior and though the All-Big Ten performer could opt to depart early for the NFL where he would undoubtedly go in the first four rounds, there's been no indication that he plans to do so. He finished with 16 TFLs and seven sacks on the year and you can expect those numbers to maybe go up a bit next year when he won't draw as many double-teams.
Hankins burst onto the scene as a freshman last year and quickly won over the hearts and minds of Buckeye fans everywhere by plugging holes in the interior of the defensive line. As a true sophomore, Hankins finished third on the team with 67 tackles, which is nuts when you consider his position. He slowed a bit towards the end of the season when injuries caught up to him, but a year in Mickey Marotti's strength program will do wonders for him.
Goebel was a pleasant surprise as a junior, seeing more action than many of us thought he would. It was Goebel that was there to scoop up the delayed fumble from Brantley in the first half of the Gator Bowl and he had a knack for finding his way to the ball all season. With a year of experience under his belt, expect bigger and better things from Garrett in 2012.
Adam Bellamy and J.T. Moore split the remaining starts on the line after Nathan Williams was lost for the season with an injury after the opener against Akron. With Williams out, the Buckeyes often played a front that had Simon, likely a natural defensive tackle at end and three other tackles, fielding perhaps the only line in the country with four defensive tackles on it. Bellamy, a ginger warhammer, excelled late in the year, starting 9 of the team's final 10 games
Williams has stated that he will seek a medical redshirt and return for a 5th year in 2012 and if that happens, watch out. The Buckeyes would likely start a front four that featured Simon and Williams at end with Goebel and Hankins in the middle and there would be plenty of depth to back that group up, ensuring opposing lines saw wave after wave of talented and experienced bodies.
Returning

| # | Name | HT/WT | YR |
| --- | --- | --- | --- |
| 90 | Darryl Baldwin | 6-4/290 | R-SO |
| 93 | Adam Bellamy | 6-4/302 | R-JR |
| 63 | Michael Bennett | 6-3/280 | SO |
| 57 | Chase Farris | 6-6/265 | R-FR |
| 53 | Garrett Goebel | 6-3/290 | 5-SR |
| 51 | Joel Hale | 6-4/310 | SO |
| 52 | Johnathan Hankins | 6-3/335 | JR |
| 86 | Kenny Hayes | 6-5/240 | SO |
| 88 | Steve Miller | 6-4/245 | SO |
| 50 | J.T. Moore | 6-2/252 | R-SO |
| 54 | John Simon | 6-2/270 | SR |
| 43 | Nathan Williams | 6-3/255 | 5-SR |
Incoming

| Name | HT/WT | YR |
| --- | --- | --- |
| Se'von Pittman | 6-5/245 | FR |
| Noah Spence | 6-4/245 | FR |
| Adolphus Washington | 6-4/230 | FR |
| Tommy Schutt | 6-3/301 | FR |
Of the five freshman from the defensive line in the 2011 class, only Chase Farris will be tabbed with a redshirt, the rest seeing time at various points throughout the year. Michael Bennett backed up Bellamy and saw action in all 13 games. Joel Hale played in nine games, including the final five, where he backed up Goebel. Kenny Hayes got into four games, while Steve Miller saw action in two.
Mike Vrabel's linebackers left something to be desired in 2011, but much like a player, he undoubtedly learned plenty in his first season and will return as a stronger coach in 2012 where his focus will be on the defensive line. He did play linebacker in the NFL, but it wasn't that long ago that he was capturing back-to-back Big Ten Defensive Lineman of the Year awards for Ohio State as a player.
Beyond working with a veteran group, Vrabel will also get the chance to put his stamp on four incoming recruits that form one of the best defensive line classes in the country.
Canton McKinley defensive end Se'von Pittman, a Rivals four-star, was originally a Michigan State verbal, but Urban Meyer was able to quickly work his magic and keep the star in state. Ditto for Noah Spence, a Rivals five-star from Harrisburg, PA who was originally committed to Penn State and Tommy Schutt, another Penn State verbal and Rivals four-star from Glen Ellyn, IL that flipped for the good guys.
Rounding out the class is Cincinnati Taft's Adolphus Washington, a freak of an end that recorded 25 sacks as a high school senior on the way to picking up four stars from Rivals.
With so much returning depth in front of this class, it's hard to say who will earn playing time as a true freshman, but I'd be surprised if at least two of them didn't see significant time as the season progressed. They're that good.
We'll be back next week to look at the linebackers, but until then, take comfort in knowing the Buckeyes will be fielding an excellent defensive front in 2012 -- perhaps the best we've seen in Columbus in a long time.