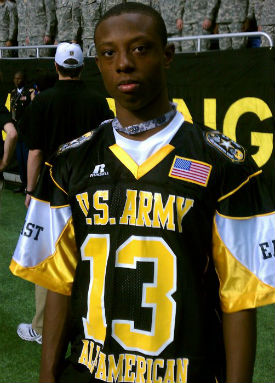 The trend for the recruiting process has definitely been that things happen earlier for prospects in today's world than in year's past. Many players are receiving attention from the first time they set foot on the field as varsity players and many are starting to pile in offers from schools between their sophomore and junior seasons.
That trend has not only played a part in when recruits get noticed by the nation's top programs, but also has made it's way into the philosophies of the brain trusts in charge of the high school all-star games.
Until about five years ago the US Army All-American Bowl was really the only all-star game available for the country's best high school senior football players. Then, ESPN and Under Armour formed a partnership to create the UA All-America Game, followed by the Offense-Defense Bowl shortly after, and finally this year, the Semper Fidelis All-American Bowl.
Players used to be first be invited to this game, at the earliest, in the beginning of their senior season, with most prospects getting their invite towards the end of their football years. In today's world, with four entities competing to get the best players to play in their game, invitations to participate are going out much earlier, as in before their junior school years are even completed.
With the 2012 games just finishing, word has emerged on who some of the 2013 prospects that have been given and accepted invitations to the game are. One of those lucky players, Voorhees (NJ) Eastern CB Eli Woodard (6-1/185), has been invited and has accepted a chance to play in the 2013 US Army All-American Bowl in San Antonio next year, an honor well deserved after establishing himself as one of the nation's top cornerbacks, regardless of class.
With fellow cornerback Cameron Burrows (Trotwood-Madison) also getting the nod by the US Army Bowl this past weekend, the Buckeyes may have themselves a pair of commits starting at both cornerback spots for the East team come January 2013, something that would be very exciting and is definitely realistic based on how both players feel about Ohio State at this time.
We caught up with Eli to get the latest on his recruitment, how it feels to be selected to the US Army All-American Bowl, what his plan on making a decision is and much more. Join us after the jump to get the latest on this New Jersey product and see what may be in store for Ohio State in the near future.
How are things going now that the season is over? What have you been up to?
Right now, I'm just really focused on the off-season and see this off-season as the most important one ever. This year it's about having that "true freshman" mind set and understanding that I have a lot of work ahead of me to accomplish all of my goals.
Been on any visits lately? Planning to take any visits soon?
No, I haven't been on any visits, but I  am starting to get Junior Day invites and looking those over. I do plan to make it out to Ohio State to sit down with Coach Meyer sometime in the near future.
What schools are on your most updated offer list?
I have offers from (in alphabetical order): Alabama, Boston College, Cal, Georgia Tech, Maryland, Nebraska, North Carolina State, Ohio State, Purdue, Rutgers, Wisconsin
Do you have a list of top schools right now or schools you are favoring? Is Ohio State still #1?
Ohio State is still the school to beat, but I certainly have a lot of respect for all the schools that have offered me an opportunity to attend their university.
What coaches from the new Ohio State staff have you spoken to? What did they tell you?
I have spoken to Coach Meyer and Coach Pantoni. I was glad to hear my offer still stands and look forward to building a solid relationship with them. My relationship with Coach Taver Johnson and Coach Luke Fickell was already established, and is great as well.
What is your opinion of Coach Meyer taking over the Buckeyes?
I think it's a great move by the university, all things considering. Coach Meyer brings an energy and sense of respect that fits the need of the program at this time.
What do you like so much about OSU?
Take away football and I can see myself as a part of the campus and community. Add football back into the picture, and what's not to like?
When can we expect you to make a college decision?
I plan to be done making my decision anytime from now until before the start of my senior season. There are a lot of great schools out there to consider and I believe I have done a good job of evaluating all the opportunities available in order to make a decision earlier rather than later.
You will be a 2013 US Army All-American. How does that feel and what was your reaction when you found out?
It is really very humbling. This game has such a rich history and has such great values associated with it that I couldn't ask for anything more. My head coach, Coach Spittal and the rest of the Eastern coaching staff, as well as my family and friends are all very excited.
What is the best part about getting the opportunity to play in the game next year?
It gives me even more reason to work as hard as I possibly can to reach my full potential. I never really knew where all my hard work could lead me to and at times I still don't believe it… but I'm just thankful for everything!
2011 Highlights: