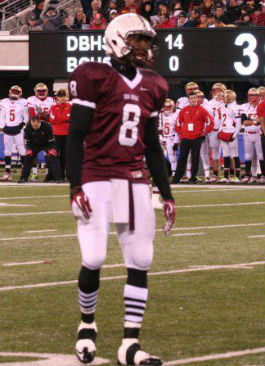 Don Bosco Prep in Ramsey, New Jersey (no relation to this guy), has been a national powerhouse in football for as long as I can remember. Growing up as a kid, I used to hear about the great players that went there, such as Ryan Grant, Matt Simms, Mike Teel, Brian Toal, Justin Trattou, and Corey Wootton, among others.
As good as some of those teams from the 90's and early 2000's were, and as talented as those players I just mentioned still are, the 2011 Don Bosco team may be the best there ever was. The reigning high school national champions feature an all-star cast of athletes, including seniors in the infamous Yuri Wright who just committed to Colorado, Elijah Shumate who is headed to Notre Dame, and maybe the best, Darius Hamilton, who appeared headed to Rutgers, but now with Greg Schiano's departure, Florida, Cal, and Miami (FL) are back in the mix.
The seniors that lead that Bosco team to a national championship were special, but it is a junior that may be the most talented player on the roster. That player is the one of the nation's top rated defensive end prospects in the class of 2013, Alquadin "Quan" Muhammad. 
Standing at 6-4/230, Muhammad already has the size to play at the next level. He hopes to put on more weight and be a force at defensive end in college, but also says he likes being able to drop back and play some outside linebacker too with his athleticism. This tackle machine will most likely be playing in next year's US Army All-American Bowl, and will have many eyes on him from the start of his senior season.
We got the chance to sit down with Quan to discuss how his junior season went, how his recruitment is going so far, what his timetable for a decision is and much more. Join us after the jump to learn more about 2013 star, Quan Muhammad.
How did your junior season go? How did your team do and how did you perform individually?
My team did excellent. We not only won a state championship, but a national championship as well. It was wonderful to be a part of that. As for me, I think I had a really good season. I lead my team in sacks and I was proud of that.
How is recruiting going? What offers do you have?
Recruiting is going good. I have offers from Ohio State, Boston College, Colorado, Rutgers, South Carolina, Alabama, Virginia Tech, Miami (FL), and Florida.
Do you have any leaders out of that group right now?
No, everyone is pretty even at this point. It's still early for me, as I'm not focused on recruiting just yet and am really just working hard to get better and ready for next season.
Ohio State just offered. How did that go down?
A couple of the coaches came out to my school and met with my coaches and told them that I had the offer. I got a chance to see Luke Fickell and he told me they wanted me to come play for Ohio State.
Are you planning to visit Ohio State or anywhere else in the near future?
Honestly, I'm not sure where I'm going to visit yet. I have to figure all of that out, but haven't really thought about it too much yet. I'm just trying to work on my game and let the recruiting stuff work itself out.
What is your plan or timetable on when you will announce a decision?
It won't be for a while. I am going to go through the whole process of seeing who offers me, taking my visits, and most importantly, playing my senior season. Things can happen and change from now until I have to make a decision as you saw this year so I want to take my time and make the right decision. I'm thinking right now I may wait to announce at the US Army Game.
What are your strengths? What are some things you want to work on?
I would say my biggest strengths are my speed, get-off, and ability to rush the passer. I really want to work on stopping the run and getting stronger to do so. I can do well at stopping the run at the high school level, but I know in college I am going to need to be a lot stronger than I am now to be a good rush stopper.
What are your goals for your senior season?
Individually, I want to dominate games. That shouldn't be that hard, as at Don Bosco our practices are as hard as our games. I expect to be prepared to dominate every game after going through practice in camp and each week. As a team, I want to repeat as state and national champions. Of course, that would be a great accomplishment.
There wasn't a highlight reel out for Quan just yet, but check out the first 25 seconds of this clip for some impressive plays