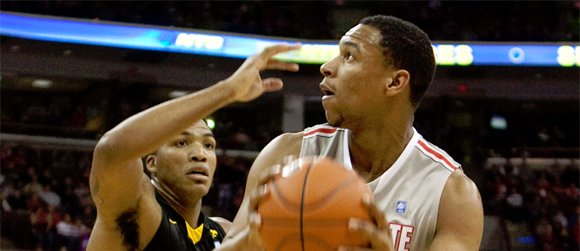 The Buckeye and Hawkeye hoops teams ended 2011 on completely different notes. The Buckeyes, with a disappointing loss to Indiana, and the Hawkeyes, pulling off the upset over #11 Wisconsin. Since then, the Buckeyes obliterated the B1G newcomers, Nebraska, and the Hawkeyes will take on Minnesota later tonight.
On Saturday, the two programs that missed each other during football season, will meet in Iowa. I had a chance to talk to "Horace E. Cow" of Black Heart Gold Pants and get his great insight into the 2011 Iowa Hawkeye team, what we can all expect on Saturday and what you should look to do around town, should you be making the trip to the game. Horace also creates these great "Fran-Graphs" on BHGP for the Iowa games, be sure to check out the links below. Enjoy!
For anyone who isn't familiar with the 2011 Hawkeyes basketball team, what are three things you would tell them about this team, and the season its had?
Defense, defense, defense -- as in bad defense, especially from the three-point line. Some of that had to do with injuries, some of it was because our starting power forward (Melsahn Basabe) gained the proverbial "15 pounds of muscle" and discovered it made him about as mobile as the Stay Puft marshmellow man, but a lot of it was just poor execution. The Hawks were giving up ~60% shooting in games against Creighton, Clemson, Iowa State, and even the Campbell Fightin' Camels. Things have started to turn around on that end recently, though, and not surprisingly, so have the results.
Despite six losses so far, the Hawkeyes were able to shock #11 Wisconsin on New Years Eve. What can you tell us about the Hawkeyes that day, that helped them pull off the upset?
The short version is that Iowa finally played tolerably good defense. Devyn Marble did a very good job of frustrating Jordan Taylor with his size and length, and Wisconsin helped out by going inexplicably cold from the outside (3-28 from three). The Hawks also benefited from the first really good game from senior point guard Bryce Cartwright, who has just started recovering from a hamstring injury, and a breakout performance from freshman forward (and Strongsville, OH native) Aaron White, who hit for 18 points on just seven field goal attempts.
What are some of Iowa's other strengths that the Buckeyes should be watching out for?
Hmm... this concept of "strengths" has been a bit foreign to most Iowa fans recently given the team's inconsistency, but some potential strengths are emerging. If Cartwright is really back to full speed, very few people can keep up with him in the open court, and Basabe, White and Marble are all very lanky, quick players who get their hands in the passing lane, get out on the break, and play well in the pick and roll. And of course Matt Gatens is Iowa's rock and a very good shooter.
What are some of the biggest concerns you have with the Hawkeyes, that Ohio State should be looking to exploit on Saturday?
Size. We hear tell of some fairly large dude who plays for the Buckeyes, and the Hawks don't really have anyone to match him. Basabe is undersized at 6'7", 220 lb., and he is frequently the only "big" out there. Iowa's other options at power forward and center have generally been too inconsistent/young/foul-prone to stay in for very long.
Iowa also has problems with the three-point shot, both making it and defending it. Matt Gatens is a good outside shooter, but beyond that, the Hawks really struggle from deep (freshman Josh Oglesby is changing that a bit, but he plays sparingly). And on defense, the Hawks have had terrible problems keeping track of outside shooters. Even in a good performance against Wisconsin, Iowa's defense gave up way too many open looks from three.
On second thought, what I mean to say is: Iowa has a massive front line and we defend the three so well you might as well not try. In fact, I wouldn't even get off the bus if I were the Buckeyes.
Senior guard Matt Gatens is the leading scorer on the Hawkeyes. Would you say he's the true MVP of the team, thus far? Why or not?
I would say he's the co-MVP for the Hawks right now along with Marble. He's such a steady presence on offense and defense, and the fact that he's essentially always in the game means that the team is never totally at sea. But in terms of really changing the game and challenging other teams on offense and defense, Devyn Marble has been the team's most dynamic player. He took over as the team's starting point guard while Cartwright was out and has kept the job even after Cartwright's return, which shows how much confidence the coaches have in him and how far he has progressed since last year.
Iowa coach Fran McCaffery is in his 2nd season with the Hawkeyes. How would you grade the job he's been doing?
B+. The past year and a half have been pretty rough going, and the team looked totally disorganized to start the year, especially on defense. But most Iowa fans understand that McCaffery inherited a very difficult situation after the transfers and de-commits that marked the end of the Todd Lickliter era, and are willing to wait. McCaffery has also restored some life to Carver-Hawkeye with a more up-tempo style of play and some very entertaining outbursts of pure Franimal rage.
And Fran deserves an A for recruiting. He's gotten three useful players who are in the rotation right now, and the class for next year looks like it could be special. ESPN has Iowa's 2012 class rated as 21st in the country, and the big name is a four-star 7'0" center out of Sioux City named Adam Woodbury. Iowa was finally able to wrest a top in-state recruit out of the grasping claws of Roy Williams, which is a huge deal for the state that lost Raef LaFrentz, Kirk Hinrich and Nick Collison to that greedy bastard.
How far do you think this team can go this year, and what does it need to do in order to get there?
It would be a huge accomplishment if the Hawks finished in the middle of the pack in the Big 10 and made the NIT. If they keep improving on defense, especially on the perimeter, if Cartwright and Basabe continue to play well, and if Aaron White can keep up his outstanding bench play, they have an outside shot at it, though. The good thing is the Hawks pretty much know who their best five players are now (Gatens-Cartwright-Marble-Basabe-White), and their conference schedule is actually pretty favorable.
Do you have a score prediction, or any final thoughts on the game?
Iowa 95, Ohio State 85. USA! USA! USA! (my Hawkeye fandom precludes me from making a more reasoned/accurate prediction).
Lastly, in case any of our readers are heading to Iowa for the game, do you have any must-see/eat/do tips for their trip?
Well, there's the theater, the art museum, the orchestra hall... oh, wait, those were all destroyed in the flood of 2008. There are 15,000 bars in the "ped mall" area, though. In all seriousness, the downtown is nice to just walk around and shop (or bar crawl at night), and if you're into books, Prairie Lights bookstore is a can't-miss.
---
Thanks again to Horace E. Cow, of Black Heart Gold Pants for sharing his Iowa Basketball insights with us. To read more from Horace, and the rest of his crew, on the Hawkeyes check out the following links:
Black Heart Gold Pants: www.blackheartgoldpants.com
Horace's Fran-Graphs: Fran-Graphs on BHGP
Twitter: @BHGP