Good morning Buckeye faithful and welcome to your Tuesday Skull Session.
Things are looking up lately as the holiday season grows ever closer. Five-star recruits are blindly following Meyer and the Buckeyes are #2 in the nation in basketball.
All I need is a Gator Bowl victory underneath the tree and it'll be a great end to what has been a tough year for all of Buckeye nation.
Let's get moving:
HE'S BACK, BACK, BACK... BACK AGAIN. The Associated Press is reporting that Thad Matta is confirming Jared Sullinger will play this evening against Lamar.
Sullinger, who missed the majority of Saturday's game, was believed to have to been injured from a kick to his ankle, but as it turns out, Sullinger actually sustained his injury from an injured tendon.
The return of the all american center to the lineup couldn't come at a better time, as Matta's squad has looked lost and confused at times without their go-to, post-up scorer.
While Deshaun Thomas has played like a man possessed during Sullinger's absence, I think it's highly unlikely this team can go much longer without Sullinger's presence in the lineup. Hopefully, the big man will be able to stay healthy from now on as the Big Ten schedule grows nearer.
BREAKING OUT OF HIS SHELL. Speaking of that Deshaun Thomas fellow, Thomas was awarded the Big Ten Player of the Week Award for his incredible performances in the Buckeyes' last two wins.
Thomas averaged 26.5 points, 4 rebounds, and 3 assists in victories over USC Upstate and South Carolina. The sophomore out of Fort Wayne, Indiana scored 24 points against USC Upstate and 30 points versus South Carolina.
Thomas has always been a terrific scorer but was yet to have a breakout performance like he did this week. On top of his astounding scoring outputs, Thomas managed to shoot 83.1 percent against South Carolina and 74.2 percent for the week.
Even with Sullinger's return to the floor, Matta should find more touches for Thomas. If Thomas continues to excel, he will make the Buckeyes already formidable lineup almost impossible to defend.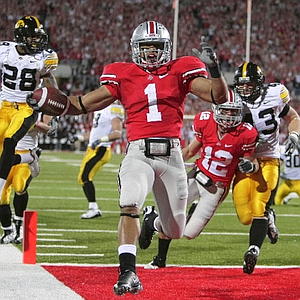 A MAN OF HIS CRAFT. More basketball awards? More basketball awards. Aaron Craft has been nominated as a finalist for the 2012 Bob Cousy Award, given to college basketballs best point guard.
What does this mean for Craft? It means he is one of 65-nominated finalists for the award. The list will be narrowed down to 20 by Jan. 1, 2012, and then down to 10 by Feb. 1, 2012.
Personally, I think Craft should be a lock for the final 10 so long as the Buckeyes continue to play at a high level. Craft is difference maker on defense and is crafty (pun intended) on offense. His ability to lead and guide all the talented players around him is something that doesn't show up in the stat sheets, but will hopefully net him this award.
BUCKEYE BANQUET. Several awards were given out at the annual football team banquet, but perhaps the most honorable in a season of full of disappointments were the titles of captain for the season. Although many assumed the role of captain this season, Mike Brewster, Daniel Herron, Andrew Sweat, and John Simon were named the official captains for the 2011-2012 season after a team vote.
Other awards presented at the banquet included:
Team MVP: Daniel Herron
Archie Griffin Outstanding Offensive Player: Braxton Miller
Bill Willis Oustanding Defensive Player: John Simon
Bo Rein Award, for team's most inspirational player: Nate Ebner
John Galbreath Award, for academic success: Chris Maxwell, a Mechanical Engineering major.
First Year Offensive Player Award: Braxton Miller
First Year Defensive Player Award: Bradley Roby
Ike Kelly Award, for most outstanding special teams player: Nate Ebner
Randy Gradishar Award, for most outstanding linebacker: Andrew Sweat
Jack Stephenson Award, for most outstanding defensive lineman: Jonathan Hankins
Arnie Chonko Award, for most outstanding defensive back: C.J. Barnett
Paul Warfield Award, for most outstanding wide receiver: Corey Brown
Jim Parker Award, for most outstanding offensive lineman: Mike Brewster and Mike Adams
Jim Marshall Warrior Award: Tyler Moeller
Rex Kern Award, for most outstanding offensive back: Zach Boren
Congratulations to all the award winners as they continue to prepare for the Gator Bowl.
LOS LINKS. Buckeyes will honor hall of famer Bob Knight... Matt McGloin comes out the loser of his last fight... Craig James wants your vote... Let me repeat, this guy wants your vote... Urban Meyer has a knack for this recruiting thing... FAMU president to remain in charge despite hazing allegations.