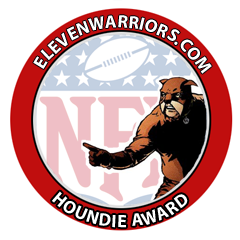 At one point in time, this award was known as the Buckeye NFLer of the Week. Thanks to a typo and the ensuing LOLsession from the commentariat, it was renamed as the Houndie. Same intent, but now with a better name.
After spending a week in Mexico, where the only sport on TV is soccer, it was good to get back to the basement for some real football as we enter the stretch run of the NFL season.
The playoff picture is pretty clear for the front runners, but the back end is getting cloudy, after some teams have faltered lately, while others have taken advantage of the situation.
The Bears and Cowboys looked like playoff contenders a couple of weeks ago, but their sloppy play has put them on the outside looking in, while Detroit and Atlanta have slipped in.
In the AFC, the Jets are making their move, while the last spot will come down between Cincinnati, Tennessee, Oakland or San Diego.
Pittsburgh and Cleveland opened up the week on Thursday and as expected, the Steelers won 14-3. It was a slugfest and both QB's got injured in the game. The Steelers have pretty much secured thier playoff spot now, but the health of Big Ben will be a concern as they take on Sanf Fran this Monday night. Cam Heyward was credited with a QB hit, while WIll Allen didn't make any special teams stops.
The Bengals lost a heart breaker to Houston, 20-19, as the Texans scored a TD with 2 seconds left to clinch their division. Cincy has lost 2 straight and 4 of 5, but travel to St. Louis this Sunday and host Arizona in 2 weeks. Nate Clements was a game time decision and finished the day with 2 tackles and 2 QB hits. Mike Nugent continued his strong season, making all 4 FG attempts and an XP. Nuge hit from 22 and 47 in the first quarter, before nailing a 49 yarder right before half to give the Bengals a 16-3 halftime lead. He now leads the league with a 92.6% clip on 25 of 27.
Since Dane Sanzenbacher didn't see any action, I don't have to write about what happened to my Bears in Denver.
Down in Tennessee, the Saints had a tougher than expected time disposing of the Titans, 22-17. Malcolm Jenkins had an active day, as the Saints shut down the Titans run game. Jenkins lead the team with 10 tackles, including 8 solo stops. Will Smith ended the day with 3 tackles, including a sack and one for a loss, while also collecting 2 QB hits. The Saints now sit at 10-3 and are battling San Fran for the #2 seed.
In Miami, Tony Sparano coached his last game for the Dolphins, as they lost to the Eagles, 26-10. Brian Hartline had one catch for 24 yards, while Austin Spitler didn't record any stats for the 'Fins. On the other sideline, Kurt Coleman made a run at this week's Houndie, by regestering 6 tackles and a INT in the second quarter. KC4 returned the pick 35 yards to the Dolphin 1, where LeShon McCoy took it in a play later and the Eagles took a 14-7 lead. Brain Rolle tallied 3 tackles and his first career sack. It would take a miracle, but the 5-8 Eagles are still alive in the playoff scenario.
The NY Jets helped give Todd Haley his walking papers with a 37-10 drubbing of the Chiefs. Santonio Holmes only caught 2 passes for 12 yards, but one of them was a 4-yard TD. The Jets have now won three straight and with the Dolphins, Eagles and Giants remaining, they should have another playoff spot. Donald Washington was not active for the Chiefs.
Carolina put a scare into the Falcons playoff hopes by taking a 23-7 halftime lead, but Matt Ryan caught fire in the second and Atlanta won on the road, 31-23. Chris Gamble had 3 tackles on the day, along with 2 PD's, while Ben Hartsock continues to play blocking TE for the Panthers.
Former Buckeye coach, Mel Tucker won his first game as the Jaguars new HC, sending Tampa to their seventh straight loss, 41-14. Ashton Youboty continued his strong play with 4 tackles and 2 PD's, including his first pick on the year and second of his career. The Jaguars held Tampa to 280 yards and caused 7 turnovers, scoring TD's on 2 of them.
Thankfully the Packers have three Buckeyes on their roster, because their chase of perfection is quite annoying to a Bears fan. Once again, they crushed their opponent, this time a 46-16 win over Oakland. A.J. Hawk was active for the Pack, after sitting out last week, but he didn't need to see the field after they took a 31-0 halftime lead. Ryan Pickett chipped in with 4 tackles and with James Starks inactive, Brandon Saine saw 1 carry for 7 yards and caught 2 passes for 10 yards. It was the third straight week in Saine received some carries.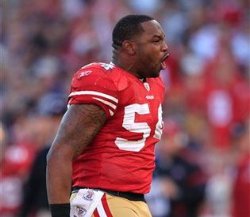 Don't look now, but the Chargers have won 3 straight and are still in the hunt out west. This week they took down the Bills, 37-10, which was Buffalo's sixth straight loss. Na'il Diggs had just 2 tackles and a PD for the Chargers.
The Lions jumped out to a 21-0 lead, but had to hold off a furious Vikings comback to win 34-28. As Luke Mentioned last week, both Antoine Winfield and Michael Jenkins are on IR for the Vikes and Bobby Carpenter saw extended time due to injuries. Carpenter was third on the team with a season high 7 tackles, all solos stops.
Sunday's primetime game was a good one and Jake Ballard made his claim for the award this week with his late game heroics, as the Giants came back to beat the Cowboys 37-34. Ballard entered the 4th quarter with 1 catch on the day, but caught an 8-yard TD with just over 3 minutes left to pull the Giants to within 5.
On the next possesion with just over 2 minutes left, Ballard caught a 21-yarder that flipped the field on first down and then 4 plays later, Ballard caught an 18-yarder down to the Cowboy 1, where Brandon Jacobs ran in the winning score on the next play. Jake finished the day with 4 catches for 52 yards and a TD.
Monday's game wasn't as good, with the Seahawks winning their fourth game in the last five, by taking down the Rams, 30-13. Laurinaitis once again lead the way for the Rams with 12 total tackles, including 7 solo stops and one for a loss. Little Animal is now 7th in the league with 114 tackles on the season.
This week's winner comes from the 49ers/Cardinals game, where the Cards came back to win their third straight, 21-19, despite the lackluster effort from Beanie Wells. Bad Beanie showed up once again against the 49ers, toting the rock 15 times for 27 yards and catching 1 for 3. Beanie is 57 yards away from 1,000 on the season, but he had just 60 yards on 23 carries going up against the Niners this year.
For San Fran, Ted Ginn was targeted 6 times, but came away with just 2 catches for 14 yards. He had 4 kick returns for a total of 100 yards and 4 punt returns for another 93 yards, including a 52 yarder that got to the Cardinal's 4. Donte Whitner was second on the team with 5 tackles, behind this week's winner, Larry Grant.
Grant, who signed with his home town team in the offseason is getting a chance to play with the Patrick Willis injury and lead the team with 11 tackles, including 10 of the solo variety, while also deflecting a pass. We haven't heard much from Grant this year, but that's expected playing behind Willis. Grant has been a huge part of their special teams units and has 17 tackles and a sack over the last 2 weeks. This is his first Houndie since week 6 of last season, where he won 2 of the first 6 in 2010.