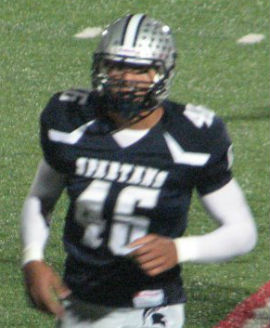 The 2013 recruiting class is loaded, not only in the state of Ohio, but on the national level as well. We have introduced you to some of the great players in that class, including Somerville (NJ) Immaculata DL Tashawn Bower, who we spoke to earlier this year. 
Bower is a man among boys at 6-5/230, playing across the defensive line for his high school team. He is highly regarded as one of the best linemen in his class and has picked up a list of offers from some of the top college football programs in the county.
The Buckeyes don't dip into New Jersey too often, but as the state continues to churn out some top level prospects, the coaching staff is taking notice and making moves. Bower has been a target of interest particularly for Ohio State, as he has a lot of family in the Columbus area, providing him even more reason to look at OSU as his home for the next 3-5 years.
We got the chance to sit down and catch up with Bower once again. We talked about his thoughts on Urban Meyer, what else is going on with recruiting, how his junior season went, and much more. Join us after the jump to hear the latest on Tashawn Bower. 
How did your junior season go? How did your team perform and how did you perform individually?
It went well. We went to the semi-finals and lost, but we did well. I think I did pretty good individually. Getting double-teamed this year was different, and was a challenge, but I got through a lot of it so I think I did alright.
What schools have offered you and what schools are you looking at?
The schools that have offered and that I am looking at are Syracuse, Rutgers, UConn, Virginia, Florida State, Ohio State, Virginia Tech, West Virginia, Tennessee, Purdue, Maryland, and South Carolina.
Do you have any visits lined up over the next year?
I am going to make some visits soon, but I'm really not sure to where exactly just yet.
Do you have a timetable for your decision?
Not exactly, but I will be taking all five of my official visits and will be making a decision after I do so.
What do you think about OSU hiring Urban Meyer?
I think it was a great hire. He's a great coach and I know he can get the Buckeyes to great heights.
Has coach Meyer got in touch with you since becoming head coach at OSU? 
I haven't gotten to talking to Coach Meyer yet, but I did talk to Coach Fickell while he was the head coach.
Did you ever talk to Meyer when he was at Florida?
No, I did not speak to him while he was at Florida.
What are you looking to improve on as you head into your senior season?
 I definitely want to get more violent with my hands upfront. I've gotten faster off the ball and now I'm just putting all the pieces together.