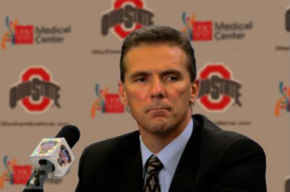 Right now all the buzz is surrounding Urban Meyer coming to Ohio State to become the Buckeyes' next head football coach.
People want to talk about what this means for Luke Fickell, who Meyer will poach to become members of his coaching staff, how the Bucks will fare in shifting to Urban's spread offense, and other things of the sort. One thing not many people are talking about is how this will effect recruiting.
In place of the 11W Recruiting Notebook, it seems like a good time to talk about how the hiring of Urban Meyer will effect the Buckeyes on the recruiting trail. The first thing that comes to mind is that hiring Meyer would be a home run. People are envisioning many top recruits in the country all of a sudden getting interested in Ohio State and switching their current verbal pledges from whatever big school they're committed to right now in favor of the Buckeyes.
While that very well could happen, chances are things won't pick up steam that quickly in my opinion. While OSU could land a big time player like Se'Von Pittman (currently committed to Michigan State) or draw interest from a stud like Noah Spence (undecided, but liked UF with Meyer), there is also the possibility that bringing in a new coach could have a negative impact on some targets still in the fold (Ifeadi Odenigbo) or some players that are currently committed (Bri'onte Dunn).
Right now it's hard to say what will happen in terms of filling out the recruiting class of 2012, but that doesn't mean we can't start to speculate how a move like this could impact recruiting for Ohio State in the long run. Today we take a look at Urban Meyer's recruiting successes at Utah and Florida, how it compares with Ohio State's recruiting, and what it could possibly mean for the Buckeyes going forward.
Utah
Meyer only spent two years (2003 and 2004) at Utah, so the sample is really small here. Considering he was hired before the 2003 season and left before the 2005 season, those recruiting classes do not fully belong to him (just like 2012 won't), so 2004 was his only real class while in Salt Lake City.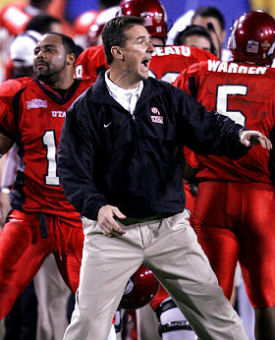 Because of those circumstances, I think when discussing Utah it is important to take a look at the players Meyer had a hand in recruiting during the 2003-2005 classes that are still currently playing in the NFL.
In 2003, the class featured a little known wide receiver out of California by the name of Eric Weddle. As many of you know now, Weddle switched to defensive back under Meyer's direction during his freshman year, and developed into a second round pick who is now in his fifth NFL season with the San Diego Chargers. Oh yeah, Weddle also is an All-Pro and signed a contract this past off-season to make him the highest paid safety in the league at the time.
The 2004 class featured two current NFL players in Paul Soliai and Paul Kruger. Soliai came in to college as an offensive tackle, but Meyer saw his athleticism and size as a way to get an advantage on the defensive line. The transition to the other side of the ball worked well, as Soliai is an NFL defensive tackle with the Miami Dolphins after being selected in the fourth round of the 2007 draft.
As for Kruger, he came to Salt Lake City as a quarterback in the Tebow mold, and if Urban had stayed maybe he would have never made the switch to defensive end where he was chosen in the second round of the 2009 draft by Baltimore. There was no questioning Kruger's athleticism however, and the former Utes star is now an outside linebacker in the Ravens' 3-4 system.
Finally, 2005 was another partial recruiting year for Meyer, but he didn't leave the cupboard bare for Kyle Whittingham. Meyer helped court current NFL players Koa Misi, Sean Smith, and Brice McCain in advance of National Signing Day in February 2005.
Misi was selected in the second round of the 2010 draft by the Miami Dolphins where he currently plays linebacker. He has registered 66 tackles and 6 sacks in a little over a year and a half in the NFL and has also recorded a touchdown.
Smith was also a second round pick of the Dolphins, a year earlier in 2009. He has entrenched himself as a starter and one of the rising, young corners in the league, notching 133 tackles, an interception, a fumble recovery and 26 passes defended in his career, missing just one game.
McCain is a member of the Houston Texans where he is receiving a lot of playing time for the AFC South division leaders. McCain turned himself from a 6th round pick into a Wade Phillips favorite and has played in 38 total games out of a possible 42 in his career. He has 54 tackles and 3 interceptions, including one returned for a touchdown, during his short tenure in the league.
Overall, you can say these results yield more than a minor success for Meyer during his days at Utah. The Utes are still a competitive program and have built off the momentum Meyer gave them after hauling in players such as the above and giving the school a Fiesta Bowl win over a Larry Fitzgerald-lead Pittsburgh team.
Florida
Meyer was at Florida from 2005-2011, so the sample size here is a little bigger. Just like with Utah, it will be easier to look at his recruiting classes of 2006-2010, as he arrived in 2005 and left in 2011, only having a partial hand in bringing those prospects in.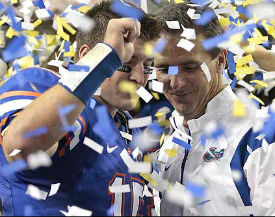 During the span of 2006-2010, Meyer brought in 30 five-star players, 52 four-star players, 49 prospects that were in the top 10 nationally in their position, and 49 players from outside the state of Florida. In comparison, Jim Tressel at Ohio State during the same time period brought in just 14 five-star players, 48 four-star players, 35 players that were top 10 nationally in their position, and 45 players from outside the state of Ohio.
Looking at those numbers, Meyer had quite the impressive haul at Florida, considering they more than one-up what The Vest did in Columbus and I'd say many would consider Ohio State to have some pretty solid recruiting classes. In addition to the data above, the 2006 class was ranked #2 overall (OSU ranked #13), the 2007 class was ranked #1 (OSU #16), the 2008 class ranked #12 (OSU #4), the 2009 class ranked #21 (OSU #1), and the 2010 class ranked #1 (OSU #20). That is an average of about being ranked #7 year in and year out, compared to about #10 or #11 during the same span.
Shifting gears to players during his time at Florida that are currently in the NFL, there are currently 18 of them. That number is slightly below the 25 Buckeyes currently playing in the league right now, so tip your cap to Tressel and his staff for that one, but 18 isn't too shabby in four years in which at least one player from the class went to the NFL (2005-2008 classes).
If you want to play the Meyer > Tressel card in this argument, you can look at the break out of these numbers and see that in the first two years Meyer has 3 players from the '05 class and 6 from the '06 class and in the second two years had 8 from the '07 class and 1 from the '08 class. Breaking out OSU's numbers, Tressel has 9 players in the league from each the '05 and '06 classes, while having 6 from '07 and 1 from '08. Looks like once Urban had his legs under him at Florida, the factory started pumping out prospects.
Overall Meyer did an outstanding job while at Florida. After Ron Zook took down the empire that Steve Spurrier built in Gainesville, Meyer reconstructed and Urban Planning lead to two national titles during his seven years in charge of the Gators.
What Does It All mean?
The question now is, what does this all mean for Ohio State? I think the answer to that question isn't as obvious as the super-optimistic types want it to be, nor do I think it is what the glass half-empty people are predicting.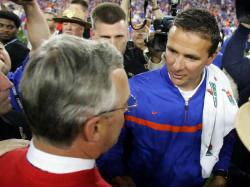 I think any time you have a coaching change things can go one of two ways. I hate to use Michigan as an example, but they are a recent and fresh to mind display of these possible occurrences.
The first being the negative effect, a la Rich Rodriguez. When Rodriguez came on board, there was a mass exodus in Ann Arbor. Ryan Mallet and Justin Boren, just to name a couple, lead the charge out of what was to become an ultimate culture shock in converting to the spread offense and what RR liked to call the 3-3-5 defense, better known as the optional defense around these parts. It took a full year for Rodriguez to land on his feet and sans a few exceptions, recruiting just didn't work out with the change from Carr to Rod.
Fast forward to the end of 2010 when lesser-known Brady Hoke is hired at Michigan. You would have thought things would continue to go down hill in recruiting, but Hoke hired a quality staff, namely Greg Mattison, played the "Michigan Man" card, and quickly displayed he knew what the program was about and was going to rebuild the dynasty. Result ends up being Michigan pieces together a solid class for 2010 and has one of the top classes in the entire country for 2011 lined up.
Am I saying Urban Meyer is going to be Rich Rodriguez? Definitely not. Am I saying he's going to be Brady Hoke? I don't think so either. What I am saying is that nobody is 100% sure of what the Buckeyes are going to get, but history tells us that as fans we are going to be pleased.
For the 2012 class Meyer already has a solid group to build on. Keeping that group together and adding some key pieces to finish off will be icing on the cake and a job well done. Looking ahead to 2013 and beyond is where the Meyer impact hits Columbus and where Urban Planning in the 614 really takes place.
Starting with that extremely talented class, Meyer has the opportunity to change the way recruiting is done at Ohio State. In-state players will always be the root, heart, and soul of this team, but if there was any fish to fry with the way Tressel went about his business, it was with national level recruits and his pursuit of a smaller number of players rather than casting a bigger net to get more prize fish. This is where Meyer will excel and this could be the key to pushing the Buckeyes from runner-up to national champions.
Urban Meyer is sure to bring a lot of changes to Columbus with him if named as the next head coach of the Buckeyes. Some fans will like and some they will dislike. One thing I think we can all enjoy is the future of recruiting under Meyer. All you have to do is look at his past work to see why.