Good morning Buckeye faithful and welcome to your Tuesday Skull Session.
This week is important to Ohio State students for many different reasons, including a long break from school, seeing family on Thanksgiving, and of course, the next chapter of the OSU-Michigan rivalry unfolding before their eyes.
While I can't express in words how much I love all of these things, there is one tradition which takes place this week that I must hold in higher regard than everything just mentioned. That tradition is the Mirror Lake Jump.
The first ever Mirror Lake Jump took place in 1990, when members of OSU's marching band lead the first ever plunge into the man-made lake. Today, the jump is a ceremonial gathering of thousands of students who forget about their Wednesday morning classes in order to celebrate the biggest game of the season, and the greatest rivalry in sports.
But Mirror Lake Night is more than just another excuse to get a little inebriated and blow off some steam. This tradition has continued for so long because it is a way for all Ohio State students to get together and rejoice in the fact that we are not Michigan. And of course, at this school traditions mean something a little more than at most other college campuses across the country.
Even if it's just for one night, people put aside their differences and realize their similarities. It doesn't matter where you are from, whether you like the Bengals or Browns, or what niche you belong to. Tonight we are just all Buckeyes and it doesn't get any better than that.
Let's get started:
SHAZIER WINS FRESHMAN OF THE WEEK HONORS. While Ohio State's loss to Penn State produced very few bright spots, one player who shined was freshman linebacker Ryan Shazier. Shazier finished the contest with a game-high 15 tackles, including 7 solo tackles.
Through his impressive performance, Shazier became the second OSU freshman, after Braxton Miller, to win the Big Ten Player of the Week Award. Due to Andrew Sweat's injury, the freshman from Florida got the chance to start last week and is once again listed as this week's starter at WILL on OSU's official depth chart. Fickell announced that regular starter Andrew Sweat might be able to play this week, but it is still expected that Shazier will get the start regardless. 
Shazier has done nothing but impress since coming to Columbus last winter and appears to be a star in the making for the Buckeyes. While there will be freshman mistakes, anyone who watches him play knows he has a knack for getting to the ball and making big plays. It will be very exciting to watch this young stud grow up over the next few seasons.
PLAYING THE UNDERDOG ROLE. For the first time in forever, Ohio State moves into Michigan week as a more-than-a-touchdown underdog to the #15 Wolverines. Doug Lesmerises of the Plain Dealer writes that OSU has played the role of the underdog well against Michigan in past years, potentially foreshadowing this year's match-up.
Of the 31 games played since 1980, Michigan has been favored in 18 of those games. However, as Lesmerises points out, OSU has managed to win six of those games as the underdog.
While OSU has had success in upsetting their rival, they haven't faired well in situations where they are trying to avoid tacking on a sixth loss of the season. Lesmerises writes that OSU is 0-4 all time while trying to avoid a sixth loss when playing Michigan, although circumstances are probably a wee bit different this year than in the past.
The Buckeyes have had a forgettable season thus far. It's almost hard to believe that this team once controlled its own destiny of reaching the Big Ten title game. But even with all the disappointments so far this year, a win over Michigan can definitely heal all wounds and salvage a season that many consider now to be a massive failure.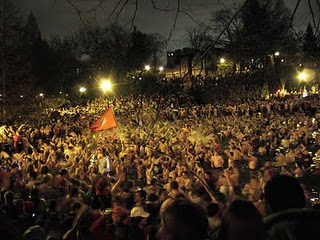 URBAN MEYER VS. A BOWL GAME. Jon Spencer of the MansfieldNewsJournal.com wrote an article about how the hiring of Urban Meyer may be more important to OSU than the Buckeyes going to a bowl game this season.
Spencer suggests that athletic director Gene Smith should offer the job to Meyer before the season is over and turn down a bowl game opportunity, as opposed to letting this young Buckeye squad continue to be influenced by Luke Fickell and his coaching staff.
The downside of this proposition is the fact that the Buckeyes would be losing 15 extra practices this season, and additionally would be robbing its seniors of a chance to play in a bowl game. But as selfish as it may sound, I would sacrifice these things to get Meyer on OSU's sidelines if that's what it took.
Is going to the Insight Bowl, or one of its caliber, really going to make a difference for this program in the long run? No, it will not. Will having Meyer as our next head coach as early as possible help this team down the road? Yes, it will.
It really hurts seeing a true Buckeye like Fickell go out this way, but this team needs to do some house cleaning and start thinking about the future of the program for years to come.
SO CLOSE, YET SO FAR. Nebraska came pretty close to making history before they played Michigan last week. Not since Penn State began playing in the Big Ten in 1993 has any team beaten Penn State, Ohio State, Michigan and Michigan State in the same season.
Adam Rittenberg of ESPN describes how Nebraska almost accomplished the rare feat in its first season in the Big Ten. Nebraska's eventual loss to Michigan last Saturday ended what was an inconsistent but nonetheless impressive first year for the Cornhuskers. 
Rittenberg goes on to chronicle the next steps Bo Pelini must take to prepare his team for their future in the Big Ten conference.
LOS LINKS. A very memorable Mirror Lake jump... The latest NCAA basketball coaches poll... I'm sorry, but a pitcher should not be able to win MLB's MVP... Gary Pinkel faces the media... Everyone say a prayer for Arizona tonight... Brady Hoke talking about "Ohio."