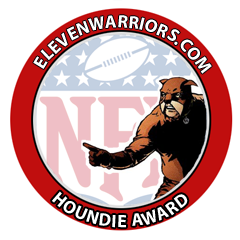 At one point in time, this award was known as the Buckeye NFLer of the Week. Thanks to a typo and the ensuing LOLsession from the commentariat, it was renamed as the Houndie. Same intent, but now with a better name.
First of all, I want to sincerely thank everyone who came out this weekend to make #D2B and #E2B such a success. It was great getting to meet everyone and if you didn't make it, plan on October 6th of next year when Nebraska rolls to town.
We are essentially half way through this NFL season and while some divisions look to be decided already, there are plenty of teams still in the hunt and the midseason trends are starting to take shape, along with the play of the defenses.
Sitting things out this weekend was, Chicago, NY Jets, Oakland, Tampa Bay, Atlanta and Green Bay.
We start out in Seattle, where the surprising Bengals improved to 5-2 with their 4th straight win, a 34-12 spanking of the Seahawks. I watched most of this game and this Andy Dalton/A.J. Green combo is going to be crazy good. They now sit tied atop of the division, but take on the Steelers (twice) and the Ravens in the next five games.
Mike Nugent made all 6 of his kicks, including a 34-yarder in the first, a clutch 48-yarder to put the Begals up 8 with 4:50 to play and 4 XP's. Nugent has connected on 15/16 FG attempts this year and has made the most FG's from beyond 40 yards (6/7). Nate Clements had 2 solo stops on the day, as the Bengals D continued to impress under Mike Zimmer.
The other Ohio team also traveled out west to San Fran and did better than expected against the upstart Niners, who jumped out to a 17-0 lead and hung on to win 20-10. Unfortunately, once again I have nothing to tell you about Brian Roboskie for the Browns, who now hasn't caught a pass in 6 of 7 games.
For the Niners, Ted Ginn didn't have his best game of the season, rushing once for an 8 yard loss, while returning 2 kicks for 33 yards and 2 punts for 18 yards. On defense, Donte Whitner returned from injury to contribute 3 solo tackles, while Larry Grant didn't record any stats. A special note on the Niners, Alex Boone has cleaned himself up and is part of the jumbo package, which has allowed him to see action in every game this season.
In New York, the Giants had to come back from a 14-3 second quarter deficit to edge the winless Dolphins, 20-17. Jake Ballard continues to solidify his role, snagging 4 receptions for 55 yards, as Eli Manning targeted him 7 times, even though Manningham and Nicks were back in the mix.
The Dolphins passing game continues to struggle, as they look towards the future with Andrew Luck. Brian Hartline was targeted on 2 of Matt Moore's 22 attempts, but didn't haul any in.
Minnesota went into Carolina, hoping to show off their new car under center and prove their rookie QB is better than your rookie QB. Both were pretty impressive, but Minnesota came away with a late 24-21 win. Michael Jenkins hooked up with Christian Ponder twice for 30 yards for the Vikings, while Antoine Winfield still sat out on D.
Chris Gamble chipped in with 4 tackles, including 3 solo stops, as the Panthers now enter their bye week at 2-6.
In Baltimore, the miraculous recovery of Beanie Well's knee continued, as he surprised all fantasy owners with not only the start, but a decent game against the stingy Ravens defense. Wells toted the rock 22 times for 83 yards and a 1-yard plunge in the 2nd quarter, but it wasn't enough, as the Ravens completed the largest comback in franchise history, a 30-27 win at the buzzer. Wells has 506 yards through 7 games and remains tied for 3rd in the league with 7 TD's.
The other late game we received here in Cbus was the Detroit/Denver game, so I was forced to watch that during the commercials of the Bengals game. Let me say this, if you are a Devner fan and you still want Tebow after that, you're delusional. That was one of the worst performances I have ever seen and he had the benefit of being at home. Bobby Carpenter chipped in on the 45-10 win with 3 solo stops.
The late game we should have received in Cbus was the Steelers/Patriots game, where OSU alum and Hall of Famer, Dick LeBeau and the Steelers finally solved Tom Brady, limiting him to 198 yards in thier 25-17 home win. Unfortunately, Cam Heyward didn't make any stops, but Will Allen made a couple of special team tackles for the Steelers, who passed the ball 50 times on the weak Patriots secondary.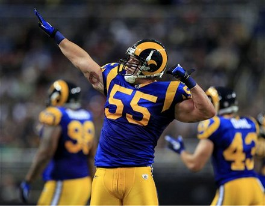 In Sunday night's primetime game, the Eagles thankfully destroyed the Cowboys in front of a national audience, 34-7. Though the Eagles defense dominated, Kurt Coleman and Brian Rolle each had quiet nights, with Rolle collecting 2 tackles and Coleman getting one. Both the Eagles and Cowboys sit at 3-4, which puts them 2 games behind the Giants.
In Monday night's game, Donald Washington saw some special teams action, as the Chiefs stole a game at home from the Chargers. Washington had just one tackle in the 23-20 OT win, but the Chiefs have now won 4 straight after dropping their first 3.
The Chargers were set to kick a game-winning FG at the buzzer, but Philip Rivers forgot the ball on a snap and the Chiefs recovered, sending the game into OT. Na'il Diggs had 3 solo stops, including 1 for a loss, as the Chargers D held KC to 97 yards on the ground.
Offense domniated the Houndie for the first six weeks, but as I mentioned, the defenses are starting to catch up on things and playing better. With Chris Gamble taking it home last week, we turn to another Buckeye defender who hasn't won the award in a while, James Laurinaitis.
Everyone expected the Rams to fall to 0-7 when the Saints came marching in on Sunday, but Lil' Aninmal and his teammates had a different idea, jumping out 24-0 lead and holding on to win 31-21, squashing the dreams of many survivor pool picks.
Laurinaitis lead the way with 10 tackles, all of them solo stops, including his first sack on the year. He also was credited with another 2 hits on Drew Brees and 2 passes defended.
After winning the 2009 Houndie in his rookie campaign, James was shut out of the weekly Houndies last year, so it is good to see him back on top. The Rams have a chance to win their next 4 games, if he can continue to inspire this defense.