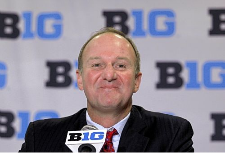 Can you believe it? Freakin' Ohio State hoops starts for real tonight and comes at you twice a week for the next 5 months, hopefully ending with a HUGE net cutting party down in the Big Easy.
[Ed's Note: I apologize in advance for the length of the preview, my excitement was flowing through my fingertips though and I just couldn't help myself.]
Anticipation is at an all-time high for Thad's #3 squad as they enter the 2011-12 season. Gone is Diebler, Lighty and Lauderdale, but here is a talented, athletic group of freshman and a core group of veteran players, who stand to give Thad his deepest team yet.
Before Ohio State takes on the Gators next Tuesday night, first Wright St. rolls into to town for an in-state showdown. The Raiders (but your mascot is a dog?) are coming off a 19-10 season, but lost 4 starters and 78% of their scoring. They lost their only exhibition game, a 56-50 defeat at the hands of Central State.
| # | Name | PTS | REB | ASST | POS | # | Name | PTS | REB | ASST |
| --- | --- | --- | --- | --- | --- | --- | --- | --- | --- | --- |
| 4 | Aaron Craft | 6.9 | 2.9 | 4.8 | G | 34 | Julius Mays | N/A | N/A | N/A |
| 32 | Lenzelle Smith Jr. | 1.2 | 0.8 | 0.5 | G | 15 | Kendall Griffin | N/A | N/A | N/A |
| 44 | William Buford | 14.4 | 3.9 | 2.9 | F | 5 | John Balwigaire | N/A | N/A | N/A |
| 1 | DeShaun Thomas | 7.5 | 3.5 | 0.5 | F | 4 | Johann Mpondo | 3.2 | 3.4 | 0.3 |
| 0 | Jared Sullinger | 17.2 | 10.2 | 1.2 | C | 12 | Armond Battle | 3.3 | 1.8 | 0.2 |
Opponent
Wright St. has a roster very similar to that of OSU, one senior, a couple  juniors and a bunch of youngsters. In his second year, Coach Billy Donlon, like Thad, will need the leadership to come from his sophomores and his group of freshmen to integrate quickly into the rotation. The Raiders averaged 64 points a game last year, shooting 43% overall from the floor and 36% from deep.
The only returning starter and senior is Johann Mpondo, who averaged 17 minutes a game, along with the numbers above last season. Don't expect the 6'8" forward from Cameroon to be much of an offensive threat and if the Buckeyes take the rock right to him, he'll be in foul trouble early. 
The big man that may see the most minutes is 6'10" sophomore AJ Pacher, who averaged 3.5/1.6 last year in just over 11 minutes a game. Pacher doesn't like to play down low however, preferring to launch it from 3land, taking 58 of his 108 shots (35%) from there a season ago. Donlon is looking for Pacher to get down low a bit more, to help focus on defense and rebounding.
Armond Battle will share the duties across the front line, but he too likes to step outside the arc. The 6'7" junior appeared in all 29 games last year, averaging just over 12 minutes a game, with 3 starts sprinkled in. Battle took 26 of his 56 shots last year from deep, hitting 42% of those attemtps. Armond missed the team's trip to Italy in August due to academic problems, but he lead the way with 12 points in their exhibition loss.
Also leading the way in that loss was Julius Mays, a transfer from NC State, who is looking to make a big impact on the team this year. The 6'2" junior guard spent his first 2 seasons in Raliegh, before sitting out last season. He averaged just under 5 points in each season, playing roughly 16 minutes a game.
More than likely joining Mays in the back court will be John Balgiwaire and Kendall Griffin. Balgiwaire, a 6'2" junior, comes from Mesa CC in Arizona, where he averaged 18.5 PPG and hit 44% of his 3balls last year. Coach Donlon is excited for Balgiwaire, claiming "he's very fast and a good shooter", but will also get up and guard you.
Griffin is a 6'4" freshman, who averaged 12/9 last year as a high school senior and should spend most of his time outside. He started the exhibition, but played just 6 minutes and missed his only shot, with no rebounds.
Reggie Arceneaux is a 5'9" freshman, who logged heavy minutes against Central St. and was a big hit on their trip to Italy. Reggie played 29 minutes, scoring 6 points and dishing out 3 assists in the exhibition loss. The Charlotte native averaged 15 points and dished out 7 assists as a high school senior and could slip into the starting five tonight.
Also logging double digits minutes in the exhibition were Vance Hall(16 mins.) and Tavares Sledge(11 mins.). Hall, a 6'3" sophomore, played 10 minutes a game last year, but hit just 9 shots in his 27 attempts, 22 coming from downtown. Sledge, a 6'9" freshman from 'Bama, netted 5 points/4 boards in his first action.
Two more players who could see plenty of time are Matt Vest and Cole Darling. Vest is a 6'5" SO., who played every game last year, starting 13 of them. He averaged 4 points and grabbed 2 boards per game in his 19.5 minutes of PT. Darling is the leading returning scorer, but didn't play in the exhibition. The 6'8" SO., averaged 4.3 points in 17 minutes, appearing in all but 3 games last year.
As you can see, Donlon will use up to 10 guys and rotate quite often, playing most of them at least 10 minutes. The only way I can see the Raiders keeping it close is by hitting a bunch of 3's. They are a young team and with the Buckeyes pressure D, they could turn it over close to 20 times.
Buckeye Breakdown
This is the first game of the Global Sports Shootout, one of those made up entities that allows Ohio State to play a few extra games to start the season. Whatever it is, I'll take it. Season tickets sold out in record fashion and Thad returns a core group of players that will allow him to play more up tempo. They are long, lean and very athletic.
Of course the player who is going to lead the charge this year is eveyone's All American, Jared Sullinger. Many questioned his decision to come back for another year, but he was true to his word and it was the right move with the NBA mess.
Sully lost over 20 pounds in the offseason and will be used more away from the basket, which will prevent the beating he took last year. New asst. coach, Chris Jent, suggested more set plays and pick/rolls for this team and if the exhibition is an indication, we are going to be seeing a lot of the Craft/Sullinger two man game up top. If Sully can know down the 15-18 footer consistently, sky's the limit for him this year.
Aaron Craft burst on the scene last year and Buckeyes fans instantly fell in love with his gritty D and basketball IQ. Craft shot a respectable 46% from the floor, but with a year on campus, you know that is going to go up this season. If he can score close to 10 a game and dish out 6 assists, it would be another huge step in what is going to be a brilliant career.
William Buford is back for his senior campaign and is within 672 points of becoming the all-time scorer in OSU history. The Silent Assassin lead the way against Walsh with 17 points in 21 minutes and you can expect a better overall game this year, which was evident in his 5 assists on Sunday. Buford will routinely go for 20+ this season and it will be fun to watch him climb the all-time scoring list each game. He starts in the 22nd position today, 12 points behind Paul Ebert.
Rounding out the starting five will be DeShaun Thomas and probably Lenzelle Smith, Jr. Out of all the returning players, I think I am most excited to see what Thomas can do this season. He too shed some wieght over the summer, which will benefit him in his extended minutes this year. There's no doubt he can score, ranking second to Sully in points per minute last year, but he will need to eliminate the moments of "La-La Land" and hit the defensive boards. Ohio State simply isn't going to see many teams that can stop Sully, Buford and Thomas in the same game.
Smith came into camp last year fresh off a wrist injury and didn't get a full offseason under his belt before the games started. If you're looking for anyone to fill that "Lighty" role, this may be your guy. Though he's not the best shooter yet, Smith has a crazy wingspan and has bought into Thad's rule: If you play defense, you'll see the floor. He lead the way with 8 boards against Walsh, to go along with 6 points and 3 assists.
Potentially battling Smith for that final starting spot will be Jordan Siebert, Shannon Scott and Sam Thompson. Siebert, like Smith was coming off an injury last year, but looks to be at full strength and if Sunday is any indication, he could help replace some of Diebler's production. Jordan hit 4/5 from downtown vs. Walsh, after connecting on just 25% from there last season.
Shannon Scott is a McDonald's All-American and the reigning Mr. Basketball in Georgia. He looked a little tight in the exhibition, but has a knack for the ball and has speed pushing the ball up the court. Matta remarked how Scott's shooting in camp has pleasantly surprised him. Scott won't be asked to score much this year, but if he can spell Craft for a few and make an impression on the defensive end, he'll be a constant in the rotation.
Thompson is the freshman I am looking forward to most this year and Thad claimed he could be the most athletic kid he's ever coached. At 6'7", the Chicago native impressed against Walsh with 9 points, 5 boards, 3 assists, 4 steals and 2 blocks in only 17 minutes. Like Thomas last year, he'll have to show some patience in minutes and consistentcy on the defensive side, but his athletic ability will get him on the floor and teams will soon find out he's tough to guard.
Two inside oriented players who will be fighting for minutes is 6'8" Evan Ravenel and 6'6" J.D. Weatherspoon. As most of you know, Ravenel sat out last year after transfering from Boston College. Thad always seems to have a guy that does the dirty work in the paint and this will be Ravenel's role this year. He won't score much, but he grabbed 8 boards in 11 minutes Sunday, which would equate to roughly 30 a game if he played a full 40 minutes.
Weatherspoon ran into some academic trouble last year and missed most of the B1G season, but he didn't lose any of his jumping abilities. He surprised me Sunday with his offensive production, going for 13 points in 11 minutes. He shot 6/7 from the floor, which included a triple in his only attempt and a thunderous follow up dunk, along with a couple of driving layups.
Amir Williams and Trey McDonald are the 2 heralded big men in this year's class, but both looked to be pretty raw and a little slow of foot right now. Williams is a 6'11" McDonald's AA from Birmingham, Michigan who eventually will enter the rotation consistently, but that may be a few weeks away, especially if Ravenel can give quality minutes.
McDonald, a Battle Creek, MI. native is 6'8" and is rumored to potentially redshirt this season. He played 7 minutes Sunday, but players can still redshirt if they play in exhibition. 
There is little doubt this is going to be a great team and nothing less than a trip to New Orleans (with a couple of B1G championships along the way) would be a disappointment. As I mentioned, this team is deep and athletic, with at least 3 players that can go for 20 any given night or the same night.
Thad has longed for a team with this much athletisism and experience, so he can push the tempo more and force the opponent to play his style. To go along with that experience is some rawness that we get to watch Thad develop and mold over the next five months. It's going to be a great ride, so settle in and make sure you have plenty of popcorn.
Ohio State takes this one easily, 98-51.
Etc
Thad is 11-0 in season openers and has won 20+ games in each of those seasons.
Buford, Craft and Sullinger have all been named to the preseason Wooden and Naismith Top 50.
11W Favorite, Jim Jackson gets the nod as the color analyst tonight.
Miss hoops? There are 127 D1 games today.