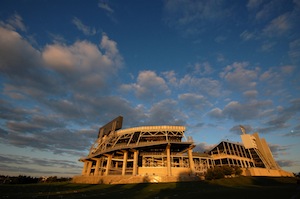 Sports are a universal, driving escape for us all; a vacation from the monotony of our day-to-day lives, a chance to embrace and become part of a community, something bigger than ourselves, and find solace in a common identity which transcends both time and generations. Some things render this all an exercise in futility. There is no precedent for the kind of heartbreak and agony befalling the State College, Pennsylvania and Penn State communities during the better part of the last two weeks. No playbook or apt strategic communication playbook to turn to at a moment's notice.
As the story unfolded last week and undoubtedly broke our collective hearts, we editorially decided on the podcast the best approach would be none at all; we focused on Ohio State-Purdue and besides a passing mention about trouble ahead for the Nittany Lions, we elected to not so much as even acknowledge it. With Penn State in town this week, it becomes impossible to ignore. While in a perfect world, we'd be discussing Ohio State and Penn State's Leaders division aspirations and what this secondary rivalry game means to both schools, recent events have proven this is anything but. While we attempt to broach the subject directly with the sort of humanity and integrity it deserves, if understandably the happenings surrounding Penn State is a topic that offends or disturbs you, you're certainly more than welcome to enjoy the first 12 minutes of today's episode and then skip ahead to the 44 minute mark. You'll still get almost a full week's worth of content.
We start this week's episode by briefly rehashing Ben Affleck's harrowing and unnecessary "Purdue Harbor 2: Electric Boogaloo", before switching on cue to a fleeting preview of the Urban Meyer hero worship sure to dominate the coaching search editions of this very show. We then give our thoughts and initial reactions to the horrors in Happy Valley before presenting this news cycle's biggest star, Black Shoe Diaries' Ben Jones. Fresh in from the Penn State basketball game, Ben reflects on when he knew the story had legs, what it was like for he personally to cover it, and how he feels now about the decision to terminate Joe Paterno. Ben, a Happy Valley native, also shares a personal anecdote about meeting Sandusky as a youngster that you have to hear to believe.
Finally we close things out by discussing the basketball team's first two triumphs and what the future holds for the nation's third ranked basketball team. There is no embarrassment theatre du jour because while (tasteful) humor can be a way to cope with the unthinkable, we thought it'd be better to let folks know how they can help people who've gone through similar personal tragedies. If this story moves you to do nothing else, please visit RAINN and make a donation today to help make a difference.
Right click save as here to consume the podcast as you please, hit up the iTunes store if you'd like to download it to your iPod/iPhone/iPad, or just hit play below:
If the music in today's episode piqued your interest, our opener is courtesy of uber genius composer Jon Brion and the track "Elephant Parade" which can be found on the tremendous Eternal Sunshine... Soundtrack. After our interview with Ben, you hear the title track from Sufjan Stevens' b-side compilation "The Avalanche". Lastly, the closer is Justin Vernon/Bon Iver's exceptional cover of Peter Gabriel's "Come Talk To Me", the b-side from the Holocene single.