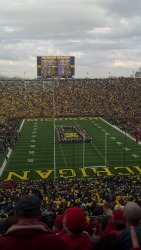 In my lifetime as an Ohio State fan, the majority of which I've spent residing in the state of Michigan, there was one sight I had not witnessed in person until this past Saturday: a Michigan team, and its fans, celebrating a win over the Buckeyes in the Big House.
I probably should have been devastated. Or livid in a way that would make Woody Hayes throw a first-down marker in solidarity. After all, as someone who spent her adolescence as an Ohio State fan living in Michigan during the Cooper years, I hold the ultimate trump card over anyone who bemoans getting teased by his/her one Wolverine friend.
Instead of experiencing PTSD flashbacks to my peers trolling me with a Charles Woodson-featured Sports Illustrated cover in school, I felt somewhat nonchalant about the whole affair. It's unrealistic to expect Ohio State, especially in the greatest rivalry in sports, to emerge victorious every year. At some point, Michigan was going to win.
I obviously would have preferred for the Buckeyes to have pulled it out, crushing the Maize and Blue's spirits once again. I would have preferred for my previous 3-0 record in the Big House to have remained unscathed. I would have preferred sending the senior class and HC Luke Fickell as the real victors to be hailed.
And yet, if the good guys were going to lose, it might as well have been this year. This was not a very good Ohio State team. I did not expect them to beat Michigan. The Buckeyes boasted a more talented roster, but the Wolverines claimed the better team this season.
OSU, losers of five Big Ten contests by an average of 5.6 points, had difficulties putting together a complete game. Save for the W against Wisconsin, they had a way of coming up just short. The patchwork defense was decimated with injuries and the offense was often an inept and inexperienced mess.
Overall, this was a season marred with scandal and full of failures, frustrations, and other f-words less suitable for this forum.
Beating Michigan could have changed that, but if this season will be remembered for anything, it should be as a bridge between eras. The previous one was a success; the future one has incredible potential. One only has to look as far as the gritty play of freshmen like Braxton Miller and Ryan Shazier for evidence of that.
So, if you had seen my face in the Big House as the students stormed the field, the smirk on my face would have revealed my inner thoughts. Though the hate was still boiling underneath, I recognized how their fans felt. It was the same emotion Scarlet and Gray faithful were swept up in after the Wisconsin game, and it was the same sensation as when John Cooper was hoisted in the air by his team in 1994.
It was relief.
They knew they would never avenge the hold Jim Tressel possessed over them. They knew that in any other year, especially if the man in the sweatervest had still been around, it's doubtful they'd be reveling in such festivity. They knew a two-time national championship-winning coach was about to be announced as the next leader of the Ohio State football team.
Their win will probably not usher in a 90s-like dominance from Michigan. Brady Hoke and his Poinsettia Bowl champs resume is not about own Urban Meyer1. Perhaps that's why after the game, Michigan fans were mostly innocuous and lacking in braggadocio. They knew what I knew: this is a temporary setback. Ohio State will be back. And soon. 
SIGHTS AND SOUNDS OF THE GAME
In all likelihood, my mood would have been far less serene if I had been watching The Game from home. I tend to let my more irascible side materialize in private where I can curse the demons of overthrowing wide-open receivers and allowing Denard Robinson's completion rate to go from Joe Bauserman to Russell Wilson territory.
One of the perks of attending a game, even a loss, is the exposure to elements2 that television cameras miss. Wolverine fans, maybe ready to change their reputation as key-jinglers, found an even quieter form of noisemakers in yellow pom-poms. Though they reached a respectable level of loudness on Ohio State's last drive, they remained sonically unintimidating.
Despite a stadium playlist with stale songs bogarted from every other fanbase in the country, including "Build Me Up Buttercup", "Sweet Caroline", and the tune that needs to be shot behind the barn, "Seven Nation Army", the worst sins against music occurred pregame and at halftime, when the UM band followed TBDBITL. This would be akin to The Black Keys opening up for Nickelback, a hypothetical example that must never happen.
For sportsmanship purposes, each band plays the other's fight song before kickoff. To keep the analogy train coming, TBDBITL being forced to bust out "Hail to the Victors" was like a talented artist ironically covering a terrible and overplayed song. Think Jeff Tweedy performing "I Gotta Feeling".
The Michigan band, on the other hand, taking on the Buckeye Battle Cry? Well, there exists a Michael Bolton's version of "(Sittin' on) the Dock of the Bay"3. 
According to the announcer, OSU's leading tackler was CJ Bryant, meaning CJ Barnett was either adopted by his teammate's family or he and Christian Bryant merged to form one super-safety that still could not pick off a QB who entered the matchup with 14 interceptions on the year.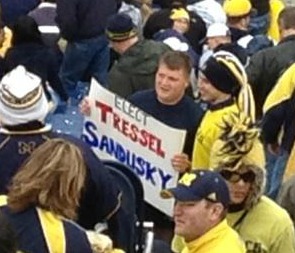 Although I expected a plethora of tattoo jokes, I heard or saw nary a one. Possibly in an attempt to erase the past decade from their minds, I only saw one Wolverine fan carrying a Tressel-centric sign. To prove his taste in humor is as sagacious as his choice in favorite teams, that fan decided a Tressel/Sandusky mock campaign poster was the height of comedy.  
With my Droid Bionic, I enjoyed Verizon's 4G LTE network4, which is as impressive as Jeremy Cash's dance moves. I observed firsthand how much faster and cooperative it was compared to the 3G network from another company who shall remain nameless5.
Even amongst 114,000 people, I had no difficulty whatsoever posting pictures on Twitter, reading updates on Shazier's injury, and receiving confirmation that yes, even from a seat near the top of the stadium, my eyes did not deceive me as I noted John Simon and Big Hank were being held.
When I was disheartened by the action on the field, I was able to luxuriate in the now-famous Will Hagerup GIF. Unlike certain other phones, my Droid supports animation and the amusement obtained from that was off the charts. 
As I watched the Buckeyes finish up their 0-for-November in the same Maxwell Smart manner as they played their first two games of the month, those laughs were much needed.
But, as the Michigan fans spilled onto the field in cathartic exhultation, there was only one thought running through my mind:
Next time, Wolverines. Next time.
1 Except maybe in a hot dog-eating contest. 
2 I'll spare you a description of the smell. 
3 Sorry if you were unaware that was a real thing. Here's the original as a palette cleanser.
4 And now it's time for your FTC disclaimer portion of the evening: Verizon bestowed the phone to 11W, which I am testing out. If anyone questions whether these are my own words, take a look at the next footnote. 
5 Let's just say it's the Britta of service providers.