Good Thursday morning Buckeye faithful. It is my sincere hope that you've all had a pleasant week up to this juncture, one full of the good tidings and cheer that usually follow a normal autumnal weekend. As Buckeye fans we have been pretty spoiled in the past twenty years or so, and perhaps we are not quite used to "living it up" following each and every Buckeye football win because they were so abundant.  We have learned, though, that things can change quickly. That being said, I hope that you, our readers are now perhaps seeing the small things in a little different light, at least temporarily.
The Buckeyes "shocked the world" this past weekend when they upset #16 Illinois, and they did so in a ground-control, three yards and a cloud of dust style that would have made Woody smile. Michigan showed that it still can't compete with a team that plays a physical Big Ten style of defense, and in some way, that probably was just as satisfying as the win over Illinois was for most Buckeye fans.
As we head into a bye-week, which I personally hate, it's a good time to sit back and reflect on this, the most tumultuous times faced by the men of scarlet and gray in decades; and to recognize the challenges that are still ahead. In our haste to move towards next year, and past a senior class that came in as acclaimed as any in Buckeye history, and will leave more disgraced than any in Buckeye history; let's not forget to enjoy the work and effort that Mike Brewster has put in. Let's not jump early and forget JB Shugarts (See what I did there?), or forget the perseverance of Andrew Sweat. Yes, it's impossible to not view the "Brew Crew" without some sadness about the transgressions some members have perpetrated, but each and every member of that class chose to be Buckeyes, and have given a lot of who they are to THE Ohio State University, and by proxy, millions of Buckeye fans all over the world.
Let's go to the goods...
 NCAA FUZZY MATH I know that much has been made of the discrepancies in the NCAA's levying of penalties as it concerns some members of the Ohio State football team. Ohio State had 6 football players suspended for five games for selling personal trinkets for discounts on tattoos. Ohio State had three players suspended two games for receiving less than $200 for an appearance at a fundraiser. Ohio State had a player suspended for five games for receiving money ($728, to be exact) for hours he didn't work at a job this summer. 
On Wednesday a few interesting things happened (interesting to me, anyway, jerks) as it pertains to their infractions committee, and it's hard to not notice how perfectly imbalanced their decision-making process truly is. One of the key players in the Boise State athletic department's "scandal" (you know, the one that was all over the news, all year long?), DT Ricky Tjong-A-Tjoe, was reinstated following his six-game suspension for receiving improper benefits worth roughly $13,600 prior to, and during, his time at the school. Tjoe received his benefits from a host family who happened to be Bronco boosters. 
Then on Wednesday, it was announced that three LSU players, including the ridiculously talented Tyrann Mathieu and starting tailback (and Ohioan) Spencer Ware, had violated their team's drug policy. It was then rumored that LSU would be suspending those players for this weekend's game against Auburn, a claim Les Miles later deflected. Of course, since the NCAA has no actual power other than what's been given to it by the schools that is comprised of, if that one game penalty was imposed by the school, that will be totality of the punishment, at least from an eligibility standpoint. The lesson? If you're going to cheat; cheat big. Also, drugs are ok, but don't you dare make a single dime off of you while the NCAA is still using your name, image and body to line their own pockets. 
 THE COACHING SITUATION Every week it seems like we see/read/hear more about who will take over the reins and reign supreme as head coach at Ohio State next year. This week, Jon Gruden signed a five-year extension with the evil empire that would seemingly preclude him from being a serious candidate if Ohio State approached him. I say "seemingly" because Gruden apparently has worked a few "out clauses" into his contract. The clause, a half-million dollar buy-out zeros in on four specific jobs, two in the NFL and two in the NCAA. Those jobs? The Ohio State Buckeyes, the Texas Longhorns, the Dallas Cowboys and the Miami Dolphins(?), are all jobs that could potentially be open this upcoming off-season, and it would be interesting to see if Gruden were to make good on his chances to bolt from bSPN.
Also this week, it was reported that barring any significant NCAA penalties, that it is almost certain that Urban Meyer will be taking the Ohio State job. While I can't speak to the validity of that report, I can certainly say without hesitation that the situation is not that cut-and-dried. Meyer is definitely interested, and the Buckeyes will definitely be willing to pay him whatever he asks for (rumor is somewhere around $6 million a year, fwiw), but the NCAA hold-up is not the only issue that is a concern for Meyer. The reasons he left Florida; his health, his desire to spend more time with family, the entitled athlete, etc - have not magically cleared up. Interesting sidenote: rumors that none other than Chris Spielman has been working Meyer's ear in the hopes that Urban would bring Spielman along as the Buckeyes next defensive coordinator.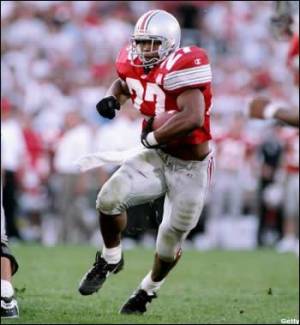 EDDIE! EDDIE! At halftime of the Ohio State "scarlet out" against Wisconsin, the Buckeyes will honor Eddie George for his upcoming induction into the National Football Foundation & College Football Hall of Fame. George will be enshrined into the South Bend institution this December, and will become the 23rd Buckeye to enter the hallowed Hall. Eddie finished his Buckeye career with over 3700 rushing yards, including 1927 yards and 24 touchdowns on his way to winning the 1995 Heisman Trophy. Guess Rod Smith now has something else to accomplish on the quest to truly be the "next Eddie George".
TAKING A VERY IMPORTANT POLL. Many times growing up in northwest Ohio, I would spend my free time staring off into space and pondering some of the greatest questions that the universe has to offer. Why are we here? What is our purpose? How will I be remembered if I die? (I was a very deep, kid, you know)
However, no question has plagued me to this day as much as this one has: If you could have a super-power, what would it be? You only get one. No super-strength plus flying mumbo-jumbo. Give your answers, please.  Why did you choose the one you chose, what is the first thing you would do with that power, and would you make it widely known that you possessed this unique gift, or would you keep it under wraps in order to avoid all the troubles that come with being spectacular?
QUICK SLANTS. Everything is bigger in Texas...AWWWWWWWW...Man, I do NOT want to get old...Hue Jackson believes Raiders made "The Greatest Trade in Football"...Baseball says No-witzki, but it gets Dirk'd out.