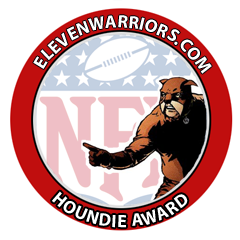 At one point in time, this award was known as the Buckeye NFLer of the Week. Thanks to a typo and the ensuing LOLsession from the commentariat, it was renamed as the Houndie. Same intent, but now with a better name.
We are six weeks into the NFL season and it's obvious that Green Bay is the best team in the league, with a handful of teams vying to be mentioned in the same breath, including a few surprise teams that have Buckeye talent.
It was with out a doubt the best day of the season for the former Buckeyes, who used the big win in Champaign as motivation to produce on Sunday. Even though this week's winner was a no brainer, there was plenty of other stand out perfromances, that could have won the Houndie in any other week.
Denver, Tennessee, Arizona, Kansas City, Seattle and San Diego enjoyed this week's byes, while Chimdi Chekwa also sat out again this week as he battles his hamstring injury.
Pehaps the biggest news for Buckeye fans came out in Oakland, where Jason Campbell was lost for the season and as of right now, Terelle Pyror is one snap away from making his pro debut.
The Raiders are desperately trying to sign a veteran QB, perhaps even trading for Carson Palmer, but for now, TP and Kyle Boller will hold down the offense. It will be interesting to see if the Raiders use TP in some type of wildcat formation or insert him if Boller is, well Boller.
Depsite the loss of Campbell, the Raiders held on to win 24-17 over the Cleveland Browns. The win moved the Raiders to 4-2, as they host the Chiefs this Sunday before they head into their bye. For the Browns, Brian Roboskie continued his slow season, nabbing just 1 pass for 4 yards. He now has only 4 catches for 29 yards on the season.
Next stop is Atlanta, where the Carolina Panthers fell to 1-5, after losing to the Falcons, 31-17. After being released from the Rams, Jermale Hines ended up in Indy, but was claimed by Carolina on Tuesday and he made his debut this weekend, contributing a solo stop, while Chris Gamble made 3 total tackles in the loss.
One of those surprise teams I was talking about is the Cincinnati Bengals, who kept the Colts winless with a 27-17 home victory, to move thier record to 4-2. Nate Clements gave a run at this week's award with 6 solo tackles, 3 PD's, a forced fumble and a blocked FG. Mike Nugent hit FG's of 20 and 43, while missing from 43 and hitting all 3 of his XP's. For the Colts, Gonzo was held without a catch again.
Up in Detroit, the coaches were all the rage after their post game "handshake", which overshadowed a hard fought 25-19 road win for the Niners. Ted Ginn played a huge role in the win, he ran twice for 21 yards, caught 2 balls for 24, returned 4 kicks for 105 and 3 punts for 72. His 40 yard punt return late in the 4th, set up the Niners go ahead TD with 1:51 left.
On defense, Donte Whitner had 6 total tackles, including 1 for a loss and was credited with a QB hit, while Larry Grant got another special teams tackle. Bobby Carpenter continues to start for the Lions, registering 3 total tackles. Both teams now sit at 5-1.
As mentioned, the Packers are crushing people and St. Louis didn't stand a chance yesterday, falling at home 24-3. A.J. Hawk caused quite a stir, when he flipped off someone on his own bench, claiming it was a running joke with a few of his teammates. He also had one of those weeks that could have won the award and I'm sure he'll hear from the NFL offices on his we're #1 gesture.
Hawk finished the day with 9 total tackles, including 7 solos and 1 for a loss. He also added a sack (which prompted the finger) and a QB hit. Ryan Pickett added a solo stop, while James Laurinaitis lead the winless Rams with 8 total tackles, including one for a loss and 5 solo stops.
How about Jake Ballard? Dude wins the Houndie last week and follows it up with 5 catches for 81 yards in the Giants 27-24 win over Buffalo. Ballard now has 11 catches for 186 yards and a TD over the last 3 weeks.
Cam Heyward and Will Allen didn't record any stats in Pittsburgh's 17-13 win over Jacksonville.
In late afternoon action, the Saints lost to Tampa Bay, 26-20, creating a tie atop the NFC South at 4-2. Malcolm Jenkins lead the Saints with 6 solo tackles and an assist, while also defending 2 passes, while Will Smith had a quiet day with just an assist and QB hit.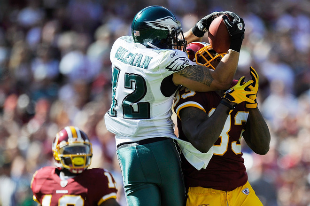 In the primetime games, two WR's made Buckeye Nation proud, by hauling in outstanding TD catches.
First, on Sunday night, Dane Sanzenbacher had a sweet 13-yard grab in the back of the endzone between two defenders and held onto the ball, as he fell akwardly to the ground in the Bears 39-10 win. He would end the night with just that catch, but he now leads the team in TD's and is tied with Devin Hester for most catches by a Bear's WR.
On the other side of the field, Michael Jenkins had 4 catches for 45 yards and Antoine Winfield sat out again with a bum neck.
Monday, the Jets took down the Dolphins 24-6, to end their mini skid and keep the Dolphins winless. Santonio Holmes lead the way with 3 catches for 63 yards and a nifty 38-yard catch and run to put the game away for good.
Brian Hartline was second on the Dolphins with 3 catches for 27 yards on 6 targets, as Matt Moore was hell bent on getting the ball to Brandon Marshall, while Austin Spitler had a special teams tackle.
The hero of the weekend though and this week's Houndie winner is Kurt Coleman, who helped lead the Eagles to a 20-13 win over the Redskins, ending thier 4-game skid.
Coleman, who was benched a couple of weeks ago, regained his starting role this week and not only lead the Eagles with 7 total tackles, but picked off Rex Grossman 3 times, with 2 of those coming inside the Eagles 20. The picks were obviously a career high, as Coleman had just 1 career pick coming into the game and he now leads the team. In fact he has just 1 less INT than the rest of the team combined. Brian Rolle also had a solid game, finishing behind KC4 with 5 total tackles.
This is Coleman first career Houndie and he has another huge chance this weekend, as the Eagles host the Cowboys on Sunday night.