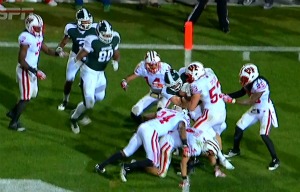 Welcome to the Big Ten Recap, Week 8: Resurrection. With Ohio State and Michigan both enjoying a bye week, a certain passion, whether undying love or burning hatred, was missing. 
At least, it started off that way. I'm not sure how everyone passed the time without Ohio State taking the field. If you chose to forgo watching Iowa-Indiana, then that's understandable. Perhaps you ventured out in the world to discover that somehow, the world doesn't come to a standstill on a football Saturday. Perhaps you spent the day with loved ones who may have forgotten you exist. Perhaps you sat in the dark singing Phil Collins' "Take Me Home" to yourself1.
Or, perhaps you watched this beloved sport of ours as you normally would, because the football season is precious and short-lived. And as a result, you were rewarded with this year's most thrilling game so far: Michigan State's last-second Hail Mary win over Wisconsin, which breathed a little life in Ohio State's B1G title hopes and increased the excitement for what's already the most anticipated tailgating event of all time.
Under Mark Dantonio's tutelage, Sparty, while still prone to some Spartying (see this season vs. Notre Dame), doesn't Sparty nearly as often (see last season vs. Notre Dame). Now, they and Penn State are the only two undefeateds left in conference play, and Dantonio's smile allotment for the next 20 years has been exhausted. 
Wisconsin, on the other hand, is ostensibly out of the national title race and will either enter the 'Shoe with a massive hangover or a raging case of bloodlust, both of which are familiar mindsets for Bret Bielema.  
MICHIGAN STATE 37, WISCONSIN 31
Just as they did a year ago, Michigan State ruined Wisconsin's bid for a perfect season, defeating the Badgers 37-31. With the score tied and four seconds left on the clock, Spartan QB Kirk Cousins threw a 44-yard pass up for grabs. The ball deflected off his favorite target, B.J. Cunningham, and into the hands of former QB Keith Nichol, who battled a couple Wisconsin players to reach the goal line. At first, the refs ruled that the ball had not crossed the plane, but upon further review, it was overturned and the touchdown was good. 
As delightfully insane as the ending was, there was rarely a dull moment throughout the contest. Wisconsin started off strong, looking invincible when they took an early 14-0 lead after an opening drive score and an MSU turnover that was converted into another TD. The Spartans, though, put up 23 straight points in the second quarter. After allowing 84 rushing yards in the first quarter, the Michigan State defense clamped down and recorded a safety for their first score. Then, Keshawn Martin ran in a nifty-looking 34-yarder off a reverse for the first TD.
On the next Wisconsin possession, they attempted a field goal, which Darqueze Dennard blocked. Michigan State responded with a TD when Cousins hit Cunningham on a 4th and 2 that became a 35-yard TD. Right before halftime, the Spartans blocked Kyle Elsworth's punt, and Bennie Fowler was able to fall on it in the end zone.
Down 31-17 in the fourth quarter, Russell Wilson, who had uncharacteristically thrown two interceptions earlier in the game, marched his team down the field to tie the score. He ran in a 22-yard TD and then tossed a 2-yard pass to Montee Ball for the second. Ball, who rushed for 115 yards, had been shaken up in the second quarter, and his absence caused problems for the Wisconsin offense.
The star of the game, though, was scrappy underdog Cousins. He completed 22/31 throws for 290 yards and three TDs2, the last one being his claim to fame for the rest of his life. 
The Only Colors, justifiably incoherent, offers a caps lock reaction of "I CAN'T EVEN EXPRESS HOW HAPPY I AM OMG", but was still able to point out that the Spartans were not penalized once. I guess that's what happens when William Gholston has to sit out. He'll be back next week as Michigan State wraps up their brutal-by-B1G-standards October against Nebraska. 
Bucky's 5th Quarter, who hopes for a rematch against MSU in the Big Ten Championship Game, sums it up: "It's a heartbreaking game in what could have been an unprecedented season for the Badgers, but they still have a chance to play in a second consecutive BCS bowl."
PENN STATE 34, NORTHWESTERN 24
With Penn State's victory over Northwestern, Joe Paterno notched his 408th win as a head coach. That ties him with Eddie Robinson3 for the most among Division I coaches.  
Matt McGloin got the start for the Nittany Lions (17/26, 192 yards, 2 TDs), and though Rob Bolden did not play, Paterno claims the QB battle is ongoing. RB Silas Redd racked up a career-high 164 yards, averaging an impressive 9.1 ypc. 
Taking a 24-20 lead with less than a minute to go before the halftime, Northwestern, not aided by the new uniforms, did what it does and relinquished it, never to score again4. The Penn State defense had something to do with that. Despite giving up 406 yards to the Wildcats, only 125 of them came in the second half. The defense recorded seven sacks on the night, including two by Jordan Hill.
Linebacker Gerald Hodges tallied 14 tackles and a pick. He returned an interception for 68 yards and set up the only TD in the second half. It was Dan Persa's lone turnover, but it was costly because they had been driving the ball in an attempt to retake the lead. 
Northwestern, losers of five straight, will try to get back in the win column against Indiana next week. Lake The Posts bemoans the missed opportunities, succinctly putting it, "NU left points on the board and Penn State did not."
Black Shoe Diaries makes an analogy of Penn State's 7-1 record: "It's the sort of feeling you get building up a house of cards; it's really cool the tower is so tall, but there's no way it won't fall down at some point." They'll find out this coming Saturday if it'll hold against Illinois.
PURDUE 21, ILLINOIS 14
Unable to deal with the psychological toll of losing to a team who completed one pass, Illinois fell for the second week in a row, this time to Purdue. For the Boilermakers, it was their first win over a ranked opponent since 2009 in a game that must not be named. And now, they have the same conference record as Wisconsin.
Purdue QB Caleb TerBush played well enough (16/25, 178 yards, 2 TDs) as he helped put his team ahead 21-0. His best moment came on an eventual scoring drive. On 3rd and 21, he evaded tacklers and threw a ball you wouldn't take home to your mother that was hauled in by Justin Siller. Shortly after, Siller found the end zone.
In the fourth quarter, Illinois scored two TDs, but it was too little, too late. QB Nathan Scheelhaase got off to a slow start and was briefly replaced by Reilly O'Toole until the freshman threw a pick to PU's Ricardo Allen. WR A.J. Jenkins put up respectable stats (8 catches, 92 yards), though once again, that did not matter much because he didn't reach the end zone.  
A Lion Eye, frustrated with a struggling offense and awful special teams, reminds himself, "THIS is what it is like to be a fanatical fan of this football team. This is my normal."
Hammer & Rails has the rare praise for Danny Hope: "Once we built a lead we didn't get to cute. We concentrated on taking care of the ball, working the clock, and keeping the Illinois offense off the field. For once, we did exactly what we needed to do."
Big Ten Standings
Legends
Michigan State
3-0
6-1
Michigan 
2-1
6-1
Nebraska
2-1
6-1
Iowa
2-1
5-2
Minnesota
0-3
1-6
Northwestern
0-4
2-5
Leaders
Penn State
4-0
7-1
Wisconsin
2-1
6-1
Purdue
2-1
4-3
Illinois
2-2
6-2
Ohio State
1-2
4-3
Indiana
0-4
1-7
While Michigan is on the schedule next, they're also looking to November and have some harsh words for a certain foe: "I have the most confidence in beating Ohi State. I call them Ohi State because they lack an O."5
IOWA 45, INDIANA 24
Many offensive players contributed to Iowa's win over Indiana, but the day belonged to Marvin McNutt. The senior WR added three TD receptions to his now school record for career TD catches. His 184 yards on the afternoon, including an 80-yard score, was a personal best, as was QB James Vandenberg's four TDs. Iowa RB Marcus Coker was good for 139 yards and 2 TDs.
True freshman Tre Roberson got his first start for Indiana and performed better than you'd expect from a freshman Hoosier. He gained 84 yards on the ground and 197 in the air (16/24, 1 TD). RB Stephen Houston hit paydirt twice on 72 yards. Even though IU totaled over 400 yards of offense, what continued to haunt them was a lack of discipline. They committed 12 penalties for 114 yards.
Iowa is a win away from becoming bowl eligible. The good news for them is they face Minnesota next Saturday.
NEBRASKA 41, MINNESOTA 14
Up 34-0 at the half, Nebraska beat Minnesota by the unholiest of final scores. For the Cornhuskers, it was as much an away game as one would be for Ohio State in Bloomington.
Rex Burkhead accounted for 117 of Nebraska's 346 rushing yards and QB Taylor Martinez put up 52 of them. Kenny Bell scored on an 82-yard reverse and caught four passes. In the first quarter, Martinez tossed his one TD for the day to fullback Tyler Legate, who despite that catch, is not better at his position than Zach Boren. Before that, on a fourth down, Martinez was unsurprisingly inaccurate on a pitch that freshman RB Aaron Green accidentally knocked forward and out of bounds for a first down. That's what happens when you play Minnesota.
Still, the Golden Gophers managed their one highlight, and it was a beauty. A double-reverse flea flicker set up a 53-yard pass from QB MarQueis Gray to Da'Jon McKnight. After that, Gray was able to run in a 1-yard TD.  
Husker Mike concedes that the "the biggest reason the score got out of hand was Minnesota's mistakes" and goes on to enumerate them, which is too soul-sucking of a task for me.
Big Red Network boils it down to this: "The Huskers accomplished what they needed to. They won their sixth game of the year to become bowl eligible. They got their first road win in Big Ten play. And they dominated their opponent pretty much throughout. Next week's game against Michigan State may well decide the Legends division race."
1 No judgment here. 
2 It was almost as if Cousins and Wilson swapped stat lines, or maybe bodies a la the Dudley Moore-Kirk Cameron classic, Like Father, Like Son. Or Vice Versa if Judge Reinhold-Fred Savage is more up your alley. 
3 I couldn't remember if he was still alive or not, but like Joe Pa, he passed away in 2007.
4 Visiting his alma mater for Homecoming, Seth Meyers was on the sideline saying, "really? You can't intercept Matt McMoxie? Really?" To add insult to injury, a player named Stephfon (Green) scored the go-ahead TD right before the half.
5 Great, now Purdue fans are talking trash about Ohio State's offense. Purdue, many years post-Drew Brees.