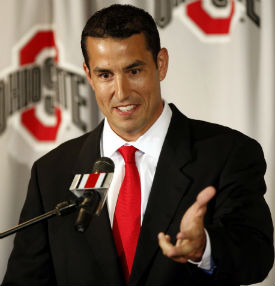 In the midst of a 4-3 season, Luke Fickell has a lot of critics. Some like to harp on the lack of adjustments made during the game (cough, Nebraska, cough), some like to take shots at his authority over the offensive play calling, and some like to go after his use of his time outs (Miami) and general clock management.
After everyone is done taking their shots at Luke, they should take a minute to applaud him for the job he has done on the recruiting trail. While you may think I'm crazy for saying that, especially being that the Bucks haven't received a verbal pledge in over two months, take a step back and look at the situation the program is in.
If you believe that Mike Thomas is eventually committing, like I do, that gives the Bucks 14 players for the class of 2012. Most other programs in the country would probably have a third of that, at most, if they were going through similar uncertainties with the NCAA ruling and a future coaching staff. They would also probably have many more decommitments than the Buckeyes have, which is one in the form of Kyle Kalis.
While Luke hasn't done anything drastic to reel in some big fish or add some out of state talent to a class currently filled with all Ohioans (sans Thomas if he's in), he has kept the status quo the same and that's all you can ask for at this point in time. The Bucks are still in on some big time prospects and the fact that the program has a chance to land 5-star talent in a situation like this once all the dust settles, has to be attributed to the job Fickell and the staff have done in selling Ohio State.
In this segment of the 11W recruiting notebook, we'll talk filling out the class of 2012, the pending decisions of a certain two prospects from Cincinnati, and a possible successor to the Buckeye quarterback position. Join us after the jump to hear more.
Two Coming For Buckeyes?
Many of you have asked about Cincinnati Taft stand outs Adolphus Washington and Dwayne Stanford during the last few notebooks. While things were relatively quiet since Washington's father hinted Adolphus would be committing to Ohio State, that has changed as the duo has announced they plan to reveal their college decisions on November 9th when they receive their invites to the Army All-American Game.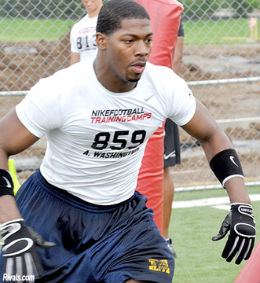 While nothing is guaranteed, Washington and Stanford have both expressed interest in attending the same college. The two have taken a ton of visits together over the past year and have had very similar schools on their short lists for the entirety of their recruitment.
Is this good news for the Buckeyes? It certainly appears to be as Washington continues to say Ohio State leads for his services despite taking a visit to Michigan State last weekend and scheduling a visit to Oregon on October 29. If Washington is on board, the train of thought here is that the much more "hush hush" Stanford will be joining Washington in Scarlet and Gray as well.
Getting this pair of elite players would be a huge get for Ohio State, especially since these decisions come before the NCAA's ruling and long before a new head coach is named for the program (if that happens). Washington, who has been an absolute beast this season, is my top player in Ohio for 2012, while Stanford is the top receiver in the state and would help form a nice corps with fellow classmates Frank Epitropoulos, Roger Lewis, and Mike Thomas (once again, if he's in). 
I also feel a commitment of this magnitude would cause a ripple effect in the recruiting world, as it would show other elite prospects that they shouldn't be scared to come to Ohio State. Having players in those national all-star games is never a negative either, and I would expect Washington and Stanford to try and bring as many players as they can with them to Columbus for Luke Fickell or whoever the next coach may be.
Closing out the Class of 2012
If Mike Thomas, Adolphus Washington, and Dwayne Stanford all do end up committing to the Buckeyes, that would leave the program with 16 verbal commitments in a class expected to number about 20. That leaves four spots open for a slew of players that remain on the recruiting board, although that number could increase if there are any defections from the program or if the school gets a favorable ruling from the NCAA regarding scholarship reductions. For the sake of predicting the rest of this class, let's go with a loose 20-22 spots.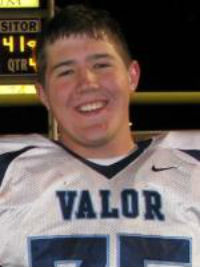 The number one priority is and should be the offensive line. The Bucks already have two commitments in Patrick Elflein and Jacoby Boren, but would like to have at least four linemen in this class and possibly five if the right players wanted to come on board. The most likely candidates to end up in this group are Nick Davidson and Alex Kozan, with Jordan Diamond being the outside shot. I think the third generation legacy Davidson eventually ends up with Ohio State after visiting and I think Kozan, who hears by Friday about a scholarship offer, joins him. I think Diamond ends up at Wisconsin, giving OSU four total lineman in this class and bringing the class total up to 18.
The second priority the staff is looking at is linebacker. Luke Roberts is on board already but the staff would like to add one more player out of two Ohioans who currently do not have scholarship offers. Those two players are Mason Monheim of Orrville and Joe Burger of Cincinnati La Salle. Right now it looks like Monheim is ahead of Burger on the pecking order to get an offer and if he does, I expect him to commit shortly after. For safe measure, I will include Monheim in this class and leave Burger out for now, giving the Bucks two linebacker commits and bringing the class number up to 19.
If Washington joins the fold, the need for another defensive lineman isn't as great, but the staff would definitely like to add one-two more and have their eyes on two prospects. The first is the uncommitted Ifeadi Odenigbo of Centerville, a traditional Buckeye factory. Despite his school's ties to the OSU football program and his close relationship with Mike Bennett, it seems academics may be the most important to Ifeadi and his parents, making Notre Dame (he's also Catholic), Stanford, Northwestern, and Cal definite players in this one. I think it comes down to the Irish and the Buckeyes and right now I see the Irish coming out on top.
The second is Jordan Washington. Washington is a defensive tackle out of Suwanee, Georgia who recently received a scholarship from the Buckeyes. Washington has narrowed things down to Ohio State and Mississippi State and will be visiting Columbus for at least the Wisconsin game on October 29th, while also mentioning he may make a return visit for an official in December. I think the first trip to the 614 will sell Washington on going a bit further away from home and he will be the 20th member of the 2012 recruiting class.
The other defensive lineman still in the picture is Canton McKinley's Se'Von Pittman. Pittman is committed to Michigan State and just took an official visit to East Lansing last weekend, but visited Columbus for the Colorado game and left the door open for a possible official visit to OSU. It's no secret the Bucks were Pittman's favorite before Jim Tressel's resignation retirement, so I wouldn't be shocked at all to see Pittman end up in this class. Let's take a risk here and say Washington and good friend Steve Miller work on Pittman to make him number 21 in this class.
Finally, the last area the staff is likely to recruit is defensive back, where Luke Fickell would like to add one more player to an already solid group. The candidates here are Trotwood-Madison S Bam Bradley, Jeannette (PA) S Demetrious Cox, Island Coast (FL) S Jordan Diggs, and Erie (PA) McDowell ATH Greg Garmon. Diggs was once fascinated with Ohio State, but his interest severely cooled after Tressel departed, making Nebraska the front runner for his services. Bradley seems salty over a "late" offer and lack of early interest and has Pitt (his brother plays there) and Stanford on top. Garmon has stated he'd like to play running back at the next level, leaving the Bucks at a disadvantage right now, with Iowa in the lead. Finally, the staff's best shot is with Cox, who seemed like a shoe-in to come to Columbus when Pryor was here. Cox still says the Bucks have as good of a shot as anyone, but something just doesn't seem right here and I think he stays in state with either Pittsburgh or Penn State, giving Ohio State no more defensive back commitments for now.
The additions of Mike Thomas, Adolphus Washington, Dwayne Stanford, Alex Kozan, Nick Davidson, Jordan Washington, Se'Von Pittman, and Mason Monheim would be a great finish to this class, especially considering the circumstances the program has endured. If Urban Meyer or another coach taks over in December, I expect a few of these names to flip around, as it is unknown the impact a new regime would have on closing out this class come signing day.
Bucks Offer 2013 Signal Caller
In last week's notebook we mentioned that Kettering Alter junior quarterback Malik Zaire had received a Wisconsin offer in addition to the Cincinnati offer he already held. We knew that the Bucks liked Zaire a lot, but we weren't sure if they felt he was ready to be the first out of a plethora of very talented 2013 signal callers to get a scholarship offer. We now know how the Bucks feel, as Zaire informed the media this week that Ohio State had indeed let him know that he had a scholarship to come play quarterback in Columbus.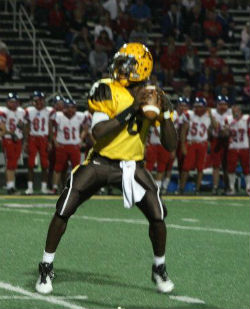 The offer to Zaire, who many compare to Troy Smith, came shortly after his visit to Madison, and I'm sure the Badgers getting in first had something to do with Fickell and the staff pulling the trigger a bit earlier than they'd like. Nonetheless, out of all the quarterbacks in the class of 2013, Zaire is the best fit for the Buckeye offense, a pro-spread type, as it has been run since Troy took the full reins in 2005.
I like the aggressive move of offering Zaire now and if there is a new staff, I expect that offer to stand. The elusive lefty doesn't pass much in the Alter offense, but has shown he can sling it in the pass and is quite the athlete as his legs show during games. It tells you something when Cincinnati offered him a scholarship before he even had a single start as the varsity starter and I think with the future before his eyes, Zaire will put the necessary hard work in to make himself better by the time he reaches college.
Zaire maintains the Badgers and Buckeyes are the top two on his list. He said Wisconsin was the leader last week because they offered and OSU didn't, but since the Bucks have come in, I'd have to imagine that they are at the least even. Zaire definitely likes what he sees with the Badgers' use of Russell Wilson in their offense, but a chance to play for the home state team where his family will easily be able to come see him play has to be appealing as well. Keep your eye on this one as it could get to be a heated battle.