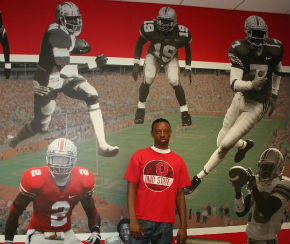 When we interviewed 2013 DB Eli Woodard a month ago after he visited Ohio State for camp, it was no secret that the Buckeyes would be in it until the end for this standout from New Jersey. Things haven't changed one bit for Woodard, and in fact the Bucks may be in even better position than they were before after the rising prospect and his family made their third trip to Columbus in the last five months.
The Woodards made the 8 hour drive from the Garden State to campus last Friday so that Eli could see a bit more than what he was exposed to during his many trips to the program's summer camps over the years. He checked out the academic side of Ohio State, interacted with various players on the roster, and observed the team getting down to business in practice. Needless to say, all of his initial thoughts on the program were confirmed and he had rave reviews to share about his latest trip to Buckeye Country.
We were able to catch up with Eli to get the low down on his visit to Columbus, what he thought of how the Bucks were getting after it in practice, when we can expect him to announce his college decision and much more. Join us after the jump to get the latest scoop on one of Luke Fickell's top targets in the recruiting class of 2013.
You were just at OSU in April and June. Why did you want to make the return trip so soon?
My visit for the spring game in April was really about getting to experience a game setting in the stadium and getting to meet many of the coaches that I hadn't yet at that time. Then in June it was about coming in and earning an opportunity and letting the coaches really see how I am as a player. Now to be able to return in August and get to see what the team is looking like along with the university as whole is what this visit was about..
What did you get to see this time around that you didn't get to see last time you were in Columbus?
I really got to see a lot of campus and was able to speak with some of the academic advisors to hear what it takes to be a successful student athlete and all the resources that are in place to help someone reach their goals off the field. From our time at the SASO center, where OSU Athletes have a ton of academic resources available, to understanding what it is to be responsible at this level, my family and I felt very comfortable with everything.
Did you get to speak to the coaches while you were on your trip? What did they tell you?I sat with a number of the coaches and learned about the various elements that go into making the program a success. It's easy to see the right group of coaches is in place for the job at hand and I could see myself playing for them.
The level of energy and dedication that they put into things is special and I hope everyone can see that. I took a lot away from my conversations that I plan on using in my everyday life now.
What players did you get a chance to meet? What did they tell you?
I really got to meet a lot of the guys, but was mainly with the corners and had time to talk about what their experience has been like, what it takes to be successful, and advice on how to handle things at this level. I had a good time, learned a lot, and plan to stay in contact with them. It will be great to see these guys go to work this season.
What did you think of the attitude of the team as they near closer to the start of the season?Two Words – Combat Ready! The team is focused and really getting after it! The leadership and energy from the coaches is setting the tone that needs to be set right now.
What impressed you, if anything, during the practices you watched?
Just how physical it was. I learned a lot about techniques, leverage and the details of everything about playing the game. The coaches go as hard as the players do and the team feeds off of it and it takes everything to another level!
I know OSU was pretty high on your list, but did this trip raise them at all or make them a favorite? Who are your favorites at this point?I have a level of respect for all the schools that have offered me – OSU has really shown the most level of interest and they have been a favorite of mine since I was little. But that's not really something you can go on because everything about a program, a school, the lifestyle has to fit in order to be a serious option. It naturally all fits or it doesn't. In my time spent seeing as much as possible, OSU has made my family and I feel at home which is nice.
Did you learn anything from your trip to OSU this time that you can take back with you to Jersey?
A lot of things, but one that stands out is what the difference between being good and being great is. I want to live that lesson!
When do you expect to be back in Columbus?
I will be back September 24th for the game against Colorado and again in November for the game against Penn State on the 19th. That is the last home game of the year and I plan on speaking with the Coaches to touch base at that time on where things are at with the direction of the program.
When do you expect to make a college decision?
I'm not into playing games or dragging things out. I would like to see where everything is at the end of this season and a take a good hard look at all my opportunities, which is a blessing. If things add up, I can see making that kind of move in December. I will be eligible for early enrollment and will report to a program in January of 2013, so I want to know where I am going so I can take the year to prepare.