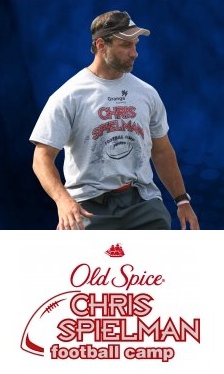 As is the case every summer, we're hard at work behind the scenes on a few off-season projects to help make 11W a better place.
One of these efforts is the 2nd annual Eat Too, Brutus to be held prior to the Wisconsin game on October 29. We'll have all of the details very soon, but one thing we're very excited about is our partnership with the Stefanie Spielman Fund for Breast Cancer Research for the event. Again, additional details will be out shortly, but this is shaping up to be the mother of all tailgates.
On a somewhat related front, we're pleased to announce we've partnered with the Chris Spielman Football Camp. The 4th annual event, sponsored by Old Spice, will be head over the course of three days, July 18th - 20th at Dublin Coffman High School from 4:30pm - 7:30pm.
Chris will be on site to direct camp activities and provide instruction. He will be joined by a selection of the top prep and collegiate coaches from the Columbus area. The camp is open to boys and girls ages 7 to 14.
Campers experience various stations, specializing in fundamental skills and the team concept of football. Individual groups will be small to assure that each camper gets maximum personalized instruction.
Campers receive an autographed camp team photo with Chris Spielman, camp t-shirt, camp goodie bag and the opportunity to win additional contests and prizes.
Cost of the camp is $169. Readers of Eleven Warriors will be able enter the coupon code 11W to receive a $20.00 discount off of registration, so if you have or know of any young pad-poppers that might be interested in learning from the epitome of Buckeye football, you can register at ChrisSpielmanCamp.com or by calling (888) 389-2267.