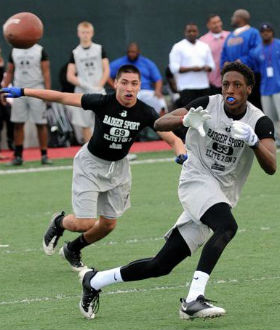 Wide Receiver is one of the thinnest, if not the thinnest, position on Ohio State's 2011 roster. After Dane Sanzenbacher and Taurian Washington graduated, the program was left with DeVier Posey, who is suspended the first five games of the season, as well as an abundance of young, unproven receivers who leave fans intrigued, but nervous at the same time heading into the upcoming season.
The staff did a good job trying to replenish the position in last year's recruiting class by bringing in young studs Evan Spencer and Devin Smith, but they will need to continue to bring in help with the recruiting class of 2012. Luke Fickell has already had some luck bringing in local star Frank Epitropoulos to catch some "Braxton bombs" over the next few years, but there are also a number of other targets we've talked about before that could be great catches (pun intended) for the Buckeyes in the coming months.
One of those players, and possibly the #1 receiver on the OSU recruiting board for 2012 is Michael Thomas of Woodland Hills (CA) Taft. Thomas was originally an Under Armour All-American in the class of 2011, playing alongside Braxton and Steve Miller, Doran Grant, and Ryan Shazier in Orlando in January, but has decided to attend a semester of prep school this season due to his young age and a death in the family right around signing day.
Thomas has great bloodlines in addition to his great frame (6-4/205), as he is the nephew of Keyshawn Johnson, who he has learned quite a bit from over the years. He is a dynamic pass catcher who can beat you by running by you or running through you. He has great hands, a tremendous catch radius, and a rare speed element you don't see normally with guys his size. The best part may be that Thomas is still young and may not be done growing just yet.
We got the chance to sit down with Thomas to talk about his interest in OSU, his relationship with the Buckeye UA All-Americans, what he has learned from his uncle Keyshawn and much more. Join us after the jump to meet Mike Thomas.
You were an Under Armour All-American in the class of 2011, but chose to go to prep school. Why did you make that decision?
That is correct, I was but my family and I just believed the prep school idea would be the best move. We thought this for several reasons, being that I am originally supposed to be in the class of 2012 for the simple fact of my age, as I was always the youngest in my class. Going to prep school will allow my body to develop and mature more, and allow me to get bigger, stronger, and faster. Another key reason I decided to attend prep school was because a few days before signing day my grandmother who raised me since I was first born, and who I had lived with all my life, passed away. This was a really hard time for my whole family and it was the worst thing I think I will ever experience. My family didn't believe I was ready to go off to college just so fast because that was a huge loss for me personally and had a big impact on my decision. At the end of the day I know she stays over my head and keeps blessing. I just do it for my Grandmother I know she looking down on me.
You will be enrolling in a college in January. Have you decided what school you will attend? If not what schools are you looking at? What visits will you take in the fall?
Yes, I will be enrolling in college in January which I believe is the best thing an incoming freshman could possibly do if he wants to play as a true freshman, get on the field early,  learn the system and see how things work. In my head I believe I have a good idea of where I will attend, but as far as schools that have my interest-Ohio State is at the top, followed by Auburn, LSU, Miami, Oklahoma, Colorado, Oregon ASU, Arkansas, South Carolina, TCU, and USC in no specific order. As far as visits in the fall, I have not got around to that yet. I have some ideas but nothing is for sure.
What are your feelings on Ohio State? Will current issues have an impact on your thinking with Ohio State?
What is there not to like about Ohio State? It has everything available to get me to the next level starting with academics ,coaching, players, facilities, strength of schedule, and a great community-- the list goes on and on. The situation for me at Ohio State is perfect, as I have a great chance to come in right away and catch footballs and do what I do best, which is make plays. The current issues with the program this past year are the smallest of my worries because at the end of the day there are still games to be won, records to be broken, and highlights to be made. Aren't those all the things you play college football for? At least I know that's why I play the game and love the game.
What OSU coaches are recruiting you? Have you gotten a chance to speak to Coach Fickell yet?
My main recruiter is Coach Drayton, who is a great guy. I have built a strong relationship with him, as well as Coach Bollman. Those are two humble, down to earth guys that I can't wait to meet [in person] when I take my visit. Yes, I have talked to Fickell several times and that guy means business. I know if I end up at Ohio State that he is on the same page as me and we want to accomplish the same goals.
You met guys like Braxton Miller, Steve Miller, Ryan Shazier, and Doran Grant down at the UA Game last year. Have you kept in touch with them and will having them at OSU be a positive for OSU?
Yeah, those are all my guys and that is a talented group of athletes you just named there. It gets no better than those guys. They are dogs and that's the type of people I want to play with---guys that are willing to leave it all on the field and in the weight room. Those are all my guys and I talk to them on a regular basis pretty much.
What are your strengths on the football field? What do you need to work on before college?
I am the type of receiver that you never know what to expect next. I always want to give the crowd something new so they never know what to expect. I feel that is the only way I will be able to keep people interested. I always want the ball in my hands, but not in a selfish way. I am never selfish--- I just like to get the ball in my hands, dance, and make big plays. I can't remember the last time I dropped a pass in a game---that is a rare thing. I always know how to set the defensive back up. I run great routes and my speed has improved because of my dad's training over the summer. We have really been putting time into speed work and power daily, as those are keys to the game of football. I have also grown a lot and I am now 6-4/205, so I am developing into an all-around receiver for every down.You are the nephew of Keyshawn Johnson.
What has that been like and what advice has he given you?
Having Keyshawn Johnson as my uncle is great. I am just happy to have him as an uncle. He knows so much about the game and we play the same position so its like the best of both worlds. It does not get any better. I can always pick up the phone or sit down with him and learn something new. He knows everything and he is always willing to teach or talk football to me which is great. I mean just ask the top athletes in California that he takes the time to coach in 7on7 every weekend---you will only hear great things.
HIGLIGHTS: