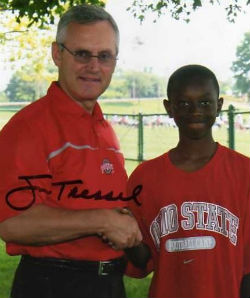 These days it's not so easy to find someone yearning for the chance to come play for the Ohio State Buckeyes. It's even harder when you talk about out of state prospects, all who seem to be in wait and see mode for the NCAA's decision before even considering taking a look at OSU. Fortunately for Buckeye fans, one player unfazed by the issues currently going on in Columbus is 2013 prospect Eli Woodard.
Woodard, a 6-0/175 defensive back from Vorhees, New Jersey, has had his eye on Ohio State for a long time. He has made the 8 hour drive from the Garden State every summer since he was a little kid, soaking up the Buckeye tradition and improving his skill set as a pee wee football star along the way. While his trips to Columbus growing up were all about fun, now that he's a big time high school football prospect, Woodard had a different mission when attending OSU's camp this year: earn a scholarship offer from the Buckeyes.
Woodard did just that and more, as Luke Fickell offered him after an impressive camp showing in which he dazzled all in attendance. Playing primarily at corner, Woodard locked down receiver after receiver and showed on-lookers why he is one of the more sought after prospects on the national level at such an early point in his recruitment. The OSU staff has started making their moves on the class of 2013 and Woodard was not one that was going to be left behind.
We got the chance to sit down with Eli, who will come back to Columbus to watch some practices in August, to discuss his interest in Ohio State, how the issues going on at OSU will affect his decision, how he felt after earning a Buckeye scholarship offer, and much more. Join us after the jump to get to know Eli Woodard, a definite candidate to end up in Scarlet and Gray in the near future.
You were at OSU's camp just a few weeks ago. How did you perform there and how was it different from all of the other times you made the trip out to Columbus for camps?
Overall I did what I set out to do and that was to leave with an offer to become a Buckeye! That in itself made this time at camp different then any other time, because for the first time I knew I would have a chance to accomplish my goal of having a chance to be a part of this program. There was pressure going in and that is when I perform at my best! I ran a solid 40 (4.48) and my drill work felt good. The one-on-ones were a lot of fun. There were a lot of great receivers there, more so then any other place I have been, but I held my own and was able to get great coaching from Coach Johnson an Coach Haynes.
So you did get offered by OSU. How did it feel to get that offer?
It was a great relief because I've been wanting to get an offer from OSU my whole life and have been working hard for years to put myself in position to have this chance. Last year I had a solid performance and had stayed in contact with Coach Hazell who really spoke highly of me to the coaches even upon him moving on which really means a lot.
It seems like you really like Ohio State, but are they your favorite school at this time? What other schools are you considering?
I'm weighing all of my options but Ohio State is up there at the top along with Notre Dame and Rutgers, which have both made nice impressions. Then Purdue is a program that has shown an amazing level of respect and a program I will most certainly be staying in touch with.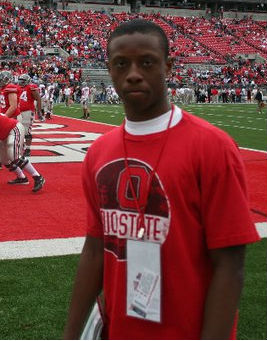 When do you expect to make your college decision?
I expect to make a decision by the beginning of my senior year and enjoy my last year of high school. I really feel fortunate that I have enough time to be able to see how everything goes in the season ahead. I will be attending practices in August and games in the fall and just enjoying the experience while building solid relationships in the process.
Will the issues currently going on at Ohio State have an impact on your decision?
No they won't. Coach Tressel has had an amazing impact on my life, still does, always will and there is no question he is an amazing person and leader of men! I also had a chance to meet Coach Fickell along with several other coaches and I clearly can see why the guys are excited to play for him as well! It's a very exciting time and I look forward to seeing how everything comes together this season.
What did you think about Coach Fickell when you got the chance to speak with him?
I spoke with Coach Fickell and I liked him a lot. I can tell that he is a great players coach and has great respect around the program.
What position do you think you'll play at the college level-cornerback or safety?
Right now some outlets have me as a top 5 overall recruit in the state and top cornerback in the Northeast for my class. I will be ranking high nationally when that starts coming together so all signs point to playing corner at the next level, but wherever the coaches would like to see me at, I am willing to do it.
What do you feel are your greatest strengths on the football field? What do you feel you need to work on?
I feel I am at my best when I press and display man-to-man skills which is what the offseason and 7v7 is all about. I went against some of the best wide receivers in the country all winter and spring and you better be ready to play them close because you will get smoked if you give them an inch! My zone play is something I know I have to focus on as I get back into the season.
What current/former NFL or college player do your skills/style compare to?
Hands down, Malcolm Jenkins! He has really set the blueprint for a cornerback to come out of New Jersey and be able to ball out at OSU. Maybe I will get a chance to meet him one day and will really be able to learn from him first hand. That would be a great experience.
If you can say one thing to Buckeye Nation, what would it be?
I would say what's there not to love about the Buckeye Nation and thank all of them for all the support I have been receiving – it means a lot and can't wait to get back out there for some practices, games and experience the academic side of the university!
HIGHLIGHTS: