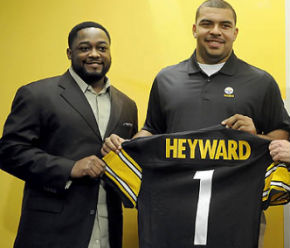 There were as many as 10 recently graduated Ohio State players who had a realistic shot at hearing their name called at this past weekend's NFL Draft. Five of those players were lucky enough to actually have their dreams come true, as Cameron Heyward, Chimdi Chekwa, Jermale Hines, Brian Rolle, and Ross Homan were selected and know where they will be attending training camp this summer when/if the NFL lockout is lifted. The other five, were not so lucky, and will have to wait until the lockout is lifted to find out if they will be invited to fight for a roster spot as an undrafted free agent, as teams cannot have any contact with players during the work stoppage.
Cameron Heyward was the first Buckeye to come off the board, as expected, going 31st overall to the Pittsburgh Steelers. Feelings for the black and gold aside, I couldn't be any happier for a kid who was everything you could possibly want in an Ohio State football player, both on and off the field. As an added bonus to landing on a great team in the first round of the draft, this scenario is a dream come true to "Little Ironhead", as he was born in the Pittsburgh area and his father played at the University of Pitt during his college, where he met his mother, a native of the city as well. Schematically this is an ideal situation too, as Cam will play end in the Steelers' 3-4 defense, a system very similar to what OSU has run the last few seasons. He will be very productive against the run while playing on the edge, and will also show a relentless pursuit of quarterback when lined up over center on 3rd down passing situations. I expect Heyward to compete for playing time right away and have an extremely successful career in the Steel City.
On day 2 of the draft many expected at least one Buckeye's name to be called, but I hope you didn't hold your breath waiting, as Friday came and went without any OSU players coming off the board. That didn't last long, as early Saturday morning Chimdi Chekwa was picked up by the Oakland Raidersr with the 113th overall pick. Last week, I predicted that Chekwa would land in Oakland, as Al Davis wouldn't be able to resist his tremendous athleticism and track speed that allow him to make up for what he lacks in coverage skills. With the Raiders likely losing at least two cornerbacks (including all-world Nnamdi Asomugha), selecting Chekwa and Miami CB DeMarcus Van Dyke (3rd round) makes sense, and it is good that Chimdi will get to see the field as a rookie. I personally don't ever see Chekwa as a star in the league, but with solid pass rush support and talented secondary mates, he could end up being a nice piece to a defense for many years to come.
When looking at the remaining players on the board, I figured that either Ross Homan or Dane Sanzebacher would be the next Ohio State player selected. I was clearly misinformed as Steve Spagnuolo decided that he could benefit from having Jermal Hines added to his defense. I actually predicted that Hines would end up a Ram in my article previewing the draft last week, but thought it would be in the 7th round, not the 5th (158th overall). Hines came to OSU as a linebacker, moved to safety, and then spent most of his time as a safety/linebacker hybrid at the STAR position. I think he will contribute immediately as a special teams player and could compete to see some early playing time at safety, where the Rams are extremely thin right now. He is fortunate to have former teammates James Laurinaitis and Larry Grant in St. Louis to help him adjust to the life of the NFL, and I'm sure those two had plenty good to say about Jermale to the Rams' coaching staff when they were evaluating him. Hines was a very good Buckeye and if he has the same work ethic at the next level, there's no reason he shouldn't be able to stick around the league long enough to make a nice career out of pro football.
In the 6th round Philadelphia decided to keep the Buckeye train rolle-ing, and selected one of the all-time 11W favorites, Brian Rolle, to join Kurt Coleman in the Eagles family. Linebacker was clearly a position of need for Philly, although the team will work B-Rolle out at strong-side and middle linebacker, as well as strong safety to find the undersized speedsters best fit in the NFL. I know nobody will work harder than Rolle and he has some good NFL bloodlines in his favor (Antrel, Samari, and Myron), but I'm just not sure yet if he wil ever be a starter in the NFL. What I do know is that he will kill it on special teams, as his speed and love for blowing up ball carriers will leave many kick returners feeling the pain on Sunday afternoons.
The final player to hear his name called this weekend, was Ross Homan, when the Minnesota Vikings selected him with the 200th pick overall in the 6th round. Injury issues caused Homan to slide down draft boards, but former Buckeye and current Vikings' defensive coordinator, Fred Pagac Sr., knew too well what kind of player he was getting with Homan. Apparently, Homan was quite pleased as well to go to the Vikings, where the opportunity to learn behind Chad Greenway and Ben Leber will be extremely beneficial for the Coldwater product. Homan is a heady player with a high football IQ who doesn't "wow" you with his athletic ability, but was an extremely productive player who got the job done while at OSU. I think the opportunity to develop in the Vikings' system will be invaluable for Homan and being in a low-pressure situation while learning how to play in the NFL will pay-off in the long run.
The five players who thought they had a shot of being selected, but will now have to wait for the lockout to be lifted, are WR Dane Sanzenbacher, OL Bryant Browning, OL Justin Boren, RB Brandon Saine, and DL Dexter Larimore. Sanzenbacher was the most shocking out of the five, as he is a tough-nosed player with great hands and has a knack for making the big play. As he continued to slide, Jim Cordle brought up a great point on twitter that concussion issues may have contributed to his plight to undrafted status. Boren was a close second to Dane, as the All-Big Ten lineman was projected to go as early as the 5th round, but questions about his work ethic and agility at the guard position caused him to have to wait to find work as well. Browning, Saine, and Larimore all had outside chances to be picked, but I thought it was likely that they would have to find their way onto a roster through the undrafted route. 
While we would have loved to see all 10 players have their name called at some point over the weekend, seeing 5 of those find new homes at the professional level is certainly remarkable. It will be even better once Dane and company find a team to call home, and hopefully a bunch, if not all, of these players can make a lasting mark on NFL teams for years to come.