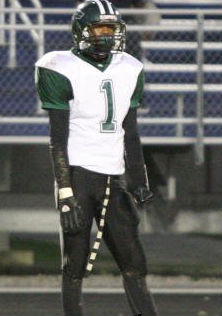 The Ohio State coaches got an up close and personal look at a lot of the nation's top high school football players recently, as both the Elite 11 QB Camp and the Nike Football Training Camp made the trip to the Woody Hayes Athletic Center this past weekend. Players flocked from both all over the state and all over the country for the two events, some already holding OSU offers and some trying to strut their best stuff to show Jim Tressel and his staff that they were worthy of an offer.
The camp was extremely beneficial for 2013 prospects like Austintown Fitch DL Billy Price and Trotwood-Madison DB Cameron Burrows, who were the first in their class to receiver offers from the Buckeyes. The coaches getting another round of evaluations  was also beneficial for some 2012 prospects like Kansas City (MO) Park Hall DT Ondre Pipkins and Bedford (OH) DB Tyvis Powell, who both received offers just days after the staff got to see some talent up close and personal.
The latter of the two, has been a life-long Buckeye fan and had a dream fulfilled when Jim Tressel called him and told him he wanted him in Scarlet and Gray. Powell, who stands at 6-4/180, played mostly safety for Bedford last season, but aspires to be a cornerback at the college level. We got the chance to sit down with Powell to discuss his Buckeye offer, when he will make his decision, his preference of position, and much more. Join us after the jump to learn more about Tyvis Powell.
You just got offered by Ohio State. How did that come about?
[After the weekend] Jim Tressel called me and told me that they'd like to see me in Scarlet and Gray. I also spoke to Taver Johnson who said "I was his guy".
What schools have offered you a scholarship thus far? 
 I have 13 scholarship offers including OSU, Toledo, Akron, Ball State, Youngstown State, Cincinnati, Ohio, Bowling Green, Buffalo, West Virginia, Western Michigan, and Tiffin.
When are you going to make your college decision?
I plan on making a decision next Friday. My principal told me he wants to have a ceremony and have me verbally commit in front of the news.
On your film it looks like you played a lot of safety last year. Is OSU looking at you to play safety or corner?
They are looking at me to play cornerback.
What are some of your strengths on the football field? 
​My strengths are that I am very smart and can recognize what the offense is going to do. I play with great technique, have great hips, make great tackles, and am a ball hawk. I also have great ball skills.
What is your opinion on the issues the OSU program is facing right now? Will that have any effect on your decision?
OSU is a great program and Jim Tressel is a great man. He was just trying to help his players out and there's nothing wrong with that to me. It won't effect my decision.
What are your summer plans? Will you be taking any visits or going to any camps?
​I plan on attending some summer camps including OSU, Michigan, Michigan State, Tennessee, and North Carolina.
What are your goals for your senior season? What are some goals for your college career?
​My goal is to get my team to the playoffs and win some games for my community. My college goals are to be an immediate impact player and have the ability to lock down an entire side of the field. I also want to get a great education.
Tell us about Tyvis Powell off the field. What are some hobbies other than football?
​I also run track (4x100, 4x200, and 200) and I'm just someone who has a good sense of humor. People love to be around me and listen to what I have to say-I give great advice. I'm very dependable, have a great work ethic, and am very silly at times. I'll never turn down extra work.
If you can say one thing to Buckeye Nation, what would it be?
I'm ready to be a Buckeye and won't let you down. We're going to have some fun and I'm going to give you your money's worth! Get the popcorn ready.
HIGHLIGHTS: