Ohio State wrapped up a very solid finish to a spectacular recruiting class of 2011 last week, but immediately the coaching staff's attention shifted to the elite prospects in the class of 2012.
The class of 2012 is one that includes exceptional talent, especially in the state of Ohio. This bodes well for Jim Tressel and the Buckeyes who will look to add to a class that already has five very special verbal commitments on board the Buckeye bandwagon. 
While the players located in OSU's backyard can easily make up what would be another top ten recruiting finish, The Vest only settles for America's best and will definitely look outside the state's borders to fill the remaining slots for this class. In addition to the plethora of talent within the state, there is a ton  of out of state talent for OSU to feast on. As per usual, Florida, Pennsylvania, Illinois, and Michigan will be areas that the Buckeyes target, but there are also players in this class that the coaches are looking at that are living outside the normal realm that we know as Buckeye Country.
With the recruiting for 2012 really just kicking off, we thought it would be a good time to share with our top 12 prospects remaining on board for next year's seniors to be. While this list will likely change as the current juniors go through summer camps, combines, and their senior seasons, use the following as a good list to start from when looking at some of the top targets for Ohio State as they focus on their next great recruiting haul.
Rushel Shell of Hopewell High School in the Pittsburgh area is not only the number one player on our board, but maybe on the board of every single person in the entire country. Despite having two running backs already committed in Warren Ball and Brionte Dunn, the Bucks are going after Shell early and often. The elite back from the Keystone State puts OSU as one of his favorites along side Pittsburgh, Florida, Oregon, and Auburn. One thing that certainly plays in the Buckeyes' favor is that Shell idolizes Terrelle Pryor and already has a relationship with the OSU signal caller. Many feel that because they have Ball and Dunn that Shell will go elsewhere, but right now I'd have to call this one to either the Bucks or the hometown Panthers.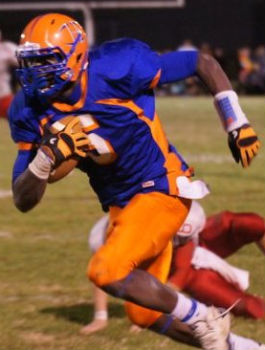 There are players from all over the country that come to Ohio State to play football, but Missouri is not usually an area that OSU ventures into quite often. One outstanding player from the state for 2012 though is wide receiver Dorial Green-Beckham (pictured right). Green-Beckham may be the top pass catcher in the nation and at 6-5/210 is a "must-get" type of prospect. Alabama, Arkansas, Florida, Iowa, LSU, Missouri, Oklahoma, and USC are with Ohio State as schools that have offered and it's way too early in the process to tell who is in the lead. One thing that is for sure is that OSU can use some help at the receiver position and Green-Beckham is the type of player that can contribute from day one.
Jameis Winston hails from Hueytown, Alabama so it's likely he'll end up at either Alabama or Auburn. With that said, the Buckeyes are definitely on his list of schools he's interested in, but they'll have to do work to lure the 6-4/190 dual-threat quarterback. If I had to call it today I would say Roll Tide for Winston, but the Buckeyes' success with similar passes have to at least give them some sort of chance in this one.
Jake Stoneburner and Reid Fragel will be seniors when the 2012 class comes in, so getting one tight end in this class will definitely be a target for the coaching staff. The best available at the position for this class is Taylor McNamara of San Diego, California. The Buckeyes, Arizona, Cincinnati, Florida State, Kentucky, Maryland, and Tennessee were schools early to offer this beast of a child, who stands currently at 6-5/235 and is still growing. While FSU and OSU are definitely the leaders right now out of the schools that offered, be careful of USC getting into the mix. The Buckeyes do have a special connection though, as his trainer George Whitfield is a good friend of Coach Tressel's.
Kyle Kalis is on board already, but filling out the rest of this offensive line class is the first priority for the Buckeyes. A player who was overlooked at first but has made his way to the top of the national wish list is Jordan Diamond of Simeon Vocational, just outside of Chicago. Diamond's high school teammate and good friend, Chris Bryant, signed with Michigan last week, so you can see why the Buckeyes really need to put the heat on early with the 6-6/290 tackle. Besides OSU and UM, Diamond holds offers from Arizona, Illinois, Iowa, Notre Dame, Wisconsin, Michigan State, Northwestern, Kansas, West Virginia, and others. I think this will be a Big Ten battle until the end and the Bucks will have a fighting chance for as long as they put in the effort for. 
While many of the players listed above will likely play the recruiting process out for a while, one player who wants to make a decision sooner rather than later is Tommy Schutt. Schutt is a 6-3/300 defensive tackle from Glenbard West High School in Illinois. He has the Buckeyes on his list of favorites along with Illinois, Iowa, Boston College, Michigan, MSU, Notre Dame, Northwestern, Nebraska, Colorado, and Penn State. I really like the Buckeyes' chances with Schutt and since he wants to pick a school before his senior season, keep your eyes open for an announcement coming in the next few months.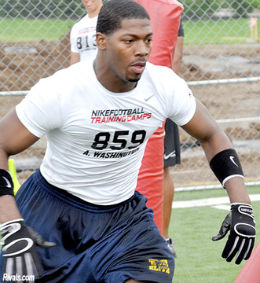 Out of state prospects are great, but you have to take care of the Ohio guys as well. No other uncommitted player in the Buckeye state may be recruited more than Adolphus Washington (pictured right) of Taft in Cincinatti. The hybrid defenseive end-linebacker holds offer from the Bucks, Alabama, Boston College, MSU, Texas, Texas A&M, and has drawn interest from other elite programs as well. I won't go as far as to say it's a done deal, but I have a really good feeling that Washington will end up picking the good guys at some point before his senior season. This is definitely a prospect to get excited about if you're an Ohio State fan.
Another top defensive lineman in the state of Ohio is Toledo Whitmer's Chris Wormley. This will be an Ohio State-Michigan battle into the end, as Wormley grew up a fan of the Wolverines, but appears to be realizing that Ohio State is the more stable environment and probably sets him up better for success at the next level. OSU signee and teammate Kenny Hayes will do what he can to reel the 6-5/250 stud prospect in, but at the end of the day I think the Wolverines will nail this one now that they have Greg Mattison running the defense. 
We stated the need for offensive linemen when talking about Jordan Diamond, but there is no bigger lineman on the board than Blue Earth's (MN) Jonah Pirsig. The 6-9/295 offensive tackle is the top prospect in Minnesota and holds offers from the Gophers, Iowa, and Wisconsin in addition to the Buckeyes and it will be on Dick Tressel, who recruits the state, to bring in the big man to Buckeye country. Pirsig is expected to first visit OSU for the spring game or for summer camp, so we should have a better idea of OSU's chances after that visit happens. 
Another top out of state prospect and one of the top players in Florida for the class of 2012 is Travis Blanks. The safety from Tallahassee will be hard to pry away from the Sunshine State, but there is hope that going away from home will provide a change of pace for this elite athlete. Florida State, Florida, Alabama, Auburn, Notre Dame, Georgia, Clemson, Louisville, South Carolina, USF, Vanderbilt., and Tennessee are among Blanks' offers and many more are sure to come as soon as schools watch the film on the 6-1/195 defensive back. Blanks said he will try to make it up to the OSU spring game in April and if he does indeed make it up to Columbus at some point this summer then you can put his interest from moderate to serious when it comes to taking the Buckeyes seriously. If there is one prospect on this list I absolutely want, it is Blanks, as he is a straight up difference maker on the defensive side of the ball. 
Another difference maker on defense could be 6-2/200 linebacker, Deaysean Rippy of McKees Rock, Pennsylvania. The Buckeyes, Florida, and Pittsburgh appear to be on the top of a list of offers that also includes Michigan, Penn State, Maryland, Syracuse, West Virginia, and others, so definitely watch how this one plays out, as Jim Tressel has had tremendous success in Western Pennsylvania. Luke Fickell could be the key here and I think at the end of the day Rippy chooses OSU over his hometown Panthers because of the proximity to home, the group of current players from his area, and most importantly, Fickell's presence as his future position coach when he gets to college.
The last prospect making our list today is Dwayne Stanford, also of Taft High School. Stanford is a 6-4/200 receiver who has good speed to go along with great size at the position. He recently added an Ohio State offer to go along with the offers he already held from Alabama, Cincinnati, Florida State, Georgia, Kentucky, Michigan, MSU, Notre Dame, Pittsburgh, Purdue, Tennessee, Texas Tech, and other top programs across America. Many think Stanford is a packaged deal with Adolphus Washington, but I don't think it will necessary work out that way throughout their recruitment. In the end I think this will come down to the Irish and Buckeyes and feel Jim Tressel's presence, as well as the decision of Washington to attend Ohio State, will bring Stanford to Columbus where he could contribute immediately to a receiving corps that isn't that deep with talent.