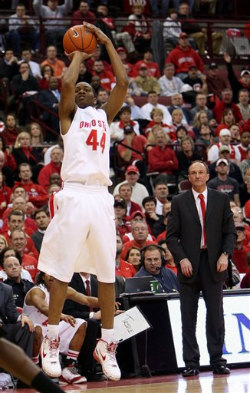 In front of an energetic sell-out crowd (3rd of the season), the Buckeyes bounced back from their defeat in Madison on Saturday with a 71-61 victory over Michigan State Tuesday night. The Spartans have now won just 2 of their last 8 games to continue their dissappointing season, while the Buckeyes took step one of potentailly reclaiming the top spot in the nation after Kansas's loss last night.
In what can only be described as a rough and physical affair with three blind mice in zebra print, Ohio State overcame Sparty's 44 points in the paint by converting 23 points off of MSU's 19 turnovers and connecting on 23 of 29 FT attempts, compared to just 5 of 6 for Izzo's squad.
The Buckeyes put four players in double figures, lead by William Buford's 23 (his highest since 12/31 at Indiana), while Sparty was lead by Kalin Lucas's 14, as he looked to be back to old form in terms of his quickness.
The first half gave us 13 lead changes and seven ties, with no team building a lead of more than four points, as Michigan State shot 62.5% (15/24) and OSU connected on 44.4% (12/27), but made eight FTs compared to three for Sparty to take a 35-34 lead into the locker room. Michigan State took a page out of Whisky's playbook, effectively using their moving ball screens at the top of the key, leading to easy buckets in the paint, as Ohiio State contined to struggle with the hedge and recovery portion of their defense. Word is out that if you use an effective ball screen on Aaron Craft with Sullinger's guy, the chances of scoring an easy basket increases. I'm sure this will be a point of emphasis for Thad heading into Purdue this Sunday.
OSU was paced by Buford's 14 on 5/8 shooting and 4 boards, while Diebler chipped in with 7 and Lighty with 5. Jared Sullinger picked up his second foul with 7:41 remaining and finished the half with 4 points and just 1 rebound. MSU took advantage of Sully's absence in the paint, as Adreian Payne and Derrick Nix combined for 15 points on 6/7 shooting and Lucas contributed 6 points and 3 assists. But Dallas Lauderdale was key finishing the half, playing with 2 fouls for the final 5:50, but scored 4 straight at one point and held MSU's big men scoreless over that span.
The second half started much the same, with Lucas scoring 4 of their first 8 points and assisting on another bucket, as MSU took their last lead at 44-42 with 15:15 to play. Then Ohio State's scoring talent took over and they clamped down on defense, outscoring the Spartans 29-17 the rest of the way. David Lighty got it going with a sweet baseline drive for the hoop and harm, which was MSU's 4th team foul with 14:45 remaining. Delvon Roe would commit an offensive foul a few seconds later and after a blown basket interference call by the refs, William Buford stole the rock for a fast break layup and crowd ignitor to make it 47-44. Then at the 13:08 mark, MSU would commit their 7th team foul, as Diebler was fouled following up Craft's missed layup after another steal. This was a key moment because OSU only had 2 team fouls at this point and the Bucks would go on to attempt 16 FT's to finish the game, including their last 11 points. 
MSU would bring it to 53-51 after Lucas once again used the high ball screen for an easy layup and Draymond Green hit a crazy fade away three with 2 seconds left on the shot clock. Ohio State then went on a mini 8-2 run over the next 4 minutes, with Buford scoring 5 straight and Aaron Craft out hustling MSU to grab an errant pass for the steal, hoop and harm. That would be Ohio State's last bucket. The Spartans got it to 61-57 with 4:38 left, but OSU would hit 10 of their final 12 FT's, while MSU missed five straight shots over that span to allow the Bucks a 10-2 run to close it out.
Jon Diebler finished the night with 12 points on 2/7 from deep and 6/6 from the line. The 2 three-balls puts him just one away from tying the career B1G mark. Lighty also had 12 points on 4/9 shooting, along with 6 rebounds and 3 assists. Sullinger had a quiet game, as the Spartans roughed him up and held him to 3/8 shooting with just 2 rebounds, but he may have solved his charity stripe woes, making 5/6. Craft had a tough night shooting, connecting on 1/7, but he hit 5/7 from the line for 7 points, 4 assists, 4 steals and 3 boards.
Draymond Green helped Lucas with 10 points and 6 boards, but picked up a critical technical foul with 1:42 left for telling the officials what most of us wanted to and Adreian Payne also finished with 10. Delvon Roe was a non factor scoring 0 points in 8 minutes, while Mike Kebler had 8 and Derrick Nix had 7.
For the game, Ohio State made 21/49 shots, good for 43 percent, while MSU hit 27/47 for 57.4% and outrebounded the Bucks 30-22. But as it has been all season, the Spartans hurt themselves with the aforementioned 19 miscues, against just 7 for OSU, who also had 9 steals.
The win keeps OSU undefeated at home this season and sets up their rematch with Purdue this Sunday at 1:00 on CBS. A win there probably moves them back into the top spot.