For all the praise that has been heaped, here and elsewhere, on Hog QB Ryan Mallett, he, like any other QB, is only as good as his best weapons. The Hogs have talent across the board, but it's the flourishing of talent at the skill positions that have taken Arkansas' offense to truly elite heights. You've heard the numbers: five Arkansas receivers had 500 or more receiving yards in the regular season. Despite spreading the ball around like only an Air Raid offense might, the Hogs still managed to have an 1100-yard rusher, good for 2nd-best in the SEC among running backs. The aerial attack never missed a beat, even though the 3rd-leading pass catcher, Greg Childs, is out for the season. His absence still left three talented veterans and a John Mackey-award winning TE on the field, and Arkansas proceed as if nothing had ever happened: In his absence, the offense had four of its best games of the year, throttling South Carolina and UTEP, and outgunning Mississippi State and LSU to close the season. 
DJ Williams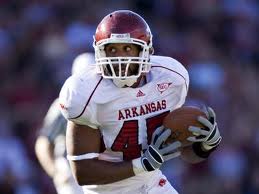 Though just 6-2 and 250 pounds, DJ Williams excelled as a TE in Arkansas' high-flying aerial attack. A tough, physical pass-catcher across the middle, his game-by-game numbers won't wow you (he never totaled more than 70 yards receiving in a single game this year) and he isn't exactly a burner, but that doesn't mean defenses - even the best in the SEC - have been able to limit him in any way. He's had at least three receptions in every game this season, caught a crucial touchdown against Mississippi State, and had big games against Georgia (6 catches for 61 yards), Alabama (5 catches for 63 yards), and South Carolina (5 catches for 67 yards). As an undersized TE with solid catching ability, he reminds me most of former Wisconsin Badger TE Travis Beckum, who ripped the Buckeyes for 140 yards on 9 catches in 2007 before making 6 grabs for 60 yards in the 2008 game in his injury-riddled senior season. Ohio State doesn't man up often, but when it does, I expect a variety of players to be assigned to Williams. Chiefly, Jermale Hines, Brian Rolle and the linebackers will have to step up big if Ohio State wants to limit Williams' impact on the game.
Jarius wright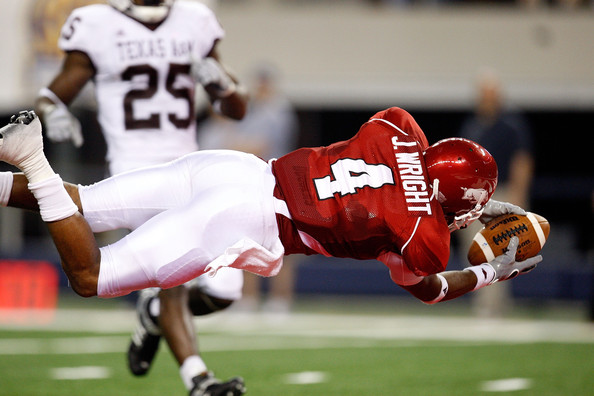 The Razorbacks' leading receiver, Jarius Wright is one of two legitimate deep threats in the Hogs receiving corps. With 38 catches for 718 yards on the season, Wright really didn't get going until the closing six-game stretch, making 21 of those catches (for 410 yards) as the Hogs' schedule got tougher. Wright only made four touchdowns grabs on the season - two against Vandy and one apiece against Mississippi State and UTEP - but his ability to make a play down the field really set him apart from his teammates: 8 times this season has he made a reception for 20 or more yards, and 31 times did his receptions for a first down. He's not very big, at 5-10 and 180 pounds, and his numbers are actually down across the board from a year ago, but he remains Arkansas' most dangerous weapon in the deep passing game. It's unlikely that either Chekwa or Torrence will be left on an island against the guy; neither has the raw speed to keep up and both will frequently need safety help. Where they'll have to excel against Wright is throwing him off his routes at the LOS, and if they fail there, then they'll have to disrupt his ability to turn the short grab into a long gain. 
Joe Adams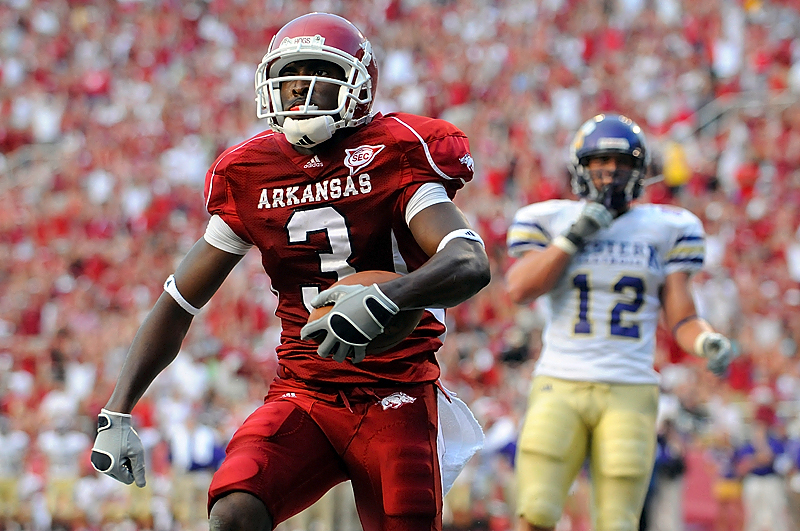 Adams was arguably Mallett's best target through the first six games of the season, excelling in road situations at Auburn and Georgia. An ankle injury forced him to miss the game against Vanderbilt, and he's been relatively quiet ever since, with just 11 catches for 149 yards over the final four games of the season. He'll be in healthier shape for the Sugar Bowl, undoubtedly, completing a veteran line-up of weapons for the passing game. Like Wright, he's no behemoth at 5-11 and 180 pounds, but he has seen extensive time in each of his three seasons in Fayetteville. He had 31 catches as a true freshman on the 5-7 2008 squad, 29 as a sophomore and 41 this season despite the injury and subsequent late season slump, and the 693 yards gained on those catches made him the team's 2nd-leading receiver on the season. He and Wright, along with the aforementioned Williams, are the team's crafty veterans: guys who have seen serious time throughout the Bobby Petrino experiment. If Mallett bolts for the NFL, both Adams and Wright would have fairly solid cases for nearly every team in the league.
Cobi Hamilton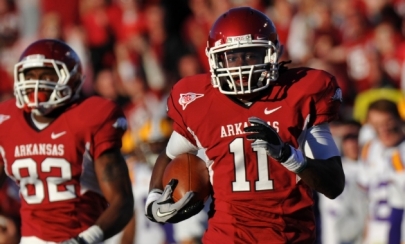 While Adams, Williams and Wright have been more productive, Cobi Hamilton turned into a genuine gamebreaker over the course of the season. After totaling 4 receptions of the first four weeks of the season, Hamilton exploded with 27 catches for 544 yards over the next 8 games, including a masterful 7 catch, 111-yard effort against the South Carolina Gamecocks. He would somehow top that a few weeks later against LSU, in which 2 of his 3 catches went for 80 or more yards and a touchdown, which proved to be the difference in the 31-23 Hog win. Hamilton is a burner and the Razorbacks' other legitimate deep threat; his 19.6 yards-per-catch average was 5th best in the SEC, and the best on Arkansas' roster, which placed three players in the conference top ten of YPC. What makes Hamilton even more dangerous than Wright is his size: unlike every other receiver we've previewed thus far, Hamilton is just a large dude, checking in at 6'3" and 210+. His size and speed were the difference makers against LSU, which boasted possibly the nation's best cover corner in Patrick Peterson. It's unlikely that Chekwa and/or Torrence will be isolated against Hamilton often, so the Buckeyes' other DBs (what remains after Angry Ohio State Defensive Back-hating God's mid-season rampage) will have to play the game of their young lives to keep Hamilton under wraps.
Knile Davis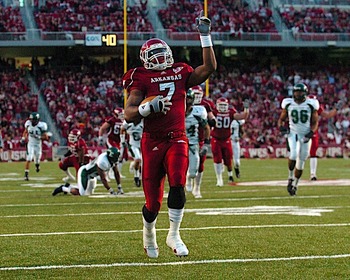 I've already told you plenty about Knile Davis, so allow myself to quote... myself:
Arkansas responded rather well: after getting a couple breathers against Ole Miss and Vanderbilt that allowed the running game to find its feet... Mallett and company traveled to Columbia, South Carolina, looking to unleash newly-discovered weapon Knile Davis....And unleash him they did: Davis toted the rock 22 times for 110 yards and 3 touchdowns... Knile Davis ran wild [against Miss. State a few weeks later], carrying the rock 30 times for 187 yards and a pair of touchdowns....racked up 157 yards on another 30-carry day [against LSU]....
Knile Davis is more or less the missing cog in the Arkansas offense: whereas Petrino's offenses his first two years found their numbers hurt by weaksauce running-back-by-committee-approaches and a general lack of talent at the position, the 2010 Arkansas offense discovered a number-one tailback mid-season and rode him to 2nd in the SEC in total offense, behind only Auburn. He was instrumental in key wins over South Carolina and LSU and finally made the Hogs into a multi-dimensional, versatile offense that can excel, even when Mallett throws a couple of INTs, as he did against LSU.
The Arkansas offense is not greater than the sum of its parts, but the sum of its parts is pretty damn good. I'm not sure the Buckeyes have seen a receiver as good as Jarius Wright, and if they have, he was not flanked by anyone nearly as good as Adams and Hamilton. Williams is the type of TE the Buckeyes have yet to really see this year, outside of perhaps Wisconsin's Lance Kendricks, who was not needed when the Buckeyes played the Badgers. Davis would be right in the pack of Big Ten running backs like John Clay, James White, Edwin Baker and Mikel LeShoure, and the Buckeyes were diced by two of those running backs, fared okay against the fourth, and didn't play the third. Individually, I can see each of these players getting shut down. All together, well, someone is going to get their yards. The smart money's on the slot receiver and the TE; positions the Buckeyes frequently struggle to defend against when talented players occupy them. But if Chimdi et al. can limit the big-play ability of Wright and Adams, and the front seven can frustrate Davis, the Buckeyes might not need to worry about getting in a shootout with one of the SEC's best offenses.