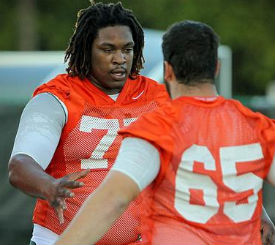 Remember Seantrel Henderson? I know, not how you wanted to wake up this Thursday morning, but the mammoth freshman tackle is making some waves. Last seen hanging his head after the Hurricanes' loss at Ohio State (and probably regretting not coming to OSU), Henderson finally has popped his head to the surface. After seeing just eight snaps in Miami's domination of Pitt, Henderson worked with the first team this week in practice. First team reps usually hint something significant in the form of playing time, so don't be surprised to see Seantrel starting at Clemson this week. It will certainly be interesting to see what, if anything, the Buckeyes missed out on with this super prospect.
Speaking of big, the Big East apparently has targeted TCU as an attractive potential member to strengthen it's football league. TCU has shot down the rumors for now, but where there is smoke there is fire. The move would not make sense geographically, but would be a big win for TCU in terms of being able to secure an automatic BCS bid in football and possibly joining for the conference's other sports. I personally think the BCS committee has to consider retracting the Big East's automatic bid, as the conference is just horrible. There are currently 8 teams playing football there, so adding TCU and another competitive school could be a good move for the conference to prevent expansion armageddon. Boise State, feel like traveling across the country every Saturday?
 And for more expansion news, go to The Lantern, where Gene Smith claims the Big Ten is done looking for more members. Smith didn't close the door completely, giving the caveat of "unless someone contacts us", but it seems that adding Nebraska to make 12 members satisfied Jim Delany and company. Lloyd Carr, on the other hand, feels that Notre Dame will eventually end up as a member of the conference. I'm not sure what's going to happen in the next 12-18 months, but for now I side with Gene Smith. The only way I see Notre Dame or anyone else coming into the Big Ten is if a conference armageddon is forced upon college football.
 I really can't stand that team up north, especially this time of year, but I have to give some props to Michigan offensive lineman Taylor Lewand. Dude has the best "mustache" I've ever seen. If you're too lazy to click the link, Lewand actually has a little mustache tattoo on his pointer finger. When curling his finger over his lip to create a finger mustache, well, you can picture the scene. When asked about the tat, Lewand said "I mean it's the best icebreaker in the world. You go up to them [and say],'Miss, let's be serious, I just want to dance'."
 Want to laugh? After starting off your morning talking about Seantrel Henderson, I have to give you something to chuckle about. Tim Brewster legitimately thinks his team should be (and could be) 4-0 this season. Tim, I know you're trying to pull the old "this team was one play away of winning in each game" card, but sorry, that's not going to save your job. There is no way you can argue that your team should have beaten USC. You also got dominated by South Dakota for most of the game, lost by 11 to Northern Illinois, and almost lost in your only win to Middle Tennessee State. And Gopher fans, if you think you're getting Tony Dungy, you're wrong. Charlie Weis may be available though?
 Finally, Bucknuts is reporting that Jadeveon Clowney will be making an official visit to Ohio State ($). The nation's top high school prospect was not even on the radar in terms of interest in the Buckeyes, so this is definitely surprising and warm welcomed news. Clowney is a 6-5/235 defensive end from South Carolina who has long narrowed down his list to Alabama, South Carolina, Auburn, Clemson, Florida State, LSU, and Miami with the first two out in front. The fact that the Buckeyes will get an official could mean one of two things. First, the pessimist, it could mean Clowney is looking for a free trip just to check out one of the nation's most storied programs. Second, the optimist, is that Clowney realizes that Ohio State can truly be a viable option for him. Jim Tressel has proven he isn't scared to put freshman on the field on defense right away and has continually churned out NFL talent on that side of the ball. It helps Ohio State has been one of the best and most consistent programs this decade, and maybe Clowney is thinking he needs to at least check out OSU before he decides. Late interest from both parties here, but you know what they say, better late than never.