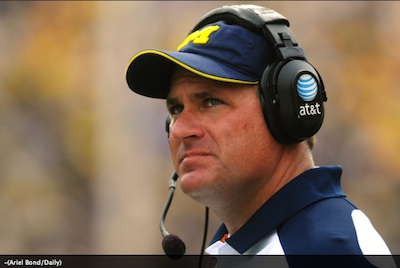 Straight Pessimism. If you're not acquainted with the phenomenal blog Straight Bangin', shame, shame. A hallowed mix of hoops, hip-hop, tribalism, and schadenfreude, SB's Joey bounces up like roundball this week to commiserate with respect to the inevitable firing of Rich Rodriguez. No, you didn't misread that, a high IQ possessing Michigan man has decreed the Rodriguez era not long for this world, even after Michigan avoided a 2007 redux in escaping UMass 42-37. Brace for impact:
Rich Rodriguez will be fired at the end of this season because his teams can't, won't, or just don't play defense. The Wolverines are 3-0, and they are led by the nation's Heisman front-runner, so today might seem like an odd time to contemplate a coming doom not yet even preset on the horizon. However, this weekend's Massachusetts-Michigan game revealed that past is prologue, and the Michigan story to be authored in the coming weeks is one that has become a sad cautionary tale.
Can't say I disagree after the UConn and Notre Dame wins respectively were more properly contextualized this past weekend.
 "I'm special!" A Ralph Wiggum may in fact be lining up at gunner or be responsible for the middle protect in a spread punt formation at virtually every school in the Big Ten. The Cleveland Plains Dealers' Doug Lesmerises takes to the pulpit with a sermon regarding the special team state of affairs conference wide:
What Big Ten coach said this after Saturday's games?

"Special teams were awful."

There's no way to know, because it applies to too many teams.
Real talk.
 Closer to home, The O-Zone's Brandon Castel has a wrap up of the miscellaneous news and notes surrounding the aftermath of the Ohio game. In particular, senior (and patron saint of 11Dub) Brian Rolle had some choice verbiage with respect to the state of affairs as Ohio State nearly surrendered their fourth special teams related score in their third consecutive contest:
The Buckeyes went with a group of youngsters on the coverage team again this week, including tailbacks Jordan Hall and Jaamal Berry, but that might change in the future with veterans like Brian Rolle and Jermale Hines itching to get back on the coverage team.

"I feel like I have to get back out there," said Rolle, who first starred as a kick coverage guy back in 2008.

"Actually, Jermale Hines came up to me and said 'Hey B, we've got to get back on kickoff!' I said 'I might have to, we might have to.'

"It kind of makes you think maybe we should do it, maybe some guys aren't taking it seriously. We did when we were on it. I talked to the kickoff team and told them they have to make a play. That's the only unit where if one guy makes a mistake then a play can be broken."
Given The Vest's track record of special teams excellence, the blunders during the season's first three weeks have been mind boggling to say the least. While special teams were inordinately bad conference wide this past weekend, I'm neither ready to concede this is some sort of epidemic that will cost any additional teams future games nor am I willing to risk Ohio State starters in an attempt to sure things up. The proper repetitions and coaching should prevail when everything's said and done (I pray; seriously).
 This:
The guilty party has since been summarily dismissed as Ohio's mascot and the university issued a public apology Monday. Crimes against nutmanity cannot and will not be tolerated.
 HOOPS!!1! Matta's bunch landed 6'7" small forward Sam Thompson for the class of 2010 Sunday. The 3 averaged 10 and 8 last season for Chicago's Whitney Young High and is presently ranked as the 56th best player in the Class of '10. Thompson recognizes himself as something of a disciple of the game of a certain other prominent former Chicago product turned Buckeye:
"That was important," Thompson said of his role. "I definitely looked at Evan Turner. That wasn't the whole basis on my decision-making. I looked at all the wings that have played under coach Matta over the years. I think he really lets them play. The wings in his offense are allowed to make a lot of plays at both ends of the court."
Welcome aboard, Sam.
 Alarm clocks. It probably won't matter if they have them in Champaign or not, because despite the league offices setting the Ohio State-Illinois affair to be an 11 am CST local kick, the stadium will probably be 75% capacity (at best) and non-threatening as can be. Hope they sell Red Bull in bulk near by.