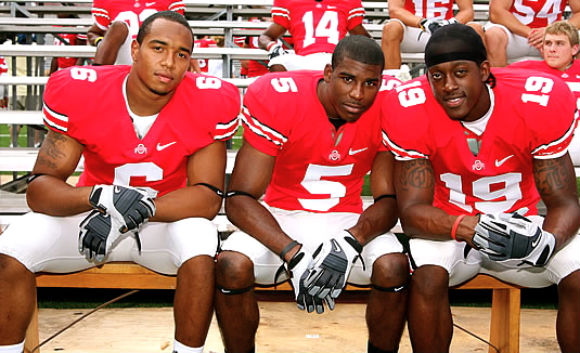 The Buckeyes started camp last weekend as we all know and early reports are that the team looks more focused than ever. With all of the returning experience, the team should be poised to make a national championship run and live up to it's billing as the #2 team in the pre-season rankings. A Heisman Trophy, Rimington Trophy, Biletnikoff Trophy, Maxwell Award, Davey O'Brien Award, Walter Camp Award, Outland Trophy, Bronco Nagurski Award, and Butkus Award are not out of the question either for a group of individuals who helped the Buckeyes to their first bowl victory since the 2006 Fiesta Bowl win against Notre Dame.
But just because the team brings back a solid group of veterans doesn't mean every spot on the field is locked-up. Special Teams, a staple of any good Jim Tressel football team, was inconsistent at times last season. The team's two starting safeties departed to graduation, Duron Carter's academic shortcomings leave a big hole at the third receiver spot, and the running back depth is so plentiful that it's going to be hard to get all the players enough touches. While the last problem is a good one, the other questions are a bit worrisome to many Buckeye fans heading into the upcoming season, and can have a significant effect on the fate of the 2010 team.
While we don't have all the answers here at 11W, we can try our best to give you some insight into five burning questions that most fans have at the start of training camp. Things are sure to change as camp progresses and the game against Marshall looms closer, but for now here is what we know that and we're hoping these answers put you to bed a bit easier at night.
WHO WILL BE THE 3RD WIDE RECEIVER?
As angry as we are with him, I think everyone is more upset at the hole Duron Carter leaves at wide receiver behind DeVier Posey and Dane Sanzenbacher. Taurian Washington is the favorite right now, but questions continue to surmount around the new Mr. April's ability to get it done in a real game. We are hearing good things about T-Wash's work ethic this off-season and DeVier Posey said Sunday that the senior was catching 250 balls a day this summer. After Washington, many want to look at red-shirt freshman Chris Fields or true freshmen James Louis and Corey Brown, but a true dark horse is Grant Schwartz. This second generation Buckeye from California has served the scout team well in his first four years in Columbus, but really impressed coaches and on-lookers in spring practice. That momentum has carried over to fall camp and Schwartz is truly vying to see time on the field this year. I think of a poor-man's Sanzenbacher when watching Schwartz play, a comparison that shouldn't shake out too bad in the minds of Buckeye fans. In the end, I think Washington seizes the job for the early part of the year, but if he's not producing expect Schwartz, Fields, Louis, or Brown to claim stake at the position.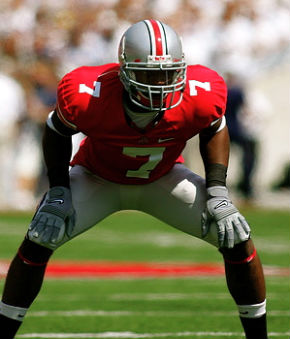 HOW WILL OSU COMPENSATE FOR LOSING KURT COLEMAN AND ANDERSON RUSSELL?
It's tough when you lose one of the best safeties in college football in Coleman and another three-year starter in Russell, but Jermale Hines steps in at one safety spot with plenty of experience, having played both at safety and at the STAR position the last three years. The other safety position is the question mark, where Orhian Johnson seems to be the man stepping up to the plate. Johnson was recruited by Ohio State as an athlete after playing solely quarterback at Boca Ciega High School in Florida. He was quickly put on the defensive side of the ball and his athleticism and range made him a natural fit at free safety. While he still has a ton to learn, Johnson is hoping his football instincts and progression through three seasons at the position make him the player Buckeye fans have come to expect as the last line of defense in the secondary. Providing depth at safety is converted corner back CJ Barnett, Aaron Gant, Tyler Moeller (who will play STAR), Jamie Wood, Zach Domicone, and Nate Oliver (who will be Moeller's back-up at STAR). The Bucks have also brought in Chad Hagan, who will start at safety, and Christian Bryant, who can play safety and corner, but will start at corner, to provide depth in the secondary. Overall this group will be very solid and I expect Hines and Johnson to be a great tandem for the Bucks.
WHO WILL BE THE RETURNERS ON SPECIAL TEAMS?
Kick and punt returns haven't been a strong point for the Buckeyes since Ted Ginn Jr. left for the NFL, although Ray Small was more than capable on punts when he decided he wanted to be a part of the team. The frontrunners to take over on punt return duty appear to be the sure-handed receivers in Posey and Sanzenbacher, but after watching spring practice, I think Jordan Hall will be the one to emerge from the group. Tressel will not want to put his top two pass-catchers in the way of harm on punts and the very shifty Hall has good speed and vision upon catching the ball. On kick-offs, Brandon Saine and Boom Herron are the safe options, but like with punts, Tressel may want to keep his top two running backs off the field except when needed. Jaamal Berry has emerged as a top candidate to help put the offense in good field position, and Devon Torrence, Chris Fields, and Hall are also getting looks. If I had to bet today, I would say Berry and Torrence or Saine would be back to return the opening kick-of on Septembers 2.
HOW WILL OSU FIND ENOUGH CARRIES FOR THE RUNNING BACKS?
Last year Ohio State ran the ball 43.3 times per game. This year, with a more mature group and a better offensive flow, I expect that number to increase by about 5-7 carries per game. Let's say that number goes to 48-50 per game, just for the sake of this breakdown. Brandon Saine will get about 33% of the carries as he did last year and will notch about 15 per game. Boom Herron, who has had trouble with health issues the past two seasons, will see around 25% of the carries, giving him about 12 per game. Terrelle Pryor's carries will go down a bit, a la Troy Smith in 200, as he will look to advance as a passer this upcoming season. I'll give him a generous estimate of about 20% of the carries per game, giving him 9 per contest. That's a total of 36 carries, leaving 12-14 for a combination of Jordan Hall, Jaamal Berry, and Carlos Hyde. I think Rod Smith will red-shirt, leaving him out of the fold in that group, and depending on the scenarios of the game, the dispersion of those 12-14 carries could differ on a per game basis. There will be many games where the Bucks have more touches available for this group, but the coaches will look to find as many ways as possible to keep Berry and Hall happy by incorporating them in the game plan somehow.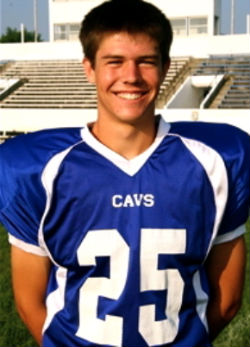 WHO WILL REPLACE PETTREY AND THOMA?
For the first time in many years, the Buckeyes aren't completely sure of their kicking and punting specialists heading into the season. Devin Barclay is the head-on choice to be the everyday kicker, but in the past he has shown trouble with field goals ranging past 40 yards. Barclay will either have to prove he can boot the far attempts, or face a platoon with either Ben Buchanan or Drew Basil. I like Basil for long field goals and for kick-offs, but there is always a question of whether a young kid can handle the pressure of hitting a big kick in a big situation. Buchanan, who is the heavy favorite to handle punting duties for OSU, certainly has the leg to drill 50+ yarders, but can he defeat the inconsistency he has shown thus far during his time in Columbus? I think Buchanan will be just fine as a punter, and even if he's not, you're looking at walk-on Derek Erwin as your only other option. Basil can punt too, but I think this job is Buchanan's for the duration of the season unless he is just so bad that they need to give Basil or Erwin a shot. In the end, I see Barclay handling all kicks to start the season, with Buchanan handling punts and being the option to handle longer field goals if necessary.